Crafts and DIY Ideas for Summer Fun!
This post may contain affiliate links or I may have received the product free in exchange for my honest review. See full disclosure for more information.
Summer is almost here, and on those hot or rainy days when the kids do not want to go outside they can stay inside and do some awesome crafts. These great DIY and Craft ideas are just right to keep them and you occupied while they are inside. Crafts with my kids are so much fun, I really enjoy doing the crafts myself also.
This dynamically different craft kit is actually a craft and activity in one! Pop in one of the plastic eggs included with the kit and let the decorating begin. Use the different colored markers, to add stripes, lines or other fun"prehistoric" designs to decorate your egg. Then, "crack" open the shell to discover a surprise mini collectible dinosaur dripping in cool colored slime!
About Eggmazing:
The story began Easter 2015 as I was celebrating with family and friends and watching all my nieces and nephews destroy the kitchen table with dyes and glitter. That's when the idea came to me. With a borrowed electric screwdriver, a hot glue stick and a spoon, the first generation Eggmazing Egg Decorator was born. Through much trial and error it has evolved into a product that will change the way families decorate their Easter eggs. It's all the fun without the mess. It's eggmazing!!
You can purchase your Dinomazing Egg Decorator on Amazon or Eggmazing's Website
Stay socially connected with Eggmazing for their latest product releases:
Dream it, draw it, wear it! These fun chalk t-shirt kits are erasable, re-usable and machine washable and allows kids to create and wear their own specially designed t-shirt.Available in youth sizes XS to XL and adult sizes S to 2XL in lime green!
About Chalk of the Town:
Wendy and sister Sondra have always been crafty, so when they noticed chalkboard surfaces trending in interior design they thought 'imagine if we could put a chalkboard on a shirt to create a new shirt everyday!'.

The sisters were determined to create a chalkboard-like surface that could accept chalk markers, not only smudgy traditional limestone chalk. As mothers themselves, Sondra and Wendy also felt the shirts had to be durable, machine washable and re-useable. ​

After much research and a bit of product testing help from their school aged children, voila! Chalk of the Town t-shirts were born.
You can purchase your own Chalk of the Town T Shirt Kit on their Website and Amazon
Stay socially connected for the latest Chalk of the Town products: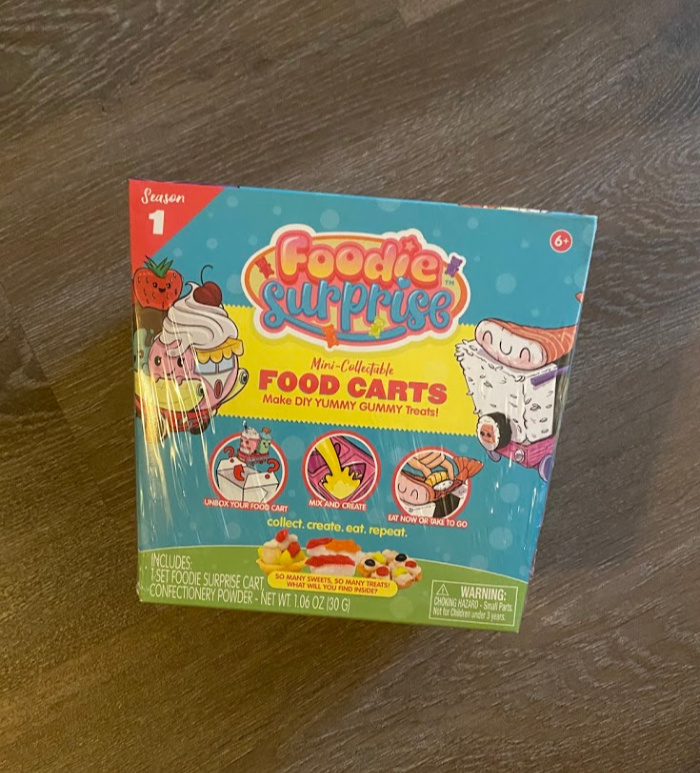 Unpack each of the different Food Carts from its adorable 'to-go' container. Along the way, kids will discover a variety surprise ingredients and supplies that will let them create their own edible candy!
You can purchase your own Foodie Surprise on Amazon and where toys are sold.
Stay socially connected with Foodie Surprise for all their latest products: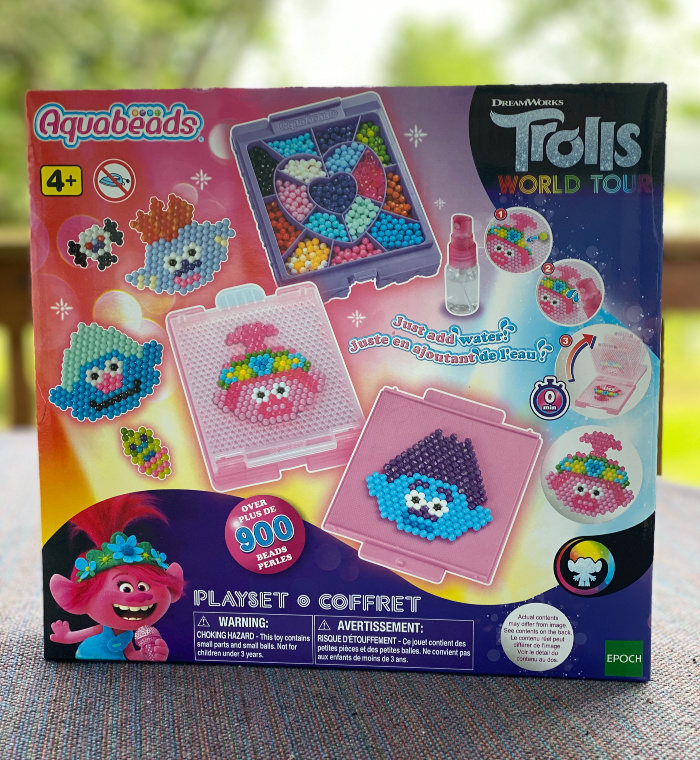 Ready, set, ROCK! Kids can craft their favorite Trolls World Tour characters, including Poppy, Branch and a few new characters, and bring their colorful artwork to life as they place and fuse the beads over the provided template. Help unite the Trolls and save diverse melodies with this fun playset that includes more than 800 jewels & amp; solid beads, case, flip tray set, template sheet, sprayer and instructions to add to the creations. Bead pen sold separately.
Perfect time for crafting! Kids make creations from templates or their own imaginations placing beads onto a layout tray, spraying with water to fuse the beads together!
You can purchase Aquabeads Trolls World Tour on Amazon and their Website.
Stay socially connected with Aquabeads: