Easter Cupcakes with M&M's® Carrot Cake and Peanut Pieces
This post may contain affiliate links or I may have received the product free in exchange for my honest review. See full disclosure for more information.
Disclosure: This shop has been compensated by Collective Bias, Inc. and its advertiser. All opinions are mine alone. #MMsCarrotCake #CollectiveBias
If you are looking for something that gives an egg-tra special flavor to serve this search no further than the seasonal aisle at your Walmart.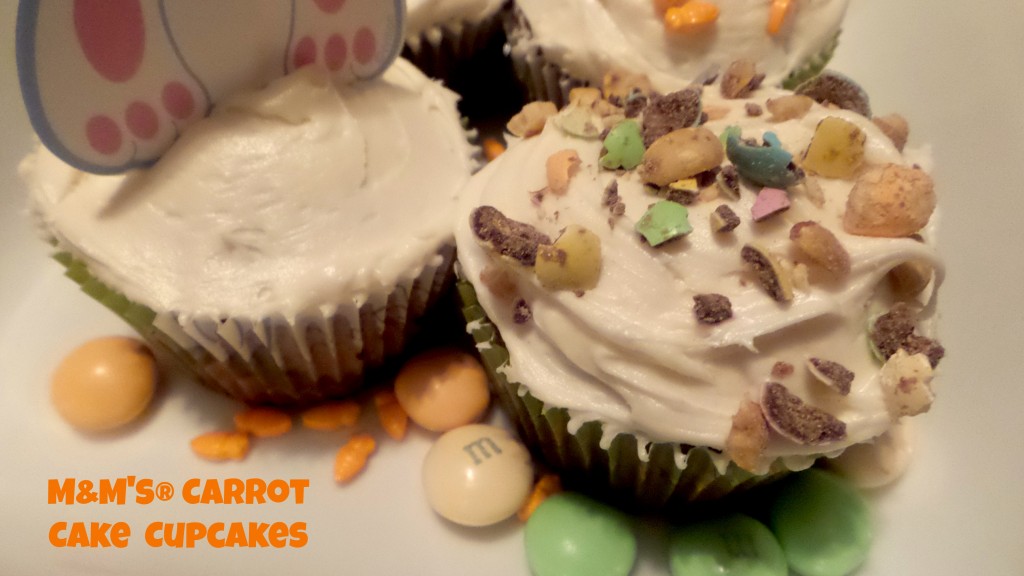 During a recent shopping trip, I happened upon a tasty new treat Walmart, M&M's® Carrot Cake Candy.  With Easter just around the corner, my mind starting racing with ideas on how to incorporate this candy into a delicious creation that everyone can appreciate.  My mind ended on simple, yet unique scrumptious M&M's® Carrot Cake Cupcakes.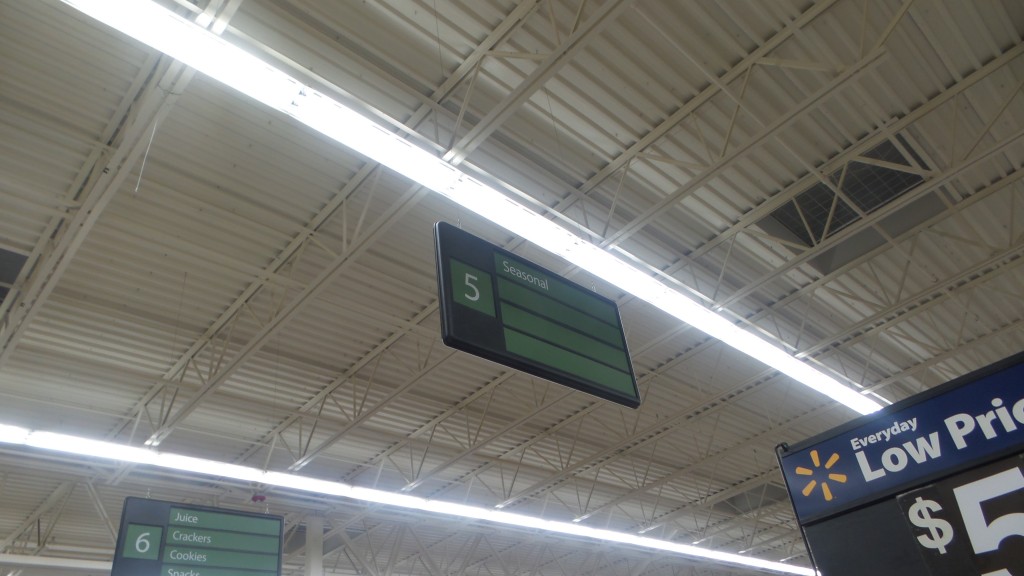 I always love to check out the seasonal aisle at my local Walmart, as they are always putting out new and different items that I love to try.  Walmart makes it very easy to locate seasonal products.  The M&M's® Carrot Cake Candy was located in both the seasonal aisle and in a larger display in the main aisle near the registers. Of course they also had the seasonal decorated favorites of mine including M&M's® Milk Chocolate, Dark Chocolate, Peanut, Pretzel flavors, and I picked a few bags of them as well.
I admit when I got to the car, I ripped open a bag to try the M&M's® Carrot Cake pieces and they were really true to taste.  A delicious pop of carrot cake flavor with each piece.  I couldn't wait to get home and start baking with this delicious candy.
When I started backing, I decided to incorporate both the M&M's® Carrot Cake pieces and M&M's® Peanut pieces to give the cupcakes a flavor that really popped.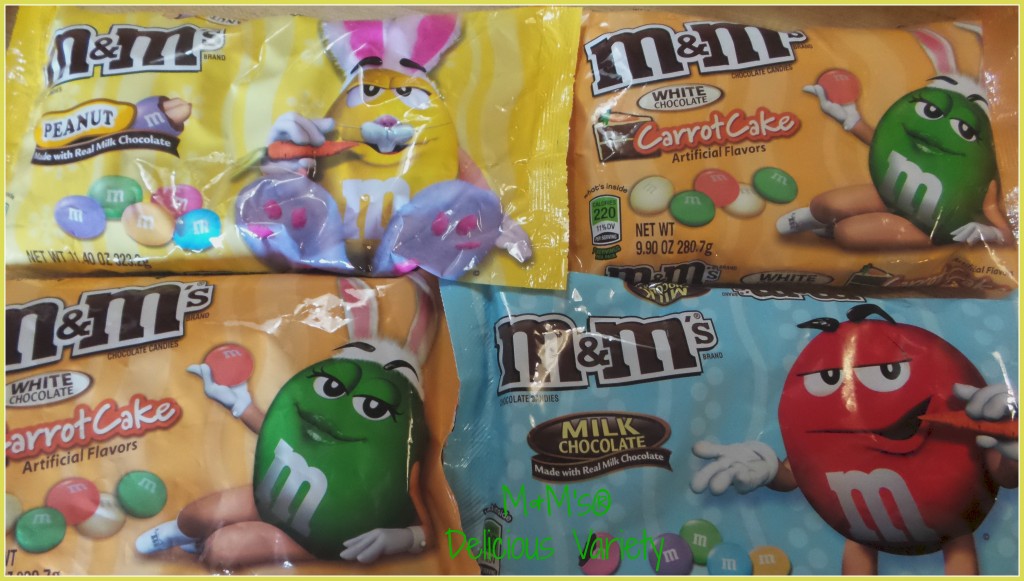 I started with a simple carrot cake recipe and added a bit of flare with M&M's® Carrot Cake and Peanut pieces.  I simply took 1/2 cup of each variety and used a standard kitchen mallet to make them in to easy pieces to add to the cake batter. Read below for the full recipe and learn how to make these delicious cupcakes for your family.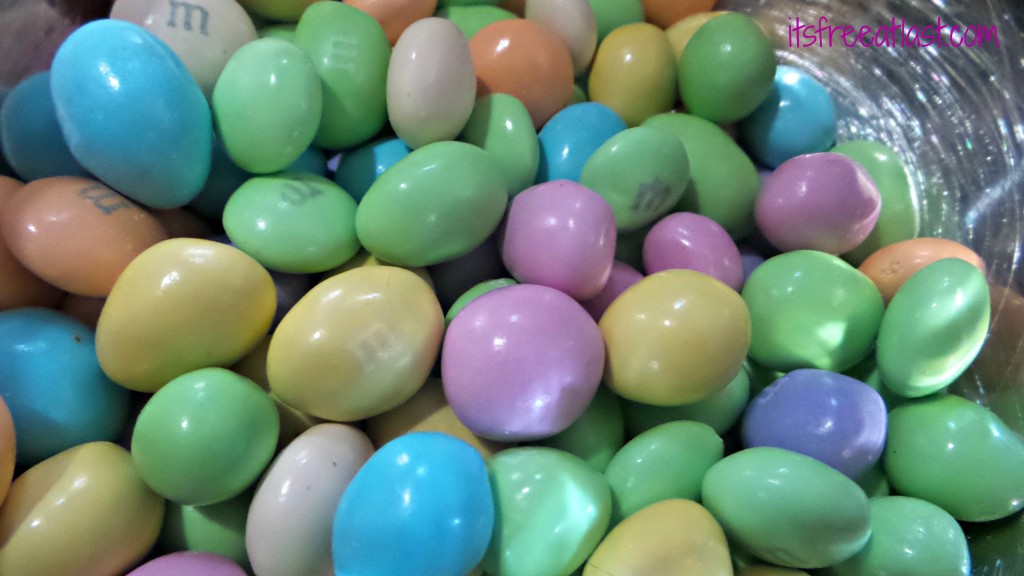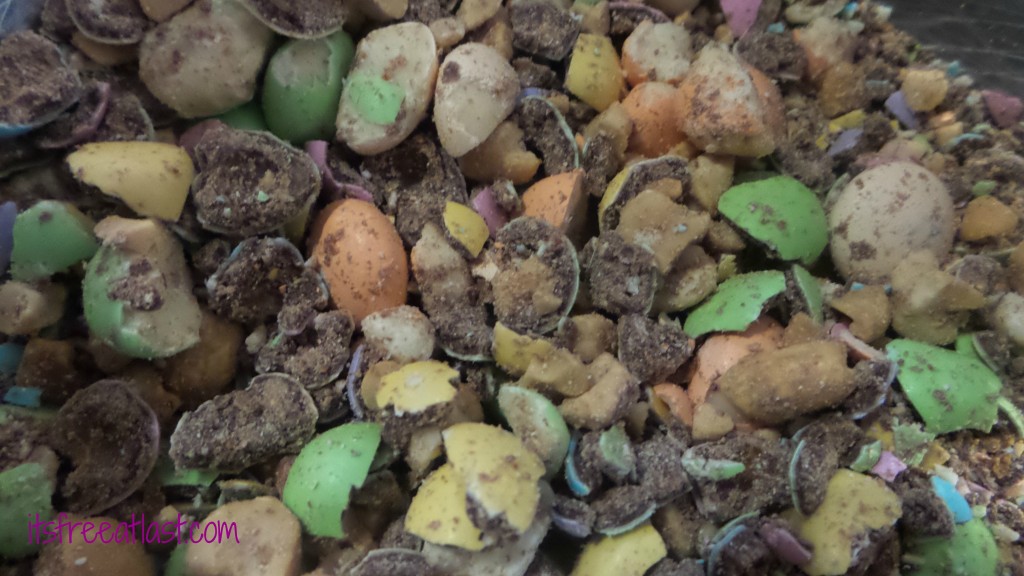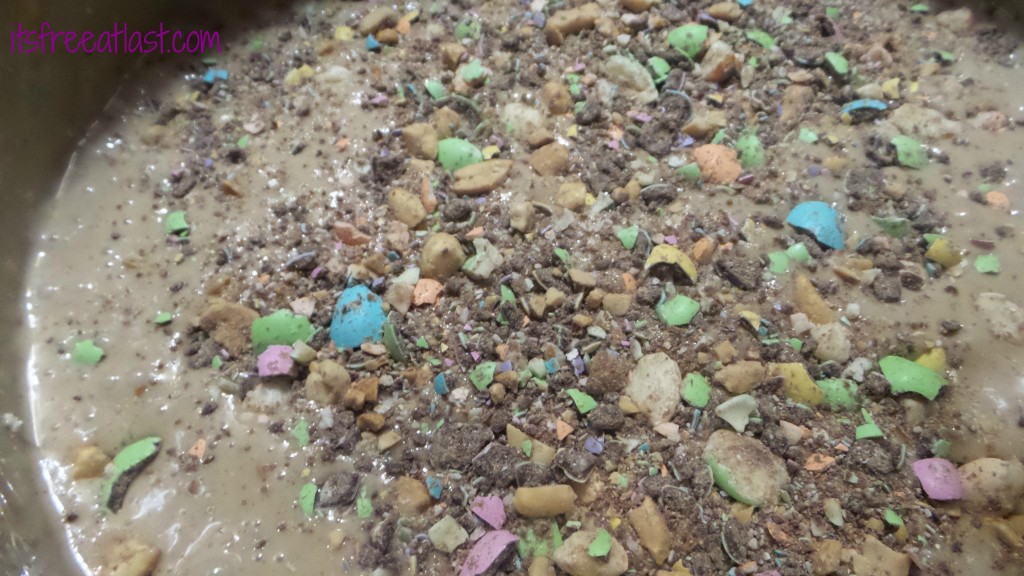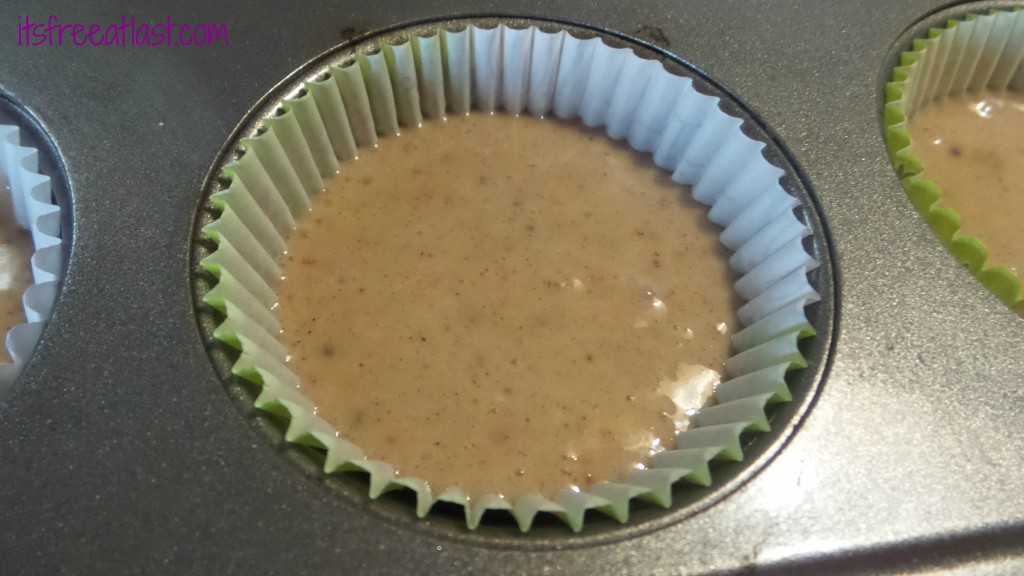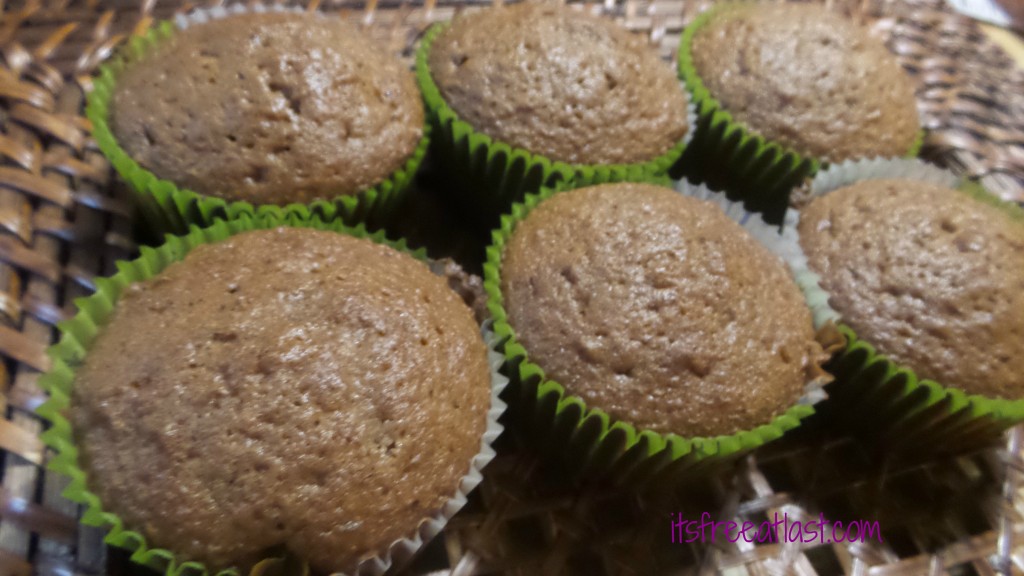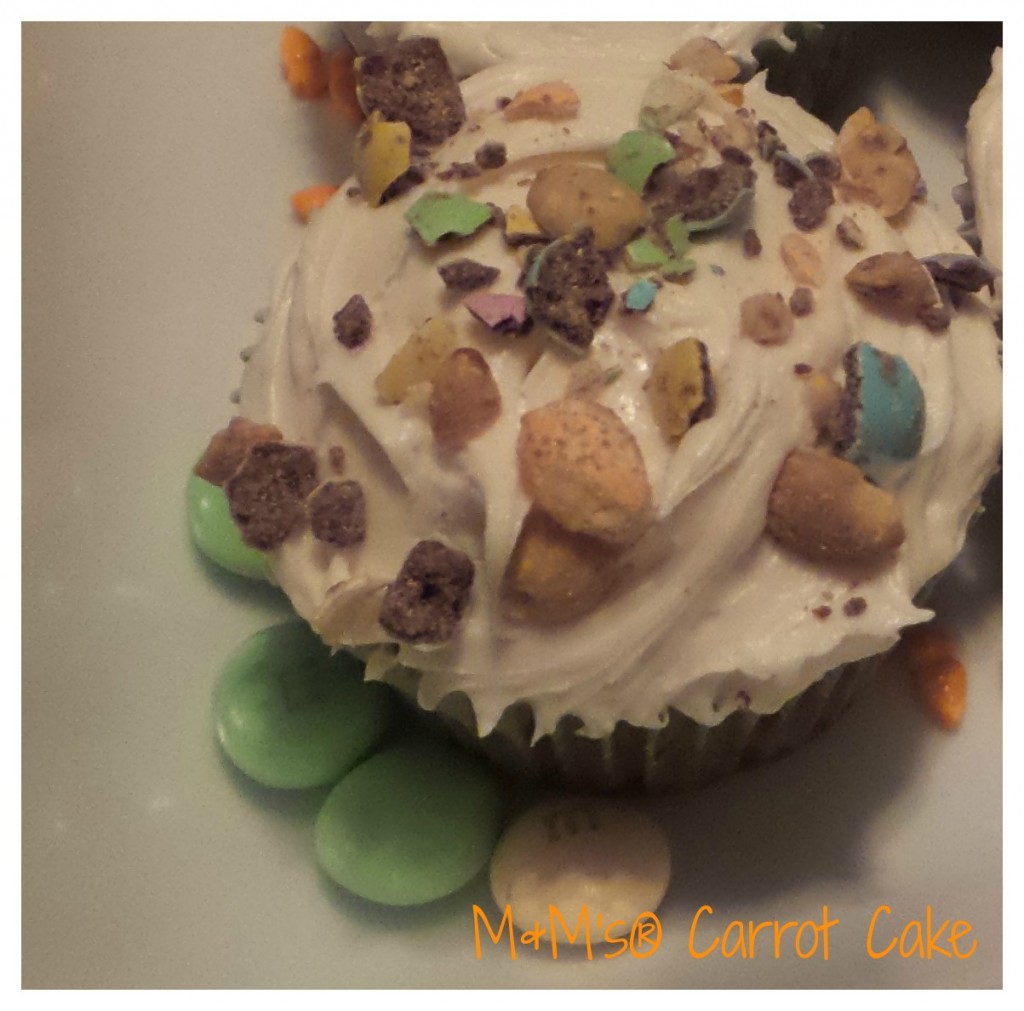 Easter Cupcakes with M&M's® Carrot Cake Candy
Prep time:
Cook time:
Total time:
Ingredients
Cake Mix Ingredients:
1.5 cups - granulated sugar
1 cup - vegetable oil
3 - large eggs
2 cups - all-purpose flour
2 tsps - ground cinnamon
1 tsp - baking soda
1tsp - salt
1 tsp - vanilla
3 cups - carrots (shredded), this is usually 4-5 average sized carrots
½ cup - ground M&M's® Carrot Cake pieces
½ cup - ground M&M's® Peanut pieces
Icing ingredients:
1 pkg (8oz) - softened cream cheese
¼ cup - softened butter
2 tsps - milk
1 tsp - vanilla
4 cups - powdered sugar
Instructions
For cake batter:
Preheat oven to 350 degrees (F). Either spray your cupcake pan or line with cupcake cups
For the cake batter, in a large mixing bowl, mix sugar, oil and eggs and mix on low for 30-40 seconds. Add in the flour, cinnamon, baking soda, salt and vanilla. Continue to mix slowly for another minute or all ingredients and smoothly blended. Using a wooden spoon, stir in ½ cup of each ground M&M's® pieces and the carrots, until completed mixed. (NOTE - keep the other ½ cup of the ground M&M's® pieces to top your cupcakes after they have been iced.
Fill your cupcake slots or cake cups about ⅔ of the way full for an average sized cupcake. you can also fill them about ¾ the way full for a fluffier or larger cupcake. Bake for 20-25 minutes. Remove and allow to cool for 15-20 minutes.
For the icing:
In a large mixing bowl, combine cream cheese, butter, milk and vanilla. Mix on low until completely blended and smooth in texture. Slowly and steadily beat in the powdered sugar and keep mixing on low until all ingredients are completely smooth and combined.
Frost the cooled cupcakes and them drizzle the tops with the remaining ground M&M's® pieces. Serve and enjoy.
These cupcakes turned out to be one of my most delicious creations to date.  I love the delicious taste of M&M's® Carrot Cake pieces and cannot wait to make more of these for my family on Easter.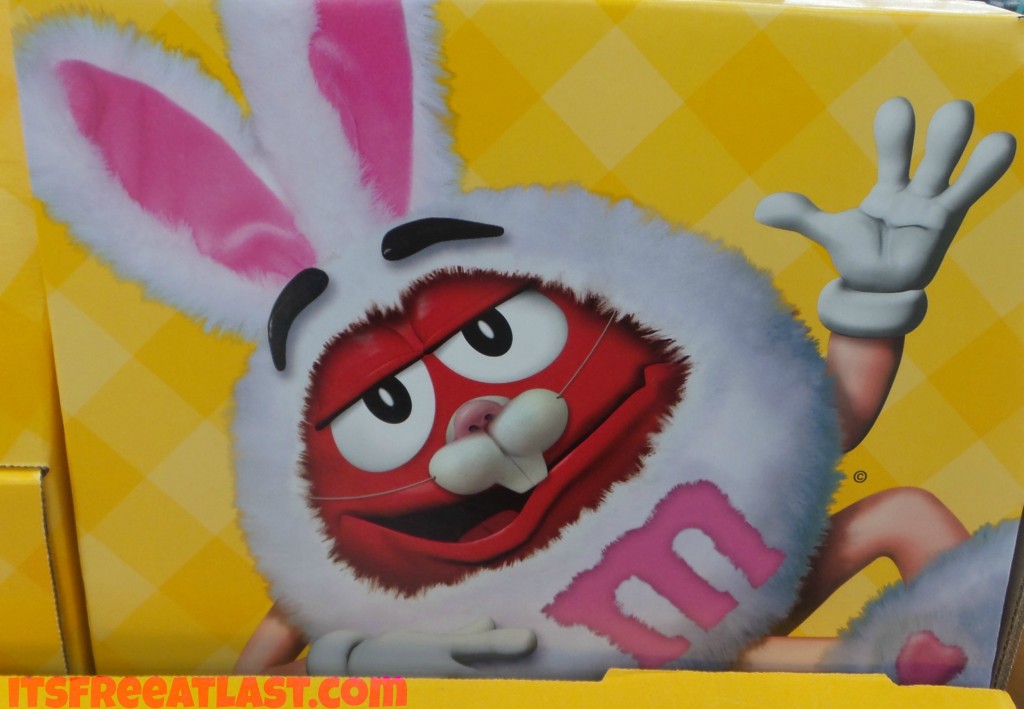 Tell me a comment below, what special treats or traditions do you have for your family at Easter time?