Encyclopædia Britannica Launches Virtual Reality Science Just in Time for the Holidays! #MegaChristmas18
This post may contain affiliate links or I may have received the product free in exchange for my honest review. See full disclosure for more information.
I love getting my kids educational and fun gifts, and with this set this sure will be a hit for the upcoming holiday! Encyclopaedia Britannica brings you lots of great educational information about our world that will keep kids interested in learning about the world around them!
Encyclopaedia Britannica, Inc. is a global leader in educational publishing, with products in many media, including online and mobile devices. A pioneer in digi

tal publishing since the early 1980s, the company markets a variety of curriculum products for schools, language-study courses, online learning services, encyclopedias and other reference works, and language products through its Merriam-Webster subsidiary.
The Britannica Virtual Reality Science! 6-book set is perfect for ages 7+.   The set includes vetted information from Encyclopedia Britannica plus a virtual reality experience. Each hardcover book is rich with full-color illustrations and photographs, lively graphics, inviting text, and videos. It is the perfect holiday gift that grandparents, parents, and children can enjoy together for hours! Included is a 6-month free subscription to Britannica Online®.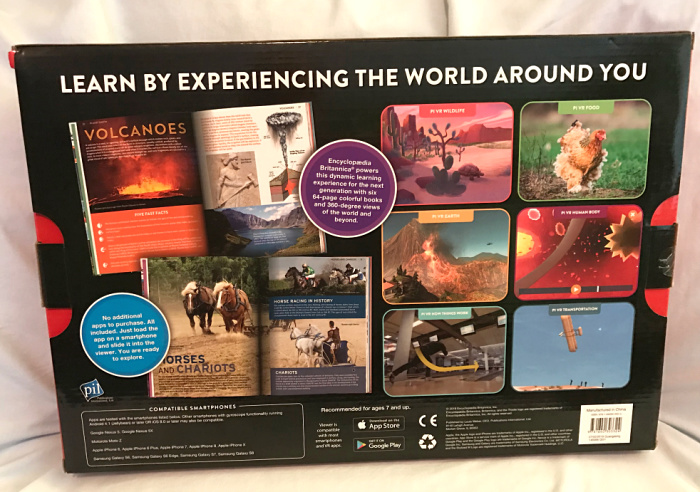 The set comes packaged with a virtual reality viewer and instructions for downloading six different apps for no additional cost. Once the app has been downloaded and a smartphone (iPhone or Android) is placed in the virtual reality viewer, the reader can access a 3-D environment associated with each book's content, including interactive animations, videos, games, and more. Adults and children alike can enjoy all these books have to offer.  Titles include:
The Human Body:  In the book, find out about the human body from head to toe. The different systems of the body are explained, from the skeletal system to the nervous system, as well as information about sleep, the senses, how memory works, diseases, and more. Detailed illustrations let you see each of the body's systems. In the app, see your immune system in action. Shrink down to see inside the human bloodstream as the body fights off an infection, and find out more about allergies and antibodies! 
Food Science: In the book, explore topics related to nutrition, the history of agriculture, farm machinery, farm animals, pest control and soil conservation, and more. Vivid photographs let you see crops, livestock, and machinery from farms around the world.  In the app, explore a working family farm. Find out more information about pigs, cattle, and irrigation, and watch chickens feed!
Wildlife Wonders:  Explore the natural world through some of its most awesome and strange creatures. See very large and very small animals, animals that are adapted for extreme environments, the fastest and slowest animals, and animals with amazing abilities. From the tarantula to the blue whale, we look at animals that astound. Vibrant photographs let you see animals in their natural habitats. In the app, take a trip to the Sonoran Desert and find out more about the animals adapted to living there, including a Gila monster.
Transportation:  In the book, enjoy learning about the many methods of human transportation, from the wheel and early ships to the extraordinary machines that travel through space. Find out about everything from submarines to airships to railroads. In the app, see Kitty Hawk at the time of the Wright Brothers. See their workshop, board the flyer and take a ride on the first flight, and see a later flight in action.
How Things Work:  Learn how things work, from the basic building blocks of the universe to the most recent human inventions. Explore scientific concepts and discoveries, from sound, light, and magnetism, to human inventions including plastic, computers, and Wi-Fi. In the app, see simple machines such as pulleys, levers, and gears at work in a modern clocktower. Watch videos, play a game, and more.
Planet Earth:  In the book, explore our Earth, from its inner core to its atmosphere. Find out about volcanoes, earthquakes, earth's natural cycles, weather, and more. In the app, see an active volcano at the time of eruption, lava, geysers, and more!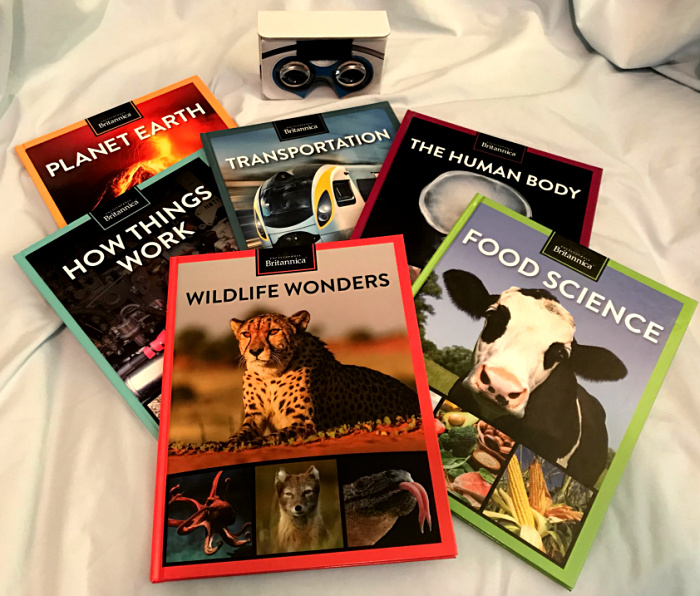 Check out Encyclopaedia Britannica's website or their official licensed partner, Publications International Ltd.'s website for more information how you can purchase this for the upcoming holidays.
You can follow Encyclopaedia Britannica socially:
Facebook/Twitter/Instagram/YouTube/Pinterest
---
We have added Britannica products to our 2018 Holiday Gift Guide