Enjoy Tasty Greek Chicken Kabobs
This post may contain affiliate links or I may have received the product free in exchange for my honest review. See full disclosure for more information.
Are you looking for a tasty, healthy new dish to try or serve to your family? These delicious Greek Chicken Kabobs are lean on calories, but FULL on flavor. Here's how to make them: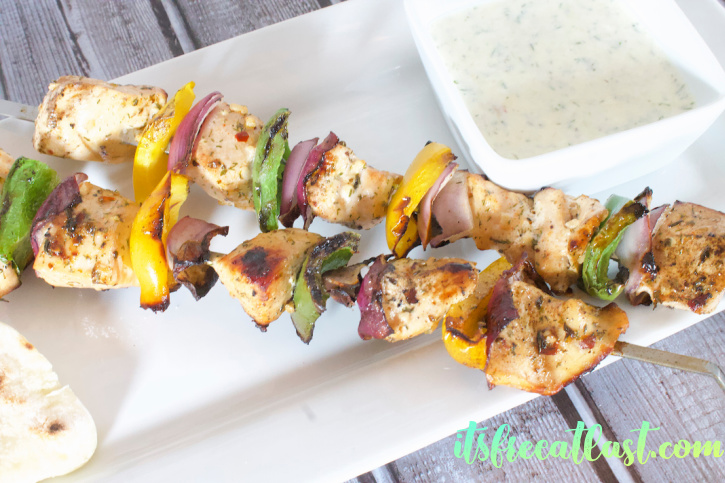 Enjoy Tasty Greek Chicken Kabobs
Ingredients
Marinade:
● ½ Plain Greek Yogurt
● ¼ Cup Olive Oil
● ¼ Cup Lemon Juice
● Zest of 1 lemon
● 1 Tbsp Balsamic Vinegar
● 2 tsp Dried Oregano (or 2 Tbsp fresh)
● 1 tsp Dried Thyme (or 1 Tbsp fresh)
● 1 Tbsp Fresh Dill (or 1 tsp dried)
● 6 Cloves of Garlic (minced)
● 1 tsp Paprika
● 1 tsp Coarse Sea Salt
● 1 tsp Ground Pepper
● ¼ tsp Red Pepper Flakes
Skewers:
● 4 boneless/skinless Chicken breast (cubed in 2" pieces)
● 1 Large Bell Pepper (Cut in 1½" pieces)
● 1 Large Red Onion (Cut in 1½" pieces)
● 6-8 skewers (soak in water for 30 minutes if using wooden skewers)
Instructions
Combine the Marinade ingredients in a bowl (or a ziplock bag); Add the Chicken and marinade for 4-24 hours.
Preheat the grill to 400°F
Carefully thread the skewers with Chicken, Pepper, and Onions; Grill until the Chicken is cooked through (about 4 minutes of each side)
The end results!
Are you ready to dive in and give this recipe a try? Tell us your thoughts or other chicken recipe ideas below.