Essential Tips About Camping When Pitching A Tent
This post may contain affiliate links or I may have received the product free in exchange for my honest review. See full disclosure for more information.
Your camping trip will never be complete without a tent. Regardless of the location and the number of days you're going to camp, you will always need a tent. And while buying a tent is an easy task, pitching one can be challenging. The latter is especially true if you're a first-time camper.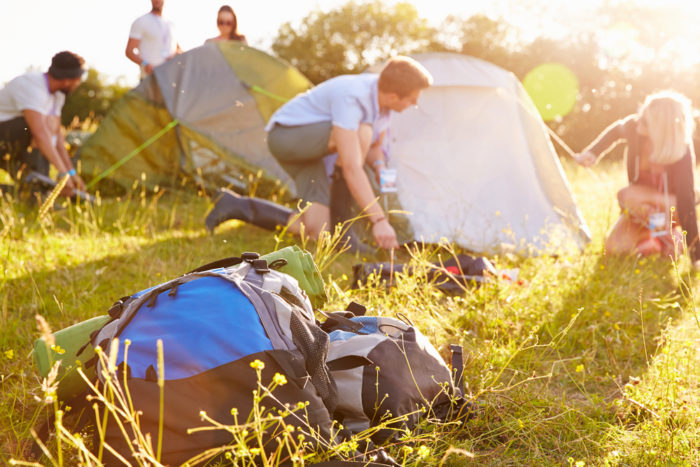 Websites such as Outdoorcommand.com can provide tips on what should you prepare for your upcoming camping trip. But aside from knowing which equipment to bring, it's also important that you know how to properly pitch a tent. Here's how you can do it:
Start At Home
Having a tent is important because this is where you'll sleep and stay during your camping trip. Your tent will serve as your home for the days you will be in the woods. However, before you can successfully pitch one, you should start working even when you're at home. Preparation is always key and, as a camper, your responsibility to prepare begins at home.
Here are some steps you should take before you actually pitch a tent:
Check your tent before you leave home: The idea of spending nights in the woods can be fun and exciting, but if you're unprepared, it can also become very stressful. For you to avoid stressing out when pitching a tent, check it before you go camping. Pay attention to the overall condition of the tent. Is it free from any kind of tear? Does the product come with all the necessary inclusions? If you have the time and space in your property, consider putting up your tent, too. Let your kids help, especially if they will be going camping with you. Doing this will serve as practice, allowing you to easily pitch your tent the moment you arrive at your campsite.
Read the instructions: Regardless if you're going to pitch a tent for the first time or have done it many times before, it's always best if you read the instruction manual included when you bought the tent. The information you can read from this material can give you a better idea of what you should and shouldn't do in pitching a tent.
Never do it alone: Camping can be more fun if you're doing it with a lot of friends and family—after all, the more, the merrier, right? The same is also true when it comes to pitching your tent. Don't hesitate to ask for help from fellow campers when you're pitching your tent. Their helping hand can surely go a long way, especially if you're planning to bring a large tent.
Choosing A Location For Your Tent Is Vital
Just any area in the camping site isn't an ideal location to pitch your tent. Naturally, you don't want your tent to be damaged just because you set it up on a rocky campsite. Aside from the longevity of your tent, your comfort while being inside it also depends on the location you choose. It'll be hard for you to sleep well if the ground underneath your tent is too wet or rocky.
All of your efforts in learning how to pitch a tent will be useless if you don't have any idea which location to pick. Here are some tips to help you out:
Find a flat ground: Finding a flat ground to pitch your tent should be on top of your to-do list the moment you arrive in your campsite. A flat ground allows you to set up your tent easier while providing optimal comfort.
Leave plenty of room around you: When choosing a location, don't solely think about the space your tent will take up. It's important that you leave at least 5 meters between yourself and other tents for privacy. Also, avoid pitching your tent near campfire spots to avoid catching fire.
Don't pitch under a tree: No matter how tempting it can be, you should never pitch your tent under a tree. This location might allow you to enjoy the shade, but once it rains, water will drip loudly onto your tent, making it hard for you to sleep.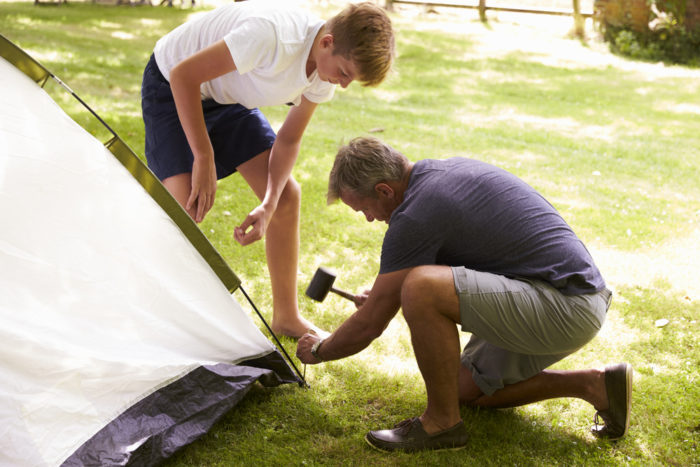 Learn Some Hacks When Pitching Your Tent
After choosing the best location in your campsite, it's finally time to pitch your tent. Depending on your experience and the size of the tent, the process of pitching it can be done in a few minutes. Here are some hacks to help you pitch your tent better:
Clear debris near your tent site: Make sure that no debris will poke your tent or your back when you're sleeping.
Stake down tent corner if it's windy: You can never control the weather—one minute it's sunny and the next, it's too windy. If you experience the latter, stake down the corner of your tent.
Go slow with the poles: Poles are essential in pitching a tent, but these can easily get damaged. Always handle each pole with care to prevent it from chipping.
Patience Is Key
Pitching a tent might seem challenging but keep in mind that this task can always be done. Along with the tips from this article, don't forget to be patient with your efforts. Just think about the fun you're going to experience once your tent is set up!