For The Prom: Here Are The Top Ways To Wear White
This post may contain affiliate links or I may have received the product free in exchange for my honest review. See full disclosure for more information.
There is absolutely no doubt whatsoever that white is a beautiful color to wear to any occasion, except maybe to a wedding where the bride will be wearing white and she will be very disappointed in you if you wear a white dress as well. Apart from this particular situation, you're good to go when wearing white to events like your prom, for example.
Image Source: Freepik
If you are considering wearing this color for your prom dress, then you should know that white never goes out of style; it is always trendy and it is always fashionable. White dresses are incredibly elegant and if you take the time to find the right kind of accessories to go with your white dress, then you're going to look amazing.
If you live in a particularly hot part of the country, then white is an excellent color; it helps to absorb heat and so keep you cool in the midday sun. Many people feel, however, that white is a hard color to pull off when it comes to your prom dance, but the following are just some of the top ways that you can pull it off. The good news is that you can buy white prom dresses online and so, you get to take advantage of these tips.
The Right Shade Makes All The Difference – Believe it or not, there are many different shades of the color white. It is important that you pick the right one that blends in perfectly with your skin tone. To pick correctly, you should pick a white shade that is not the same as your skin tone and that is actually the opposite. If you have slightly darker skin, then an off-white prom dress would be the best choice here.
The Style Is Incredibly Important – You definitely do not want to look like the bride at your high school prom. Taking the right style is crucial if you don't want to look a little silly. Always look for a white dress that has modern style and doesn't resemble a wedding dress in any way. Think about whether or not you want to go for short sleeves or long sleeves, and you can't really go wrong.
Choose Your Accessories Wisely – Obviously, you will want to accessorize. The wonderful thing about the color white is that almost any kind of jewelry will go with it, including gold and silver. If you want to add some multi colors in there then it can be entirely appropriate. The same goes for your shoes and the bag that you want to carry over your shoulder or under your arm.
Stay Within Your Budget – It's likely that your parents have agreed to pay for your prom dress and so, always try to stay within your budget when it comes to picking out the right white prom dress. There are many different white dresses to suit many budgets, so do your research and you will find a dress that will make you look fantastic on your big day.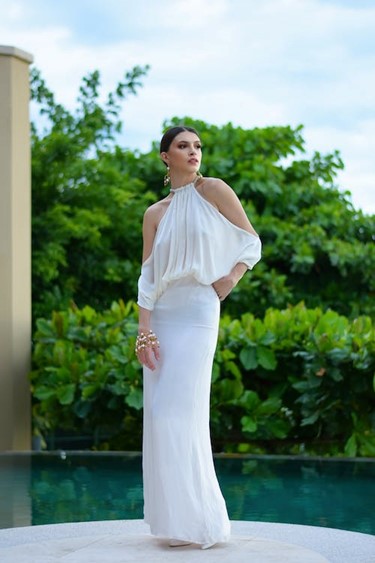 Image Source: Pexels
The most important thing to remember is that there is a white prom dress that is out there with your name on it, and it is just going to take a little bit of time to find it. Get yourself online using your smart phone or desktop computer. Have a look at the many different types of white prom dresses that are currently available at very affordable prices. You want to be able to stand out at your prom and so, choose an elegant white prom dress to separate you from the crowd.