Let's Talk Voyd with Sophia Bush #Incredibles2Event
This post may contain affiliate links or I may have received the product free in exchange for my honest review. See full disclosure for more information.
What a whirlwind 2 weeks it has been. Can you believe it was just last week that I shared my first interview post of the INCREDIBLES 2 cast, starting with with Craig T. Nelson (Mr. Incredible), Holly Hunter (Elastigirl), Sarah Vowell(Violet), Huck Milner (Dash) and Samuel L. Jackson (Frozone). We even shared our TOP 6 reasons to see INCREDIBLES 2.
Yesterday we shared with you the sibling duo, Evelyn (Catherine Keener) and Winston Deavor (Bob Odenkirk). Today, I am sharing one of the newer superheroes introduced into the movie, Voyd (Sophia Bush).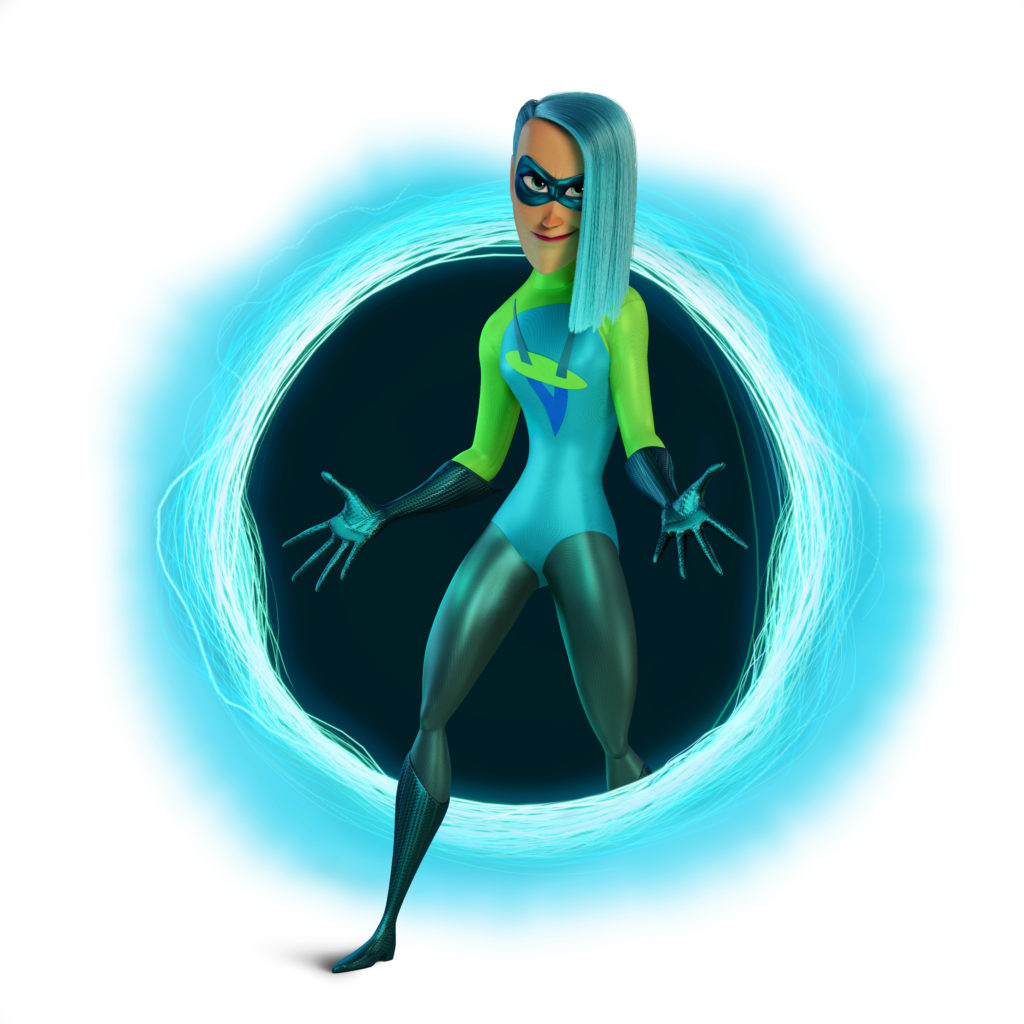 She strolled into the room very beautifully dressed and ready and excited to sit with this room filled with bloggers and discuss her new role in a blockbuster movie families have loved for over a decade.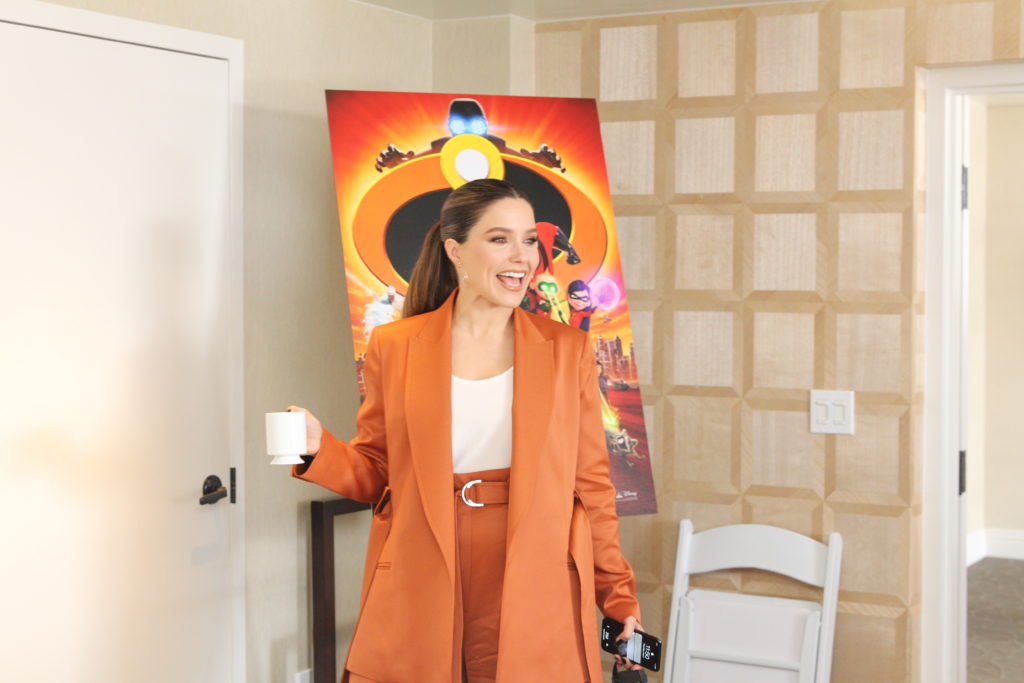 She noted that she wsa taking part in the 30-day no-throwaway challenged to reduce the number of containers and items disposed of and not properly recycled.
…they're reusable, so I encourage everyone to join me. It's been really fun. Also, it's bizarre, especially when you do like a (press) junket, realizing how much stuff gets thrown away. That is really not a nice thing to do to a person. [CHUCKLES] Put them directly under and overhead like 'Thank you.' I just saw Sam in the hallway and he was like 'Fashion!', and I was like 'This is my super suit.' [LAUGHS] So, I feel real good about it.  
Normally, we start asking the questions, but it was amazing that she really wanted to know more about us and asked where we were all from. It was followed with shouts of 'Texas, Orlando, Cincinnati, Seaside, FL…' She even thanks US for coming to her to interview here! OMW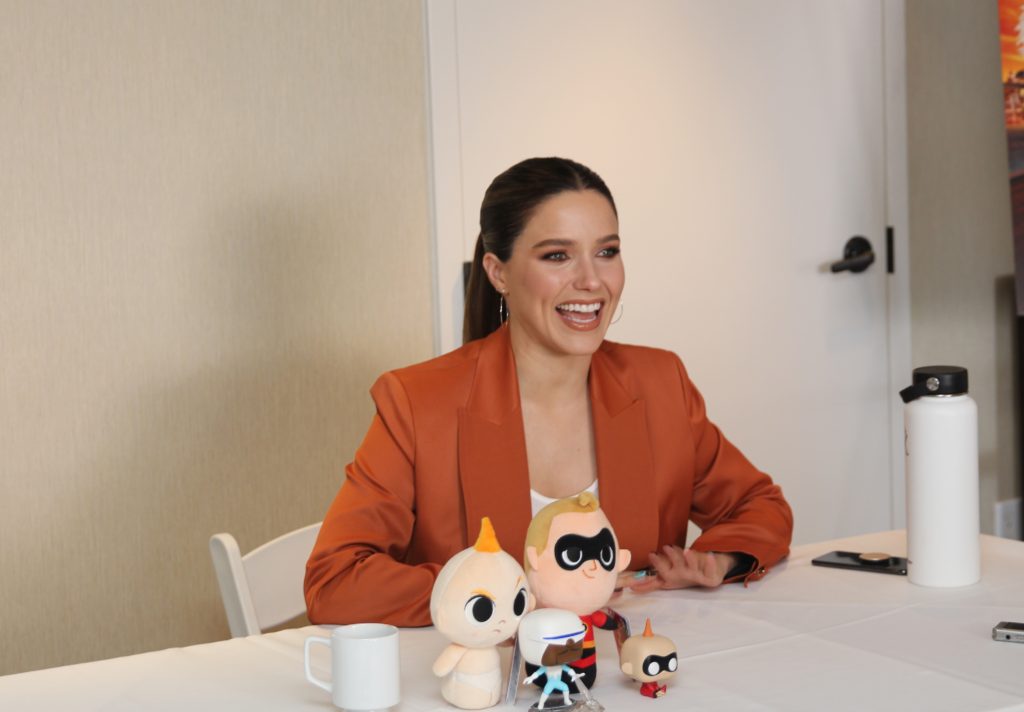 In a scene from the INCREDIBLES 2, Sophia did an amazing job of awkwardly "fan-girling" Elastigirl, noting she was an inspiration to her character. Surprisingly, she worked in the studio only, only with the assistance of director, Brad Bird. We wanted to know, how she prepared for working solo like this and not having the other actors to "bounce off of", so to speak.
So [SIGHS], what's interesting is you go in and it's you and Brad in the room. And he's such a phenomenal director. And as any good director, he's really got the movie put together in his head. So, I'm guessing obviously knowing that Holly and I are gonna be having a conversation in the way that you and I are, but I have no idea how she's talking, how fast she's talking, how loud she's talking, what her intonation is. So, I have to think about what's going on in the scene and kind of guess.

Brad knows what take he's gonna get from Holly, so he knows when I'm throwing things at him which take of mine is right. So, he's the mad genius scientist, which is awesome. For me I had to think a lot about who this girl is. You know, Violet is a teenager. Voyd is a young woman and she represents, to me, so many of the girls who I spend so much of my life talking to, girls that are in high school, college, post college, trying to figure out who they are.

And the way that I related it was this, I thought a lot about being a young girl in this world of the Incredibles, who has powers, who thinks it's the coolest. And then you see people like you become illegal. And your parents tell you you have to hide who you are, because you could be jailed. You could be killed. You could be subject to harassment. But you grew up looking up to Elastigirl. She was on your TV. There's no one in your town like you.

But you had an idol. And you knew that she got to shine. And the way that came into a specific idea for me when I think about what intersectional activism, what I think about being a woman for all women looks like, when I think about what my level of relative privilege is, 'cause when we're women we don't have enough privilege, but as a white woman I have more privilege than a lot of other women. And I think about what the struggles are in society for people who are not accepted or people who are othered because of their race, because of their gender, because of their sexual orientation.

And I thought about listening to my sweet superhero friend herself, Debra Messing talk about what it was like when Will and Grace was on the air. And she would meet these young gay kids from small towns where they maybe were the only gay boy or lesbian girl, and they were shunned and they were judged. And they would meet Debra or Erica McCormick. And over and over again these kids would say, I grew up in a place that didn't accept me, and I saw you on TV and your character taught me that everything was gonna get better for me and that someday I'd get to be who I am.

Elastigirl girl is Voyd's Debra Messing. She is that idol who made this girl, who had to dim her light for so long, feel like eventually everything was gonna be okay. And you see her expressing her identity. Like, she has turquoise hair and a side shave. This is a bold expression of her inner radicalness, but she's had to hide her biggest magic. And she gets to meet the person who made her feel like one day it was gonna be okay. And that made everything about why she just couldn't figure out how to hold it together.

Like, it made it really, really personal for me, because it was something that — that's a fight I've been a part of in my real life, and it helped me own the moment for this sweet girl in the recording booth.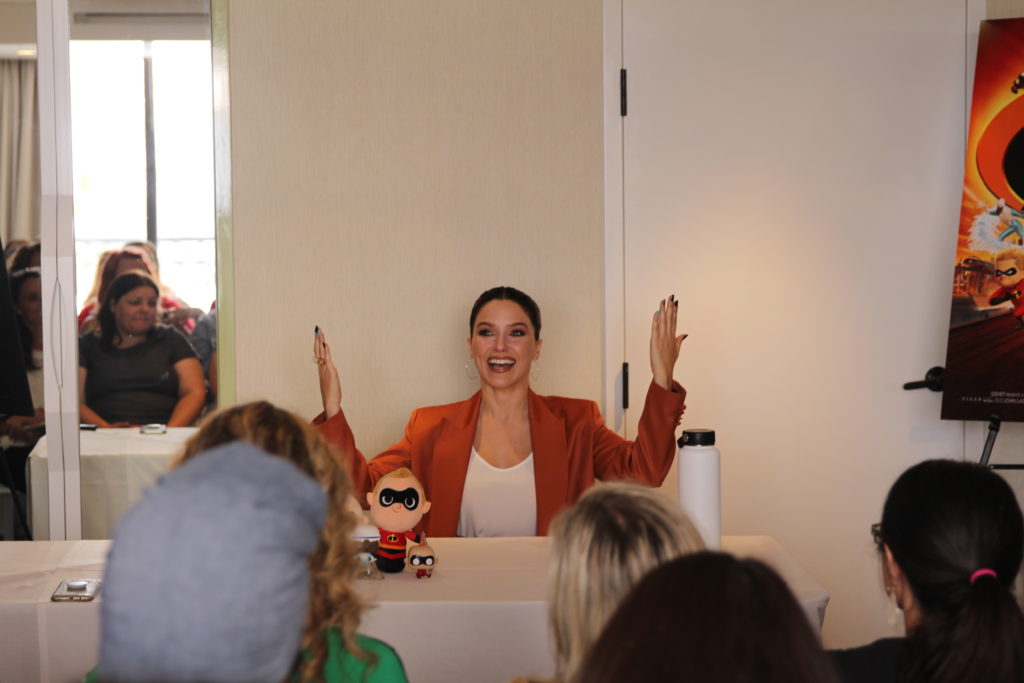 The movie definitely has as strong "Women of Power" tone to it. We asked Sophia that, as a woman who's heavily involved in activism for women in Hollywood, what did it mean when she found out that this was like a strong women's centric movie?
Well, I told Brad he's clearly psychic, because [CHUCKLES], you know, this movie was three years in the making. So, this was pre the Time's Up conversation being had. This was pre a lot of these studies about gender parody and even current stages of pay disparity, our lack of paid family leave in this country. Even when we look at some of the statistics that have come out about how many dads are actually now the stay-at-home parent, how many women earn equal to their male partners, how many women are actually the primary bread winner in their households.

And Brad was like I mean I don't know. I just thought it would be funny to freak Bob out, you know, is always his public answer, but then we're talking backstage and he's like, well, you know, my wife's a superhero. She's the coolest woman I know. And he's really so for us, and I think it's so important to be grateful at a time like this to our excellent male allies, because it's like we're not looking to burn all men at the stake. We just wanna like throw the trash out. So, and, you know, like Harvey Weinstein is trash. Bye. [CHUCKLES]

So, this film was ahead of its time, in a way, when it was written and when it began. And I think it's so smart, because a lot of these conversations when we talk about the data around gender, people are like, oh, my God, you know, especially people who don't agree with us, who don't wanna hear about race, who don't wanna hear about sexual orientation. It makes them tense. And this movie manages to talk about identity and empowerment with not an ounce of tension, with so much humor.

It welcomes everybody to the table. I've not heard a single guy be like, oh, that's like a woman's movie. They love the movie. And I'm like, yeah, because women's issues are just life. It's not — 'they're just issues.' They're everybody's issues. And these are family issues. They really are for everyone. So, I think it's really refreshing in a time where people are a bit tense about where all of this goes from here to remind them that it can go to a place like this, that instead of 'othering' people we should welcome everyone to the table, because if everyone puts their own personal brand of magic on the world, the world gets better.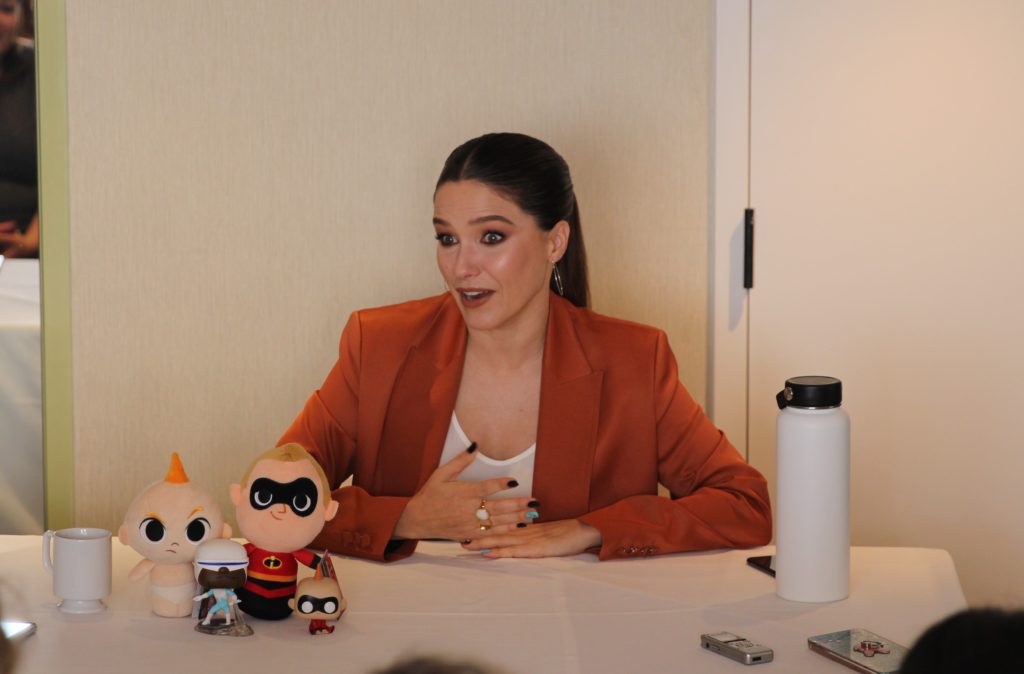 A fan asked, through one of our bloggers in the room, "Which will be your super power in real life?"
I mean I would love to have Voyd's powers. No like. They're really badass! I think about convenience, and whatever the power is that would allow me to teleport, I'd like that. 'Cause like I have to get on a red eye tonight. Do you know how happy I'd be to just like grab my bags and twitch my nose like Samantha from Bewitched and just be in another city? Like, no more TSA, no more bad airport food, no…it would be the biggest game changer of my life. I would love that.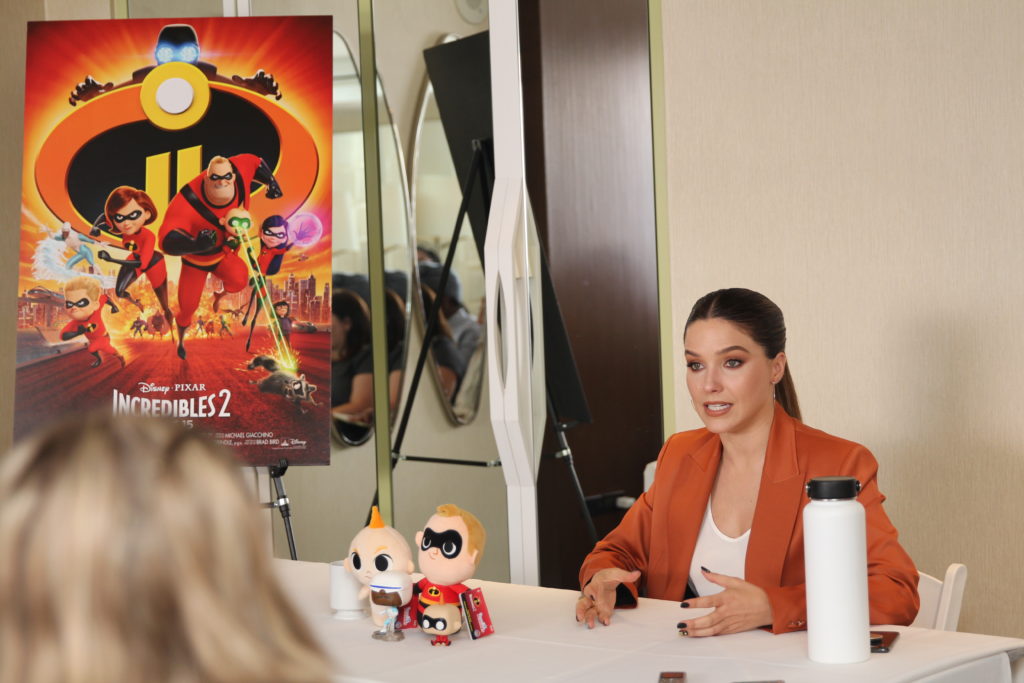 Sophia noted to us that she actually got to spend some time at the Pixar Animation lot in San Francisco, CA. We asked her what her take was on the animation process and how a movie comes to fruition from the first sketch to the big screen.
I wish that they would do a sort of "behind-the-scenes package" for people to see the stages, because if you know how many layers of tech — I mean it's literally like — it's like a lasagna. It's like layers and layers and layers and layers and layers of code and specificity. And there's a whole pass on the movie done just to animate hair. And there's a whole pass on the movie done just to put the right textures in clothing. And they're — I mean it's so crazy. And we got to see a rough cut of the film back in February.

And there were whole bits of it not animated yet. Like, our characters were like floating around with no arms like ghosts, [LAUGHS] you know. And there were certain scenes where they were animated, but the mouths hadn't been yet, because our dialogue had just been finalized. So, then they have to do the mouth to match your speaking voice. It is so much more complex and brilliant and genius and cool than anybody knows. And, you know, to them they're like, well, we present what's perfect to the world, and I'm like show them everything, you know.

I'm like 'I wanna see the unretouched pictures of these people, too.' It's really — it's phenomenal and hundreds, hundreds and hundreds of people work on every movie.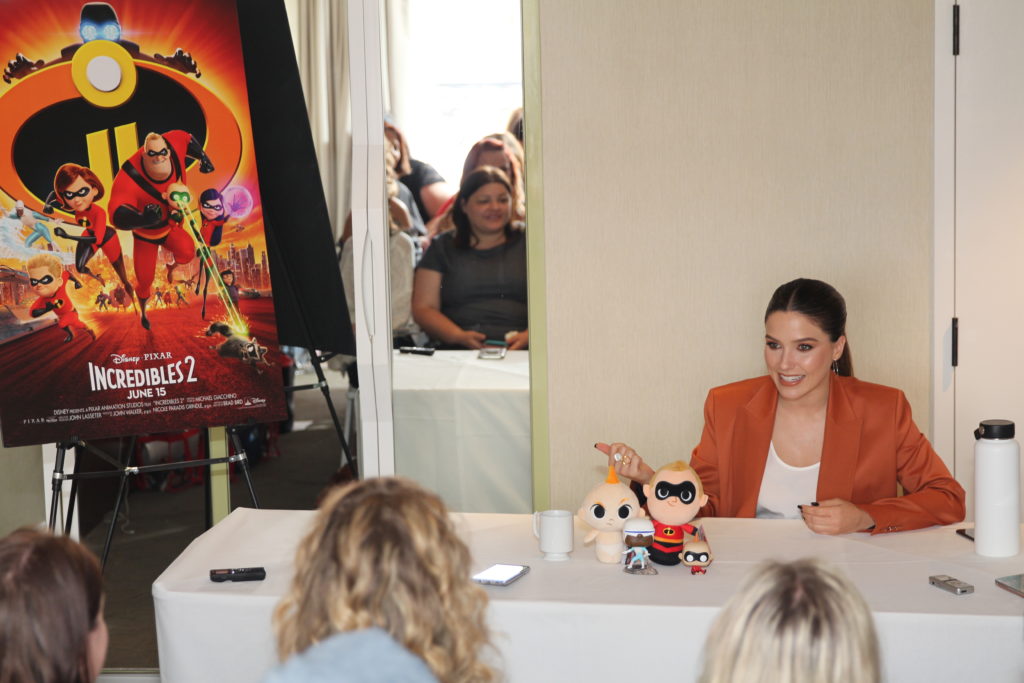 Many who know Sophia Bush, know that she is a smart business woman who is very business savvy. We asked about her interest in tech as it relates to her character, Voyd, and in everyday life.
Yeah, very much so. I've actually been investing in tech companies for about ten years. And I love — I think that when we talk about parody, for example, I think we have a problem in that women when they make any money at all — and I'm not talking like you don't have to be Warren Buffet and be a billionaire and be 65 before you can be charitable or before you can start investing. That is a lie. Like, you can invest a couple hundred dollars here, a couple thousands dollars here. There are ways to get women in the financial game that we don't talk about, because we don't talk to women about money.

And oddly enough we don't talk to women about their healthcare or their bodies either. So we really don't talk to us about anything but like makeup and hair products. So, we need to change the conversation. But when women make any money at all, they're encouraged to donate to charity, which is something that I do. But men when they make money are encouraged to become investors. And this is a major point of disparity in our society. And so, for me, the reason that back in the day — and I started writing like very small checks. I'm still not writing huge checks.

I remember there was announcement probably like eight years ago now that like Ashton Kutcher and I invested in the Seed Round. It was a very cool tech company. And I was like don't put my name next to his name. He wrote a check like 18 times bigger than mine. That guy — he has all of the money. I'm trying to catch up. But I realize that even getting the game in small ways changes who's on board calls, changes who's on advisor calls. We need more women having seats at those tables.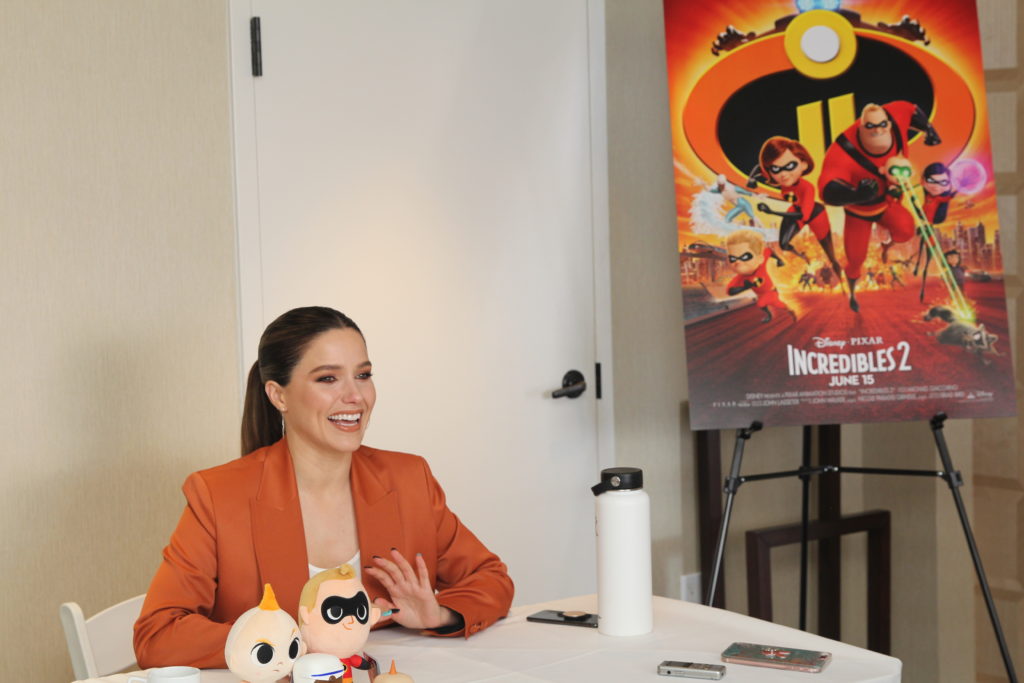 And so, for me, being a person who is very intuitive about design and who also loves tech, the world of UI design, interface, the way that things are coded, the way that they function on mobile, these are things that I can have input on for companies that very often have these engineers who are so into their world that they're not thinking about how most of us are not gonna use their product. So, that was a really fun way for me to foray into that. And I've spent a very long time supporting a badass woman of color in New York. Her name is Reshma Saujani.
She created a company called Girls Who Code. She also ran for office. She did not win. She will. I know she will. Times are changing. She is incredible. And so to support her coding camps for girls, like look at — my character is a woman in STEM. She literally manipulates space time. It's so cool to me. So, to talk to women about how science, technology, engineering, medicine, these are fields that they should be in. They should be owning. That is very exciting to me. So, I think that the people at Pixar were probably like we just needed you to come and do a thing. Like, we didn't — okay. [LAUGHS]

Okay, so, yeah, you wanna see like how they animate — how this level of animation works, fine. I was like please tell me all of the things.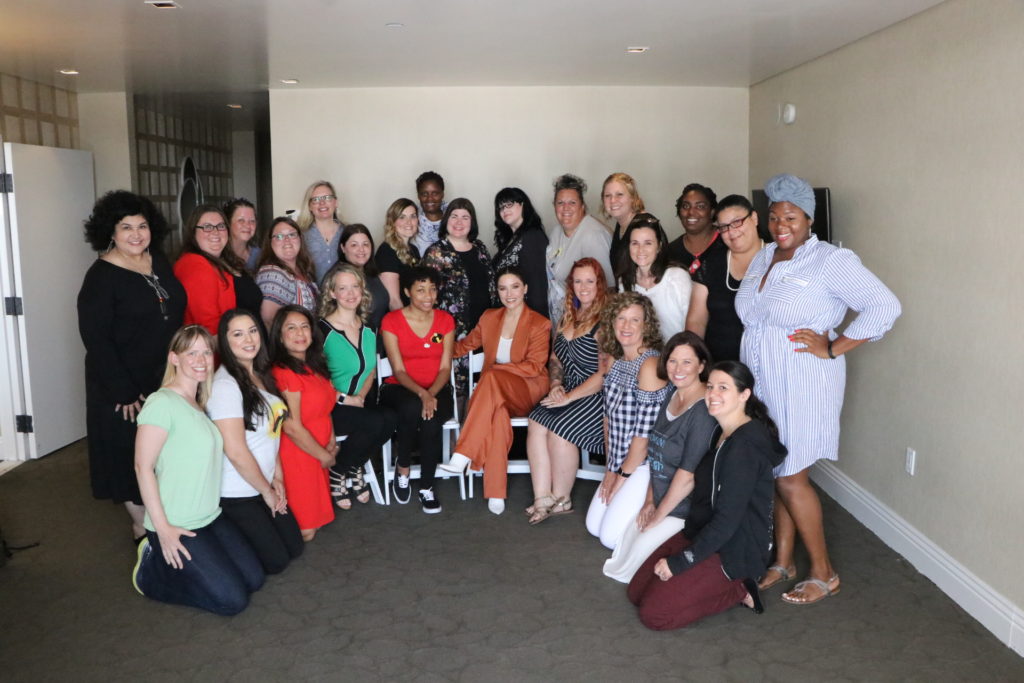 If you have seen my other interviews, you know that we always end the interview with a fun group photo. Sohpia was happy to sit with us and take a group photo, but she also had one request…"Can we also take a photo of the group using Voyd's hand movements?", to which we happily complied.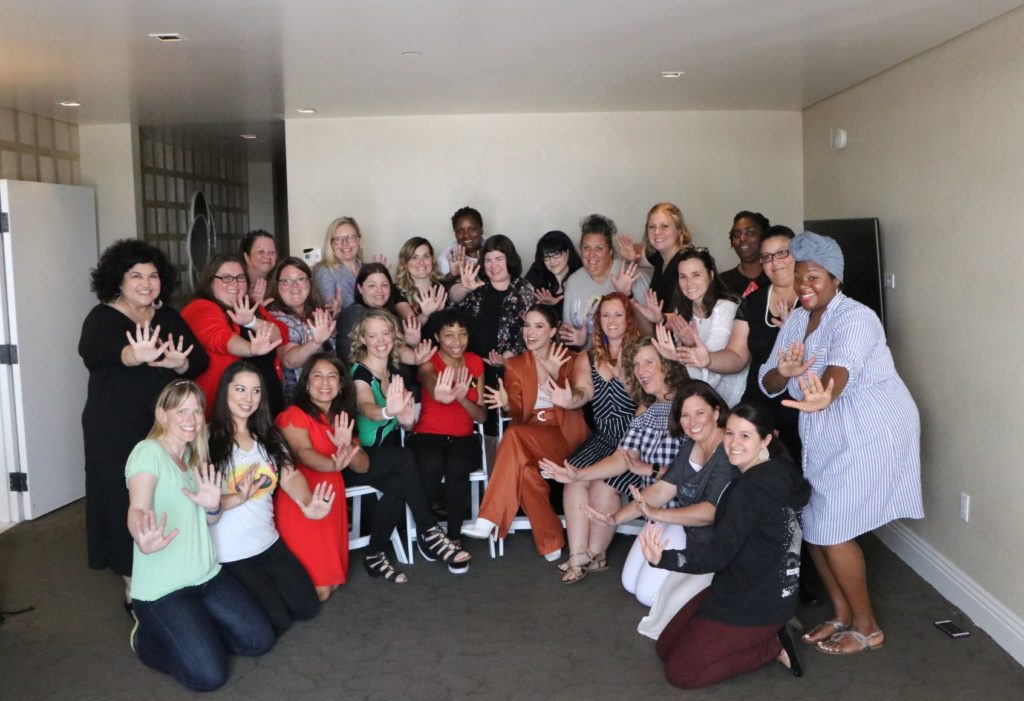 ---
Get ready for an INCREDIBLE TIME!

ABOUT THE MOVIE
Everyone's favorite family of superheroes is back in "Incredibles 2" – but this time Helen (voice of Holly Hunter) is in the spotlight, leaving Bob (voice of Craig T. Nelson) at home with Violet (voice of Sarah Vowell) and Dash (voice of Huck Milner) to navigate the day-to-day heroics of "normal" life. It's a tough transition for everyone, made tougher by the fact that the family is still unaware of baby Jack-Jack's emerging superpowers. When a new villain hatches a brilliant and dangerous plot, the family and Frozone (voice of Samuel L. Jackson) must find a way to work together again—which is easier said than done, even when they're all Incredible.
Voice Cast includes Craig T. Nelson, Holly Hunter, Sarah Vowell, Huck Milner, Samuel L. Jackson, Brad Bird, Bob Odenkirk, Catherine Keener, Jonathan Banks, Sophia Bush and Isabella Rossellini
Here is the OFFICIAL Trailer!
In theaters on June 15th, 2018, stay connected socially with Disney•Pixar's INCREDIBLES 2 for the newest film information and clips
 Facebook |  Twitter | Instagram | Website
---