How To Puppy Proof Your Home
This post may contain affiliate links or I may have received the product free in exchange for my honest review. See full disclosure for more information.
There is nothing like bringing home a new puppy to put a smile on your face. A puppy is a sweet, cuddly and adorable addition to your family. You should also remember that puppies are energetic and bound to get into mischief, but this is only because they are naturally curious and like to explore their surroundings.
It is important to prepare your home before bringing home a new puppy. You need to make sure your home is a safe place for your new family member. You also want to make sure your decor and heirlooms are out of reach. So before you start browsing an online puppy store for your new four-legged friend, use the following tips to puppy proof your home.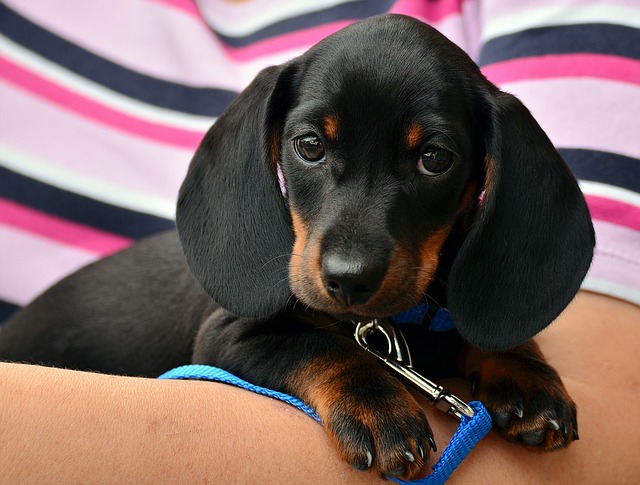 Preventing Injuries
There are certain precautions you should take to prevent any kind of injury to your puppy.
Electrical cords and outlets can cause electrical shock, burns and even death by electrocution. Run your cords through cord concealers, spiral cable wraps or PVC pipes so your puppy cannot chew on them. You can keep your puppy from licking outlets by investing in outlet covers.
Keep an eye on your puppy around the furniture so they do not wind up with an injured tail or leg. Check under your open recliner or pull-out couch before closing it, and be careful when sitting in a rocking or swivel chair.
Sharp objects such as knives, scissors, writing utensils, sewing needles and fishing equipment should be kept out of their reach.
Trash such as bones and wrappers can be harmful to puppies, so it is best to hide your trash cans or invest in a secure locking lid.
Preventing Digestive Problems
There are many items that can cause digestive problems if your puppy swallows them. It is important to keep the following items out of sight and out of reach.
Medication. This includes prescription, over-the-counter, vitamins and even dog supplements. Remember, puppies can chew through a container.
Cleaning supplies. You should also remove your puppy from the area when using the cleaners, as the vapors can be harmful to your furry friend.
Clothes and accessories. Nylons, socks, underclothes, headbands, hair ties and other pieces can cause intestinal blockage. Make sure these items are always put away, and invest in hanging hampers for your laundry.
Small objects. Paper clips, rubber bands, yarn, thread, dental floss, jewelry, coins and any kind of pins are just several examples of items that need to be kept away from your puppy.
Prevent Outdoor Hazards
Use the following tips to prevent outdoor hazards.
Walk around the exterior and make sure there are not any trash and sharp objects on the ground. Keep your puppy away from your grill, fire pit or any area that could cause burns.
Install a fence to keep your puppy inside the yard and away from dangerous areas, such as the pond, pool, hot tub, street or drainpipes. Make sure your puppy cannot dig under, squeeze through or jump over the fencing.
Keep harmful items such as insecticide, lawn fertilizer, rat poison, antifreeze, oil, gasoline and paint in secure containers and away from your puppy. Research the plants in your yard, as daffodils, foxgloves and oak can be harmful to dogs.
The best thing you can do is create separate areas for your puppy to play and use the bathroom.
Protect Your Items
Secure your decor, accessories and heirlooms so your puppy cannot knock them over or chew on them.
It is important to create a safe environment for your puppy, which you can do by taking the necessary precautions around your home.