How to spend a weekend in Bangkok
This post may contain affiliate links or I may have received the product free in exchange for my honest review. See full disclosure for more information.
If you have a free weekend and wondering how and where to spend it, well, why not fly to Bangkok? Just look for suitable flights by Singapore airlines and land at the bustling city that is full of fun and excitement. All you need to make time for is a couple of hours of flights and take advantage of cheap flights to Bangkok promo offers to reach Bangkok. After all, it is not a million miles away!
A weekend in Bangkok can sure keep you busy and entertained. All you need to do is design the itinerary well and choose the activities that are of your interest. Bangkok is packed with exciting places and wondrous spots. One thing is for sure; there is never going to be a dull moment when you are on the streets of Bangkok. Arrive by Friday night and go early to bed so you can make a refreshing start for the weekend in Bangkok.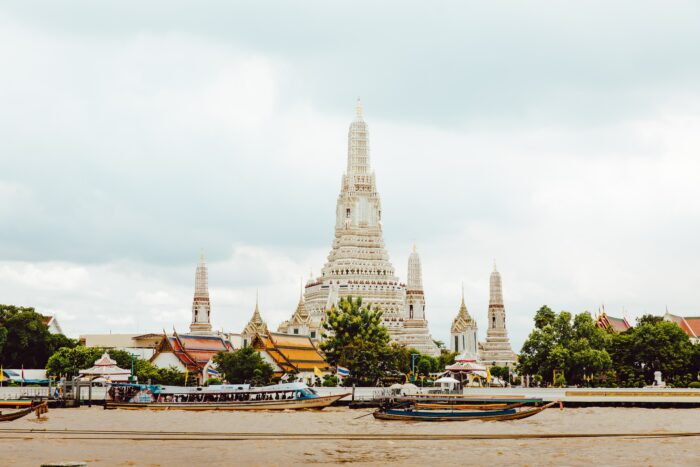 Saturday – Explore the ancient side of Bangkok
After breakfast, take a public ferry along Chao Phraya river, and the experience will introduce you to the "real" Bangkok, as those rivers and canals are what the city is made of. Many famous attractions are located along the main river, and one can enjoy wonderful views from the river. You can get off at Tha Chang and explore the temples and other sites of the area. Grand Palace, Wat Phra Kaew and the Temple of the Emerald Buddha are a must-see. Grand Palace is the biggest attraction and used for ceremonial occasions. Buddhists from all across the world come to pay their respects at the Temple of Emerald Buddha. See the reclining Buddha at Wat Pho and admire the Chinese statutes in the courtyard.
On the way, you will come across several stalls where you can enjoy a quick bite or grab something delicious to eat. You can have Thai food for lunch, and later you can visit Temple of The Dawn, Wat Arun, and it is a favorite temple in Bangkok with a Khmer-style tower. In the evening, spend some time in the vibrant Chinatown that dates back to 1782. It is a unique experience to explore that maze of tiny alleys and hectic markets. Do not forget to visit the Flower Market located in this area. You can wind up the day at Kao San Road that is packed with street stalls and shoppers.
Sunday– Explore the modern side of Bangkok
Start the day with a trip to Bangkok's biggest park, the Lumphini Park, which is frequented by both Bangkok citizens and the tourists. Later, visit The Jim Thompson House, to learn about the man who made Thai silk well-known around the world. Take a guided tour of the garden and house and learn how Thai silk is made. If you are in Bangkok during a weekend, you must explore the biggest outdoor market in the world, Chatuchak Weekend Market. It has been here for decades and boasts of about 15 000 stalls. Keep some time aside for shopping, and you can visit Siam Center mall for a shopping bonanza. Other popular venues include Central World, Siam Paragon, MBK shopping mall, and Siam Center. When tired and hungry, there are food courts where you can enjoy some great international dishes and local Thai food. If you are keen on some more shopping, explore some night markets and Asiatique Night Market is a favorite one among the locals. And if you want to end the day with some entertainment, you can enjoy a Hollywood movie at some of the best cinemas in Bangkok. Paragon shopping mall boasts of IMAX and 4D cinema.