Interview with Mark Rylance and Jemaine Clement of Disney's New Movie The BFG #TheBFGEvent
This post may contain affiliate links or I may have received the product free in exchange for my honest review. See full disclosure for more information.
Continuing on my magical journey in LA last week to review the new Disney movie The BFG, I had a chance to interview Fleshlumpeater (Jemaine Clement) and The BFG (Mark Rylance) directly.
I was really excited to interview each of these gentlemen as I have been a long-time fan of Mark's ever since watching him in Anonymous and Jemaine's performances in Rio and Muppets Most Wanted.
As they entered the room, Mark immediately noticed The BFG Pop Vinyl on the table and immediately picked it up to view it and play a little. When asked if he had seen it yet or had one, he stated that he had not and really enjoyed the toy.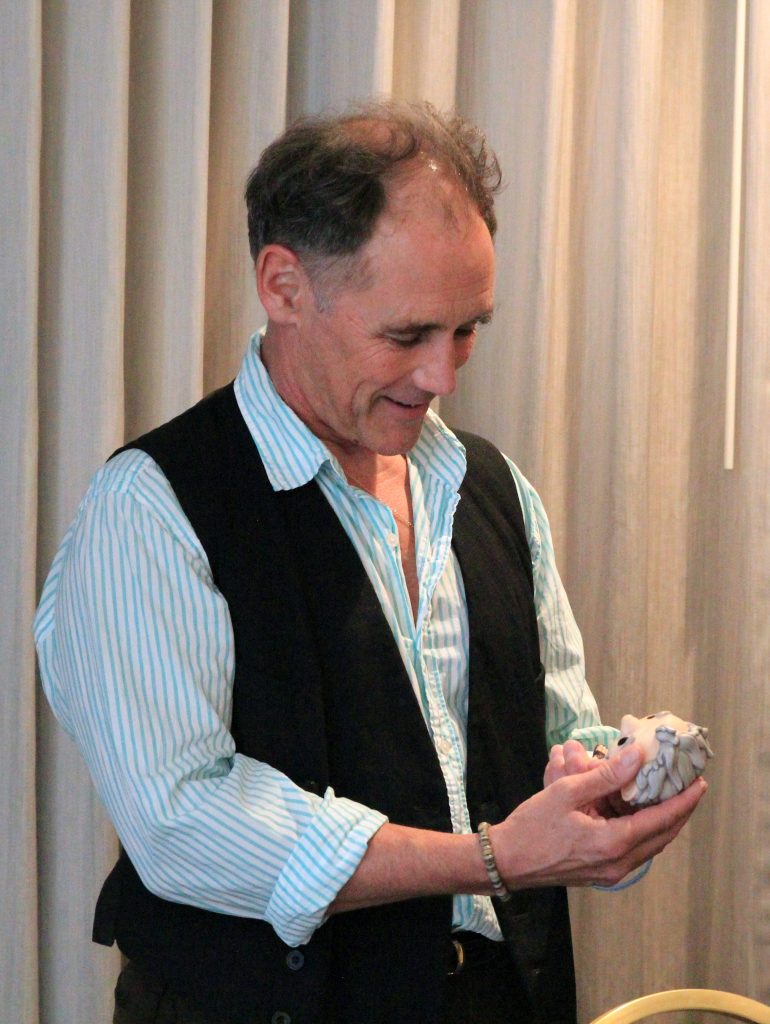 We started our interview with asking Mark how he got into character each and every day to play the part of The BFG:
Oh.  Well every morning it took about an hour and a half of them sticking glow-in-the dark marbles on us and battery packs and having a lot of painted dots painted on, about 45 minutes of having dots painted on your face through a tight hockey mask.  So there was a lot of time to think and listen to music or just get yourself in a certain head space… it's just playful, you know it's the same as ever, you just start to play like a child really.
We asked Mark how hard it was to speak "Giant", to which he playfully replied "Very hard.  Very hard indeed. I don't think there are any actors in the world that could have done what Jemaine and I have done." We all really enjoyed how well Mark and Jemaine seemed to play off of each other and had great rapport.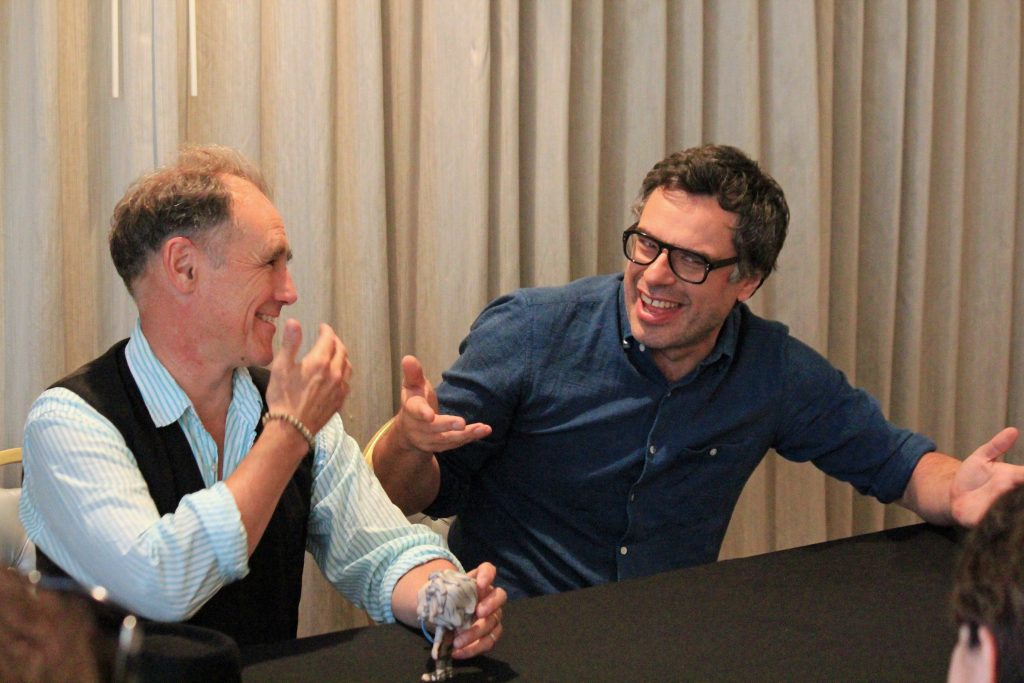 They both added that the hard part is trying to improvise into a giant. Mark elaborated a bit by adding:
Improvising in giant, it's like improving in Shakespeare, it's tricky.  I've heard people who can do that actually very well, improvise sonnets.  You can say I wanna sonnet on a fried egg and they will improvise a Shakespearean sonnet on a friend egg, they're from Liverpool.  But improvising in giant is a little tricky.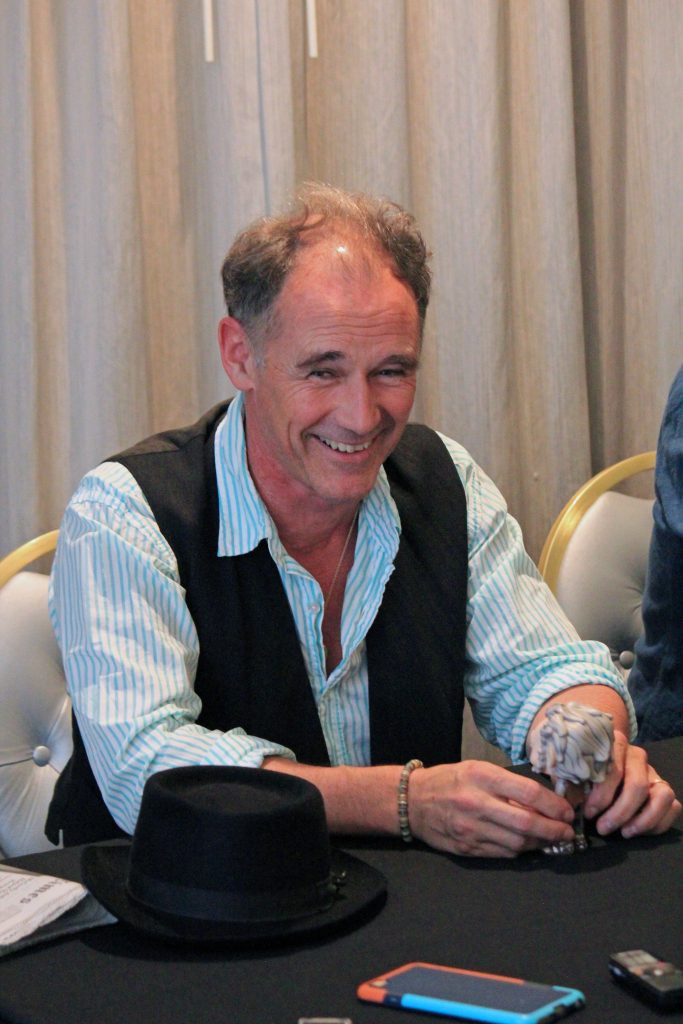 We asked Mark if he still speaks "Giant" today and he chuckled and he playfully turned the tables and asked us, "That would cost you a lot of money, how much money have you got?" We did get him to admit that his favorite word is "telly-telly bunkum box" to which we all laughed. Someone of course had to comment that their favorite word was "Whizzpoppers" and to really appreciate the magnitude of this word, you must see the movie (in theaters July 1st).
We turned the question to Jemaine and inquired how much fun it was to play Fleshlumpeater, as he is the scariest character in the movie.
Yeah he's really fun.  The bad giants would get to rehearse our motion capture and just walking around like big, lumbering, lumps of meat, andthat was really fun, smashing things and intimidating people and being stupid is fun.
They noted that little bits throughout the movie were ad-libbed a bit, and wanted the giants to expand on what Roald Dahl had originally written in the book. Mark further expanded on this and noted his favorite scene in the movie:
I think the thing that someone asked me on television this morning what was one of the difficult things about being BFG and the most difficult thing is letting a young person go isn't it, that every parent has to do. My parents are both high school teachers so every year I would know that there were favorite kids that just really resonated to their work or were witty or just wonderful kids and it was always sad every year that those kids had to go off to college and to marriage and (live) their lives. Being an adult who really loves a young person, and if you really love them you have to encourage them to leave you and to go away.

That is a scene I love very, very much. It's on the hill at the end and she (Sophie) doesn't even want to go away, she thinks she's going to stay and live there, but he knows that she's got a wider life to lead.  She's mortal of course and he's immortal so I was thinking the other day, that the sequel I'd like to see would be when Sophie's a 90 year old woman and she's had a family and maybe she has a grandchild and The BFG still visits her. He's the same of course. But he visits her maybe in her old people's home and that friendship after she (has) lived her whole life, would be quite resonant, wouldn't it?!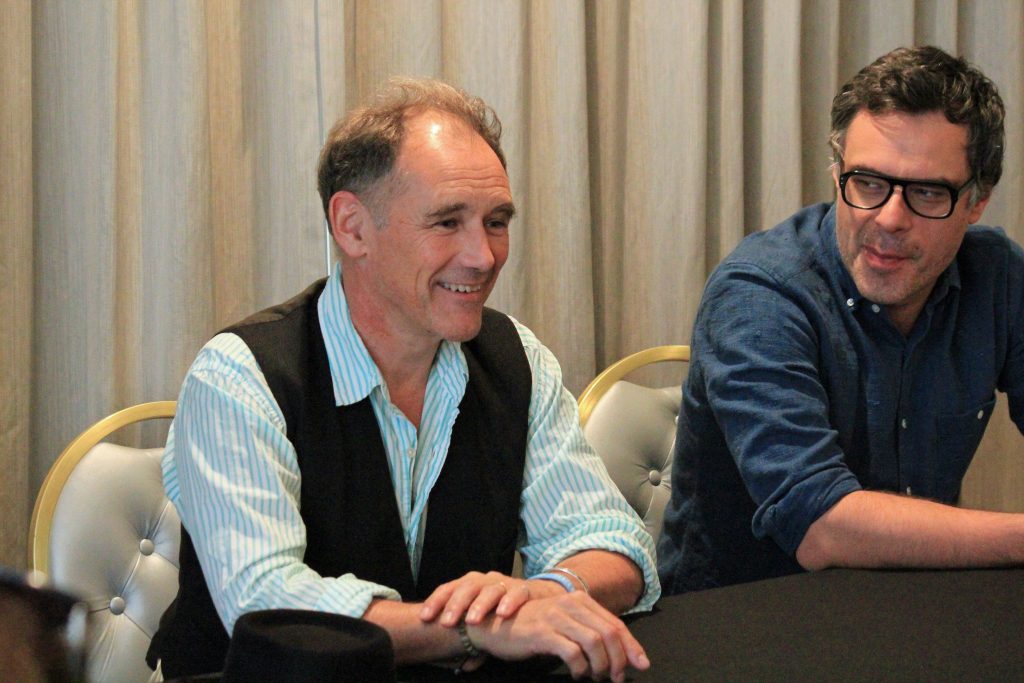 We talked a bit more about CGL acting versus on-screen appearance acting and both stated they love either way. The most joy in this movie was working with Ruby and Steven. They really loved the direction that Steven too from Melissa Mathison's adaptation from the novel.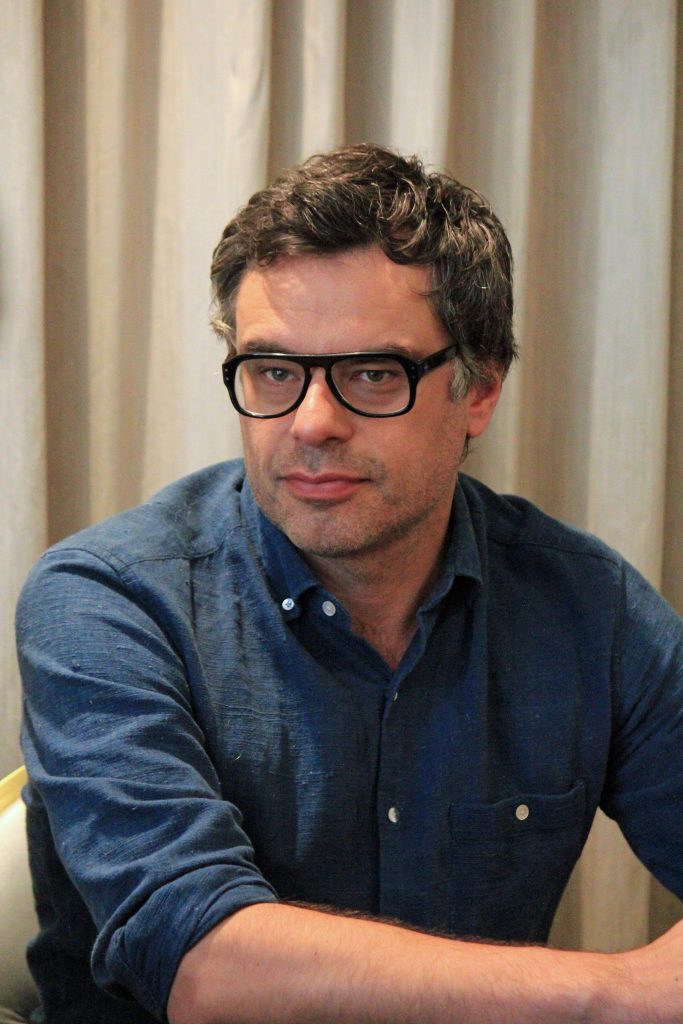 It was noted that Jemaine had a younger son and someone inquired what he wanted his young son to get out of this movie?
"…letting children know that their thoughts are valid.  They can have an opinion that's important as well."
I really enjoyed the time spent with Mark and Jemaine. I noted that Mark played quite a bit with that pop vinyl toy and remember at the beginning when he noted he had not seen the toy yet. We all received one and I pulled mine out of my bag and gave it to Mark to share with his family and enjoy. I love that he put it into his vest pocket just in time for our group photo (see below).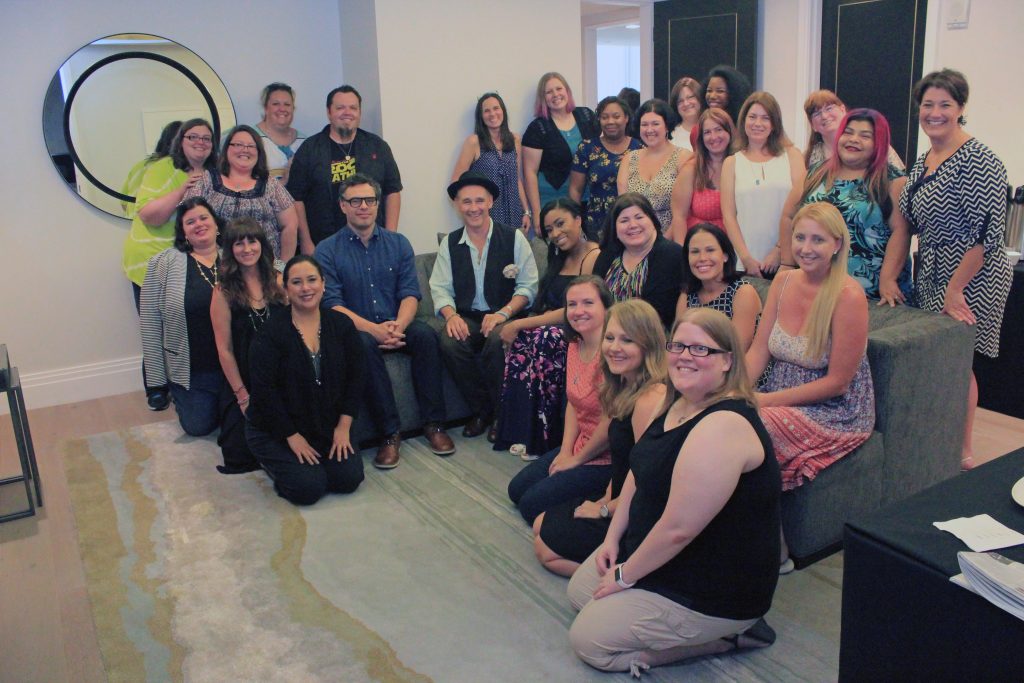 You will fall in love with this movie as much as I did, and I got to see it twice already!
Want to see more of the Red Carpet event…read more here. Would you like to see what Steven Spielberg and Ruby Barnhill had to say about their involvement with The BFG movie? Read more about it here. You can also purchase The BFG Pop Vinyl or the novel by Roald Dahl on Amazon.
Directed by three-time Academy Award® winner Steven Spielberg ("Bridge of Spies," "Schindler's List," "Saving Private Ryan") from a screenplay by Melissa Mathison ("E.T.: The Extra-Terrestrial," "The Black Stallion") based on the best-selling novel by Roald Dahl, "The BFG" stars three-time Tony Award® and two-time Olivier Award winner Mark Rylance ("Bridge of Spies," "Wolf Hall"), newcomer Ruby Barnhill, Penelope Wilton ("The Best Exotic Marigold Hotel," "Downton Abbey"), Jemaine Clement ("Rio 2," "The Flight of the Conchords"), Rebecca Hall ("The Gift," "Iron Man 3"), Rafe Spall ("The Big Short," "Prometheus") and Bill Hader ("Inside Out," "Trainwreck"). The film is produced by Spielberg, Frank Marshall ("Jurassic World," "The Bourne Ultimatum") and Sam Mercer ("Snow White and the Huntsman," "The Sixth Sense") with Kathleen Kennedy ("Star Wars: The Force Awakens," "Lincoln"), John Madden ("The Best Exotic Marigold Hotel," "Shakespeare in Love"), Kristie Macosko Krieger ("Bridge of Spies," "Lincoln"), Michael Siegel ("Charlie and the Chocolate Factory," "Rise of the Guardians"), Frank Smith and Naia Cucukov serving as executive producers.Roald Dahl's "The BFG" (Big Friendly Giant) was first published in 1982 and has been enchanting readers of all ages ever since. Dahl's books, which also include "Charlie and the Chocolate Factory," "James and the Giant Peach" and "Matilda," are currently available in 58 languages and have sold over 200 million copies worldwide. Originally created as a bedtime story, "The BFG" was Dahl's own favorite of all his stories. "It was very important for us to be loyal to the language," says Spielberg, "and the great writer Melissa Mathison, who also wrote 'E.T.: The Extra-Terrestrial,' wrote 'The BFG.'"
Be sure to stay connected to The BFG right here and via
 for the most up-to-date previews and release information. You will find it all here as we learn more about this exciting summer blockbuster. 

"The BFG" opens in U.S. theaters on July 1, 2016, the year that marks the 100th anniversary of Dahl's birth.
Disclosure: I was provided with an all-expense paid trip as part of a press Junket with Disney to cover this and all The BFG media.