Interview with Director Steven Spielberg and Star Ruby Barnhill of Disney's New Movie The BFG #TheBFGEvent
This post may contain affiliate links or I may have received the product free in exchange for my honest review. See full disclosure for more information.
Ever since I was a child in the 80's and watched E.T., I have been a fond fan of Mr. Steven Spielberg. Even today, I would have never dreamed I would have the chance to actually meet him and discuss with him the details of his very first collaboration with Disney in the film, The BFG, based upon the novel by Roald Dahl.
I knew just over a week before heading to LA that I was going to have the opportunity to meet and interview Steven Spielberg (Director, The BFG) and Ruby Barnhill (Sohpie, The BFG). I immediately started doing my research on each so that I could phrase just the perfect questions for each of them, given the opportunity to ask them.
I started to really get that "fan-girl" feeling as the time drew closer and closer, after all this is iconic director Steven Spielberg we are speaking of. Upon watching them enter the room and sit down to chat with them about their works with The BFG, what was most shocking to me was how comfortable it was to talk to each of them and how fluid and natural the conversation was.
Steven Spielberg was so adoring and loving of young Ruby and one of the first things he made sure of was that everyone could see and hear Ruby.  Seeing this "fatherly" touch with he and Ruby was such a sweet and caring moment for me to witness.
As the interview commenced, the first question was asked "Why The BFG and why Ruby?", to which he replied:
"I kinda believe in fate and I really believe that they save the best to last, because we were casting eight months and had not found Sophie after eight months of casting.  I was about to compromise when all the sudden I saw the audition that Ruby Barnhill and her parents had sent in to Nina Gold.  And my whole life changed for the better."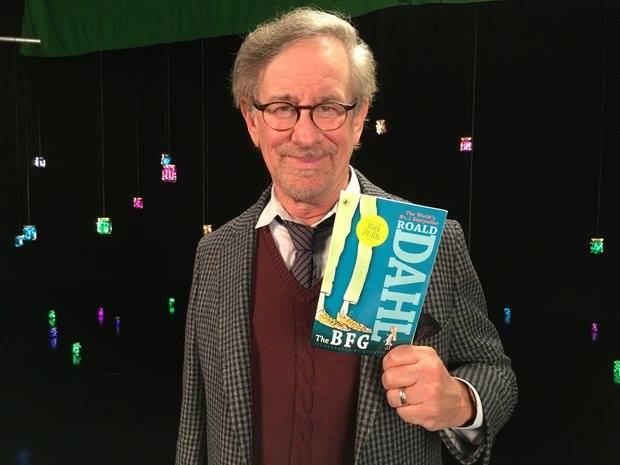 He noted that he had shared this story with his children as they grew up and really enjoyed the story. The BFG was an amazing book and Melissa Mathison adapted it into an amazing script.  He fell in love with it all over again when he read the script! One of my favorite parts about this interview was when Steven Spielberg got so excited about finding Ruby Barnhill, during which time he was filming Bridge of Spies, and shared with utter delight to Tom Hanks how relieved and excited he was to have found her.
Ruby steals the show in The BFG!
Ruby was a very articulate and delightful young lady during this interview and if she was at all nervous, it didn't show one bit!  The question asked of Ruby was, "How she feels to be the Princess for a New Generation?!"  her response was the most humbling and sweetest answer.
"Wow.  I never thought of it that way?   That's quite cool, Disney princess maybe.  It's so exciting, because a lot of Disney films now have very like strong female leads.  Like Brave, Star Wars and Frozen."
When questioned with what their favorite part of making the film was, each responded:
Mr. Spielberg said it was the interaction between Sophie and The BFG.
"Where Sophie's courage was growing and her empathy for BFG's problems with his older brothers and the horrible things they were doing all over the world. Sophie said we must find a way to stop the other giants. Any time they were engaged in any kind of conversation and even disagreement."  He loved their relationship!
Ruby loved coming on set everyday and seeing everyone.  (Mr. Spielberg told us that she was always the first one there.) She said:
"I also got to be with Steven and Mark (Rylance) every day.  It was always so exciting and fun.  There's such a magical feeling on set!"
Dreams do come true, even for Steven!
Another favorite part of the interview – Mr. Spielberg's Dream had finally come true!  Immediately following the infamous colorful Disney castle and music, it was one of HIS movies that everyone was there to see.
"And that's something I've been waiting for in a way all my life, and, through BFG and through Ralph Dahl's genius, I got the chance to do it."
I finally got the chance to ask my question!
I asked, "I noticed that BFG and Sophie really mirror each other. Even the way they walk. Was all of this intentional?"
"Mark had known Ruby and gotten to know Ruby before we ever made the picture. They did a little audition session together to help Ruby get to know Mark better. And this is after she had the job, but she sat with Mark for a couple of hours on video tape. And Mark watched her and I think observed her. He is a fantastic observer. I think he just is a sponge. And he doesn't maybe remember the exact moment he takes something from someone else's life, maybe a person walking down the street. He remembers the walk. And maybe he took something from the way Ruby walks. But I didn't direct the walk. Mark showed up the first day of shooting and he suddenly was walking like BFG. So I have to give Mark some credit for maybe just being open. Mark has small ears, but he really hears like BFG hears in real life. And I think maybe he found something similar. That's a good observation though."
What he wants everyone to take away from The BFG movie
One of the most heartfelt answers ever given:
" I just want people  to understand how important it is to both give and receive hugs. And it doesn't matter how different the person looks or how tall they are or how short they are or what color they are or what language they speak or what their different beliefs are!  We all need to hug each other and we have to hug each other more when we're so different from each other. "
Someone told us that Steven's favorite interview was with us, the mommy and daddy bloggers. During our time for the group photo, he even made the funniest observation to us all.
"This reminds me of grouping up every day in my kitchen, all the moms in my neighborhood would come over to my mom's house, sometimes they would trade houses, and I'd get ready to go to school and all of these coffee cups would be laid out, like 15 of cups, and all these pastries laid out and it would be another mommies group. This reminds me of that!"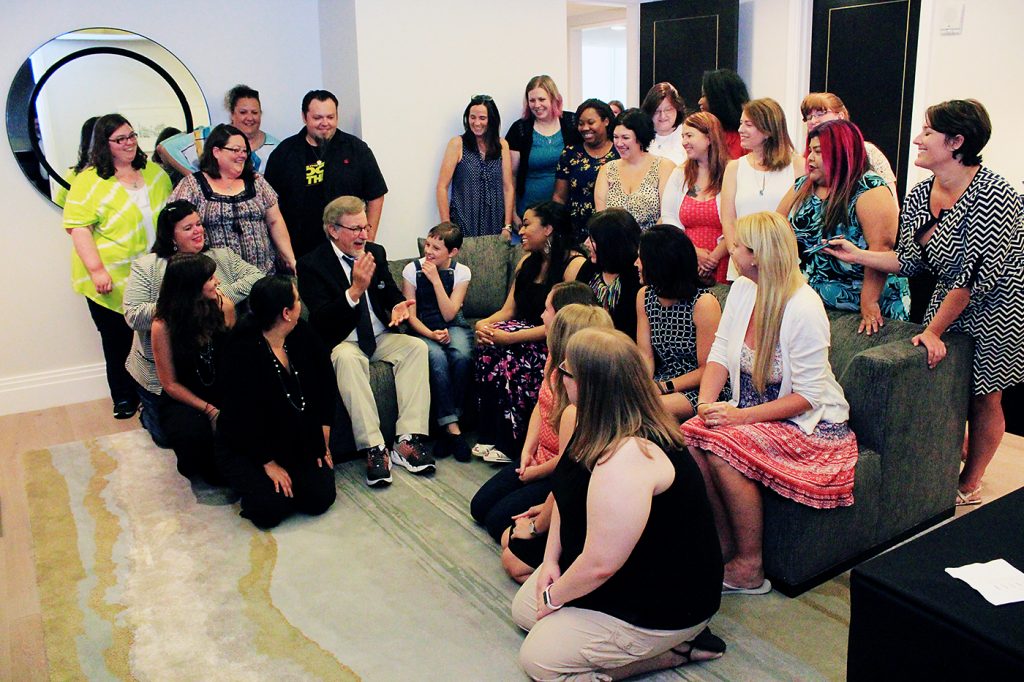 You know, that question I was able to ask was not even a part of my research. I learned that doing a bit of research is good, but sometimes you just have to let the conversation flow naturally and see how much wonderful and delightful information you will find out. I wanted to talk to him about how I live in Cincinnati, his birthplace. I wanted to talk about his favorite food, his favorite film, and much more, but in the end, I would not change one bit of how this day went. I loved the movie, I loved meeting Steven Spielberg and Ruby Barnhill and I can consider this a chance encounter that very few will have and a dream of my own come true.
Directed by three-time Academy Award® winner Steven Spielberg ("Bridge of Spies," "Schindler's List," "Saving Private Ryan") from a screenplay by Melissa Mathison ("E.T.: The Extra-Terrestrial," "The Black Stallion") based on the best-selling novel by Roald Dahl, "The BFG" stars three-time Tony Award® and two-time Olivier Award winner Mark Rylance ("Bridge of Spies," "Wolf Hall"), newcomer Ruby Barnhill, Penelope Wilton ("The Best Exotic Marigold Hotel," "Downton Abbey"), Jemaine Clement ("Rio 2," "The Flight of the Conchords"), Rebecca Hall ("The Gift," "Iron Man 3"), Rafe Spall ("The Big Short," "Prometheus") and Bill Hader ("Inside Out," "Trainwreck"). The film is produced by Spielberg, Frank Marshall ("Jurassic World," "The Bourne Ultimatum") and Sam Mercer ("Snow White and the Huntsman," "The Sixth Sense") with Kathleen Kennedy ("Star Wars: The Force Awakens," "Lincoln"), John Madden ("The Best Exotic Marigold Hotel," "Shakespeare in Love"), Kristie Macosko Krieger ("Bridge of Spies," "Lincoln"), Michael Siegel ("Charlie and the Chocolate Factory," "Rise of the Guardians"), Frank Smith and Naia Cucukov serving as executive producers.Roald Dahl's "The BFG" (Big Friendly Giant) was first published in 1982 and has been enchanting readers of all ages ever since. Dahl's books, which also include "Charlie and the Chocolate Factory," "James and the Giant Peach" and "Matilda," are currently available in 58 languages and have sold over 200 million copies worldwide. Originally created as a bedtime story, "The BFG" was Dahl's own favorite of all his stories. "It was very important for us to be loyal to the language," says Spielberg, "and the great writer Melissa Mathison, who also wrote 'E.T.: The Extra-Terrestrial,' wrote 'The BFG.'"
Be sure to stay connected to The BFG right here and via
 for the most up-to-date previews and release information. You will find it all here as we learn more about this exciting summer blockbuster. 

"The BFG" opens in U.S. theaters on July 1, 2016, the year that marks the 100th anniversary of Dahl's birth.
Disclosure: I was provided with an all-expense paid trip as part of a press Junket with Disney to cover this and all The BFG media.