"JOURNEY TO THE CENTER OF THE EARTH" Now Streaming on DISNEY+
This post may contain affiliate links or I may have received the product free in exchange for my honest review. See full disclosure for more information.
LATIN AMERICAN ORIGINAL ADVENTURE AND SCI-FI SERIES "JOURNEY TO THE CENTER OF THE EARTH"
NOW STREAMING ALL EPISODES EXCLUSIVELY ON DISNEY+
Series Stars Óscar Jaenada, Margarita Rosa de Francisco, Yankel Stevan, Sebastián García and Gabriel Goity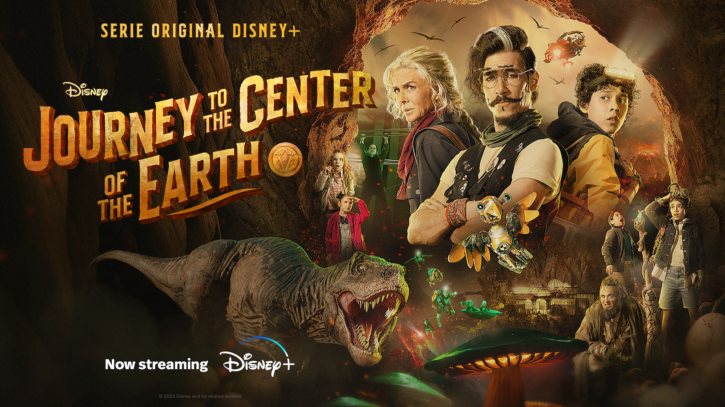 Disney+ is now streaming all eight episodes of Latin American original series "Journey to the Center of the Earth." Inspired by Jules Verne's famous novel of the same name, the new adventure and sci-fi series follows a group of kids on a voyage through a parallel dimension in which they discover a fascinating world and fight to protect the ecological balance of the planet.
In "Journey to the Center of the Earth," Diego (Sebastián García) is sent by his parents to a camp run by Pompilio Calderón (Óscar Jaenada). There, together with his siblings and friends, he finds the abandoned car of his grandmother Pola (Margarita Rosa de Francisco), and following her footsteps, he arrives to a mysterious portal leading to another dimension. When Diego discovers a powerful family secret, he understands he must protect the dimension he has found, but his mission is not that simple – Pompilio and his henchman Claudio (Mauricio "El Diablito" Barrientos) will do everything in their power to destroy this fantastic world they have encountered.
Made entirely in Mexico by TIS (formerly Estudios TeleMéxico), the new production is directed by JM Craviotto. Rounding out the cast of are Gabriel Goity ("Jules Verne"), Yankel Stevan ("Martín"), Manuel Márquez ("Pedro"), Paola Miguel ("Ana"), Valery Sais ("Laura"), Camila Núñez ("Violeta"), Carla Adell ("Andrea"), Emilio Treviño ("Felipe"), Israel Capetillo ("Mauro"), Camila Valero ("Evelyn"), Luigi Cerrada ("Antonio"), Luciana Tappan ("Raquel"), Daniel Sáez ("Pote"), and Maximiliano Uribe ("Fermín").