Enjoy Delicious Lentin Dishes with Wild Planet Canned Tuna Recipes
This post may contain affiliate links or I may have received the product free in exchange for my honest review. See full disclosure for more information.
With Lent officially underway, those who observe have given up meat as part of the tradition of reflection during the preparation for Easter – but that doesn't mean we have to give up protein entirely.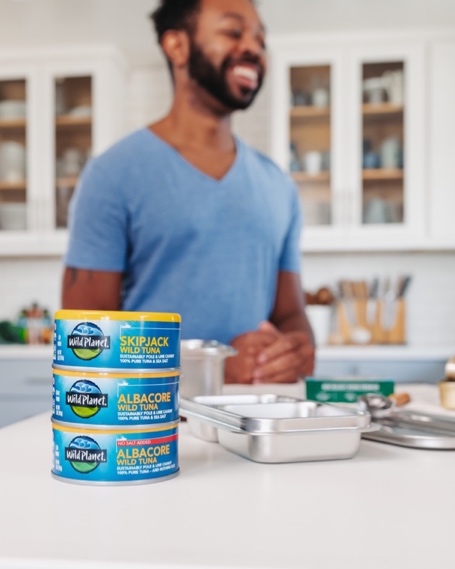 Enter Wild Planet Canned Tuna which is:
High in protein: has more than 23% more protein than other canned brands (no added water, so there's more fish in each can)
Convenient: Can be eaten on the go or added to your favorite salad and pasta recipes (Wild Planet also offers a ready to eat tuna salad bowl)
100% sustainably pole & line caught: no nets that cause overfishing and waste millions of metric tons of fish that are discarded because they are not the right size age, or species
Low levels of mercury: thanks to pole & line fishing that catches smaller, migratory tuna near the surface versus old and larger tuna that have accumulated high mercury levels
Higher Omega-3 content: tuna is only cooked once, in the can, retaining all of its natural long chain Omega-3 fatty acids, while most other brands cook their fish before putting it in the can then adding oil or water to the fish before final cook
Here are some delicious recipes you can create at home with Wild Planet Canned Tuna:
Southwest Chipotle Tuna Burgers – Recipe by @crepesandbows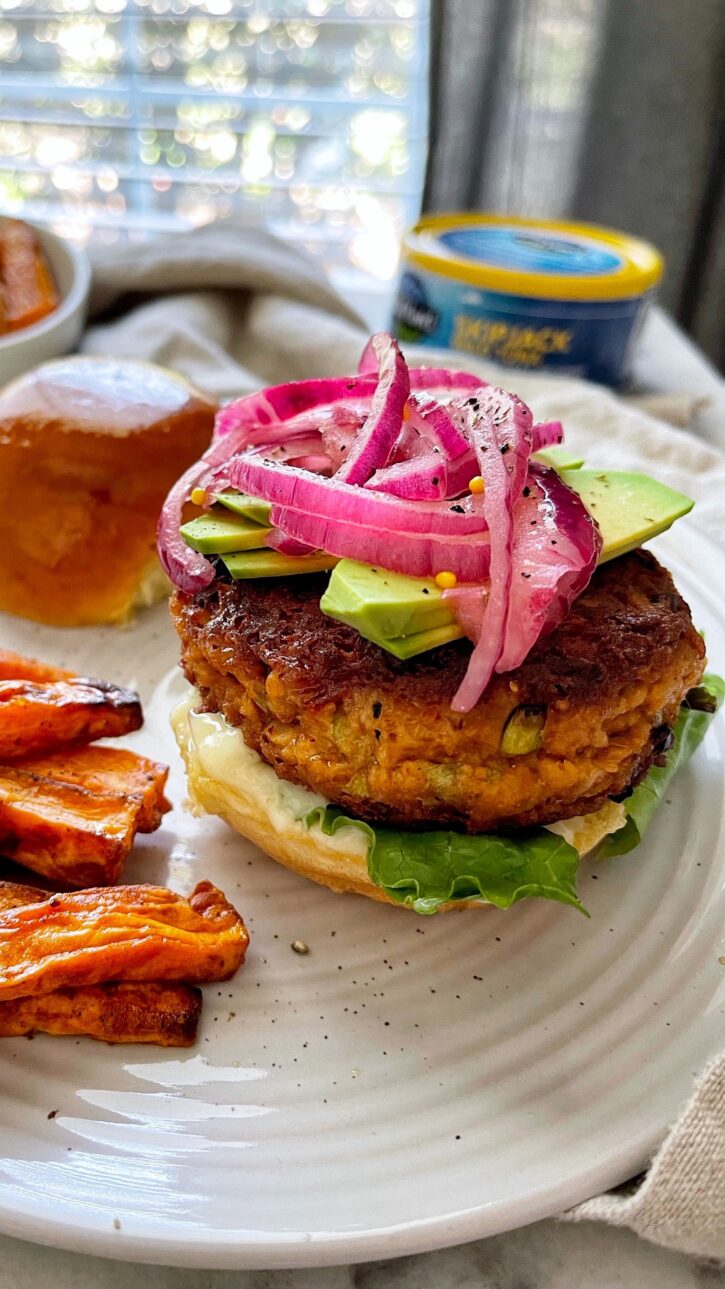 Ingredients
2 (5oz) cans Wild Planet Skipjack Wild Tuna
1 Egg
2 tbsp Chipotle pepper paste
2 Green onions, finely chopped
½ cup Shredded sharp cheddar cheese
½ cup Panko breadcrumbs
Salt and pepper to taste
Vegetable or olive oil
Burger Toppings (optional)
Mayonnaise
Brioche buns
Lettuce
1 Avocado, sliced
Pickled onions
Directions
Mix everything together and refrigerate for ~30 minutes to let the flavors develop.
Using a measuring ½ cup, form cakes and gently round with your hands.
Preheat the pan to medium heat, add oil and pan sear until each side is crispy golden brown.
To serve – add some mayo to brioche bun, top with lettuce, tuna burger, avocado slices, and pickled onions.
---
Mackerel Lettuce Wraps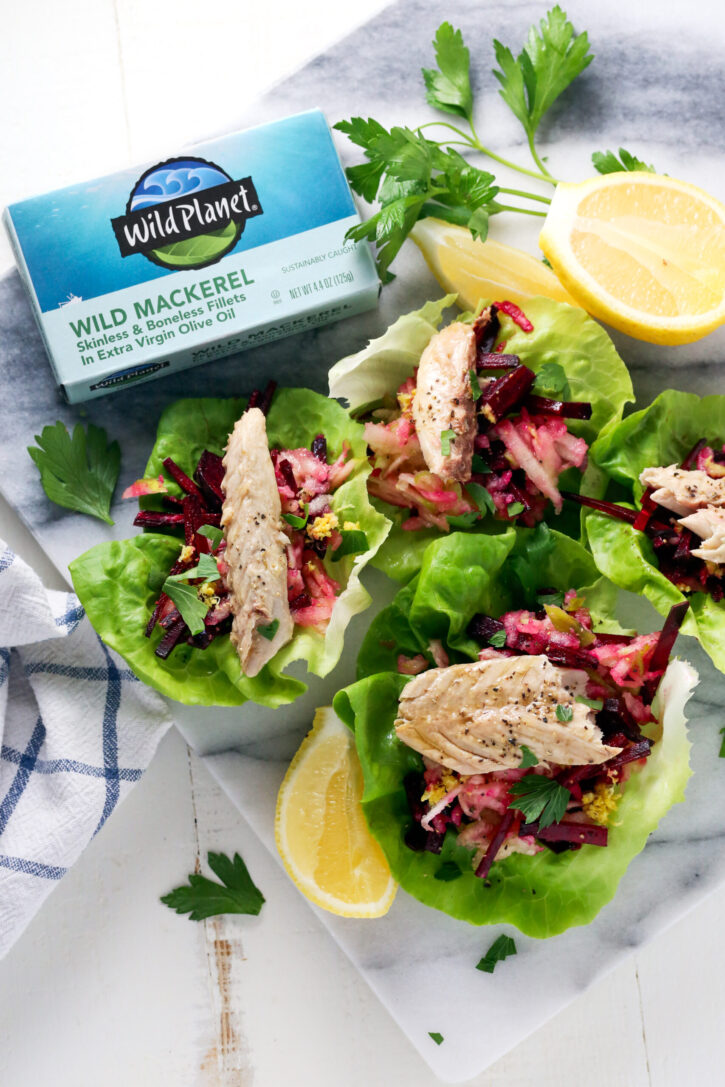 Ingredients
3 large butter lettuce leaves
1/2 cup raw beet, cut into matchsticks
1/3 cup grated Granny Smith apple
1 Tbsp lemon juice
1 tsp lemon zest
1 (4.4oz) can Wild Planet Wild Mackerel Fillets in EVOO, undrained
1 Tbsp chopped fresh parsley
Freshly ground black pepper
Directions
Arrange lettuce leaves on a serving plate.
In a bowl, mix together the beets, apple, lemon juice, lemon zest and the reserved olive oil from the can of mackerel.
Divide the mixture atop the lettuce leaves and top with mackerel fillets.
Finish with a sprinkle of chopped parsley and freshly ground pepper.
---
Anchovy Frittatas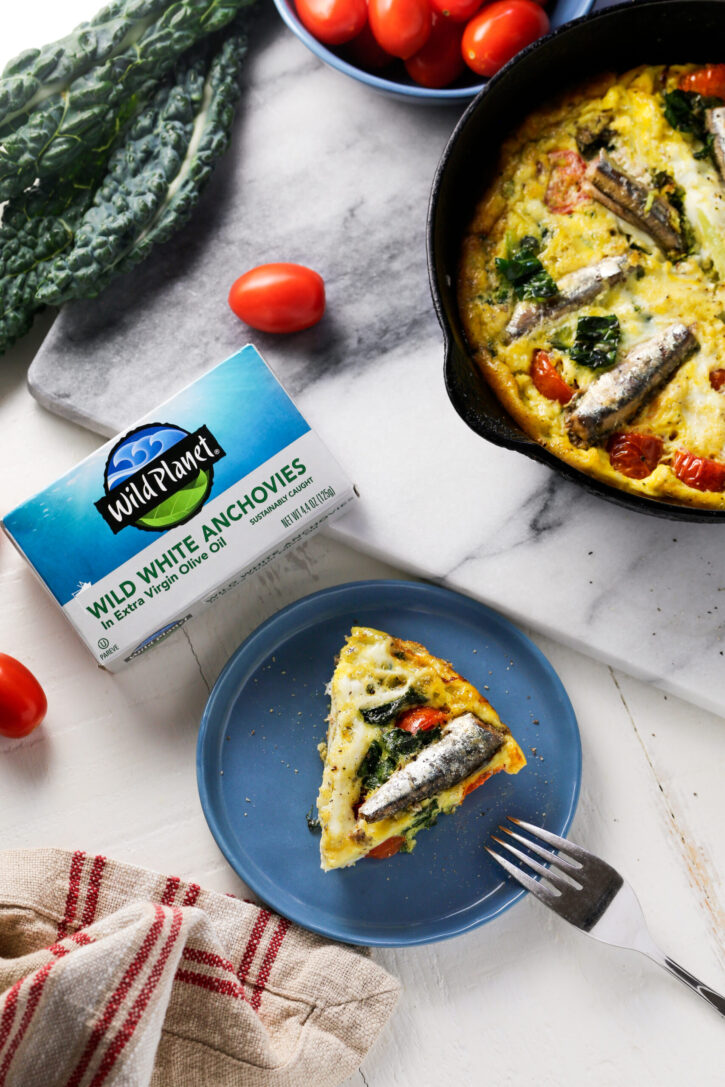 Ingredients
Directions
Preheat oven to 350 degrees F.
In a small bowl, whisk eggs and season with salt and pepper. Set aside.
Heat a cast iron skillet over medium heat.
Add 1 Tbsp olive oil from the anchovies can and sauté kale and broccoli slaw until beginning to soften, 3-5 minutes.
Add tomatoes, sauté another minute.
Add eggs to skillet and cook undisturbed for a minute or two.
Top with anchovies, place in oven and cook 10-15 minutes or until eggs are fully set and frittata has puffed a bit.
Remove from oven, allow to cool slightly and serve.
---
Tuna Pasta Puttanesca – Recipe by @foodwithfabio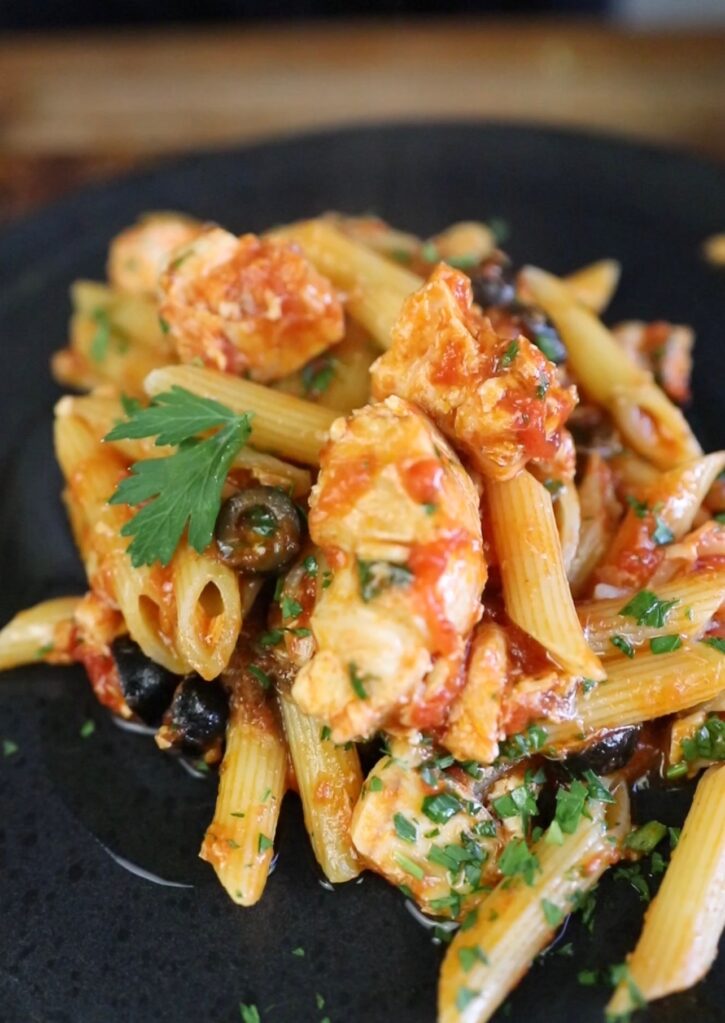 Ingredients
Extra virgin olive oil
6 cloves of Garlic, 4 full and 2 crushed
1 Red chili pepper
Handful of Parsley stems, plus fresh parsley leaves for garnish
1 box of Pasta
1 can of crushed tomatoes
Salt to taste
1 (5oz) can Wild Planet Albacore Wild Tuna
–OR–
1 (5oz) can Wild Planet Skipjack Wild Tuna
2 Tbsp Capers
1/4 cup Kalamata olives
Directions
Heat extra virgin olive in a pan.
Once the oil is heated, add 4 full garlic cloves and 2 crushed garlic cloves. Stir until garlic is fragrant.
Mix in the chopped red chili pepper and parsley stems. Stir for another 2-3 minutes.
While the garlic, pepper and parsley cooks, bring a large pot of water to a boil.
Salt the boiling water with about 2 tbsp of salt, then add the pasta. Cook until al dente (about 10-12 minutes, or according to instructions on the pasta box).
Once the garlic is toasted and fragrant, remove the 4 full cloves and the parsley stems.
Add the can of crushed tomatoes, salt, tuna water, and 1-2 anchovies to the pan of garlic. Wash the capers in water first, then add to the tomato sauce. Add kalamata olives, tuna and the cooked pasta and stir to combine everything.
Top with fresh parsley and enjoy! Buon appetito!
---
Sardine Crostini – Recipe by @cookingwithrocco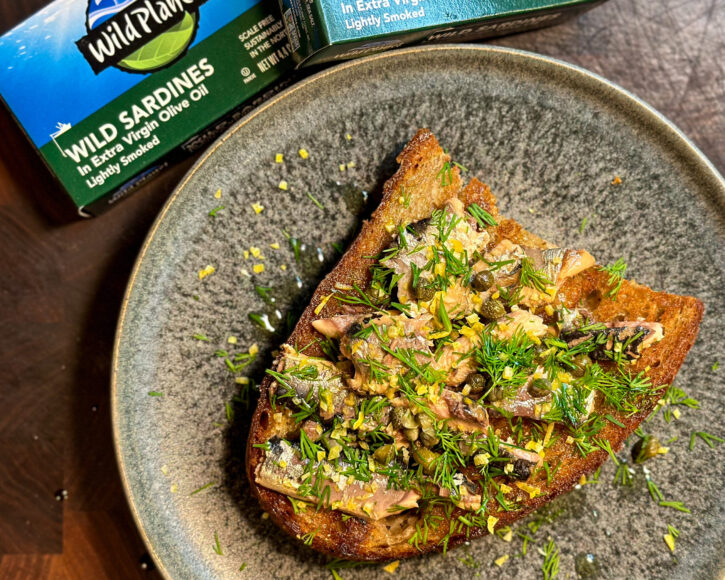 Ingredients
Directions
Heat a skillet over medium-high heat and lightly drizzle with EVOO. Add the sourdough bread and toast, flipping once, until desired crisp is reached.
While the bread is toasting prep the rest of your ingredients. Rinse your capers, and set aside. Roughly chop the dill, and set aside. Zest your lemon, and set aside.
Once the bread is toasted, immediately rub the top side of the bread with garlic, and lightly season with salt and pepper.
Assemble your crostini by adding a generous amount of Wild Planet's Wild Sardines, followed by capers, a sprinkle of dill, and the lemon zest. Then drizzle with EVOO and a squeeze of fresh lemon.
---
Ginger Lime Wild Tuna Wontons – Recipe by @theposhpescatarian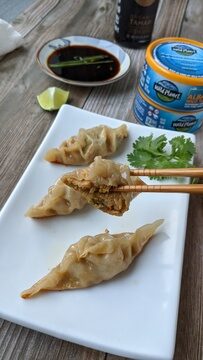 Ingredients
2 (5oz) cans of Wild Planet Albacore Wild Tuna
4 cans ∙ $24
½ tsp Lime zest
Juice of 1 lime
1 Tbsp grated Ginger
⅓ cup Cilantro, leaves only, roughly chopped
1 tsp Red pepper flakes
3 Tbsp soy sauce, more as needed
3 Tbsp Vegetable oil, separated
1 tsp Cumin powder
2 Garlic cloves, minced
1 cup green Cabbage, shredded
1 small Carrot, grated
3 Tbsp water, more as needed
1 Tbsp toasted Sesame oil
1 package of Wonton wrappers
Directions
In a medium sized bowl, add the entire content of tuna cans and the lime juice and zest. Use a fork or clean hands to break up the tuna into flakes. Set aside.
Add 1 tablespoon of vegetable oil to a medium sized skillet over medium heat.
Add the garlic, cumin, red pepper flakes and garlic, and cook for 30 seconds.
Add the cabbage and carrot, and sauté for 2 minutes or until flagrant and the cabbage is soft. Remove from the heat and allow to cool.
Add the cabbage mix to the tuna. Add the soy sauce and mix to combine. Use a spoon or rubber spatula to gently fold the mix together. Taste for seasoning and adjust as needed.
Fill each wonton wrapper with a teaspoon of the tuna mix and use a pastry brush or your finger to add a little water to the edge of the wonton wrapper. Pinch the edges to seal – you can create a triangle or a purse shape.
Add the remaining oil to a skillet over medium heat. Pan fry the dumplings for 1 minute on each side or until brown on the bottom.
Turn the heat up to high, add one tablespoon of water, and cover with a lid to steam the dumplings for 1-2 minutes.
Remove from the pan, drizzle with toasted sesame seed oil and serve immediately with your favorite dumpling sauce.
Learn more about Wild Planet's dedication to providing the healthiest of seafood products.
Website | Facebook | Twitter | Instagram | Pinterest