Making In The Moment Liquid Galaxy Journal – Let Your Imagination Flow
This post may contain affiliate links or I may have received the product free in exchange for my honest review. See full disclosure for more information.
When I was growing up I loved to keep a journal to keep all of my thoughts, activities and memories written down. I just wish I had something so colorful when I was keeping one. Your kids will love all the cool colorful stickers so that they can personalize their memories. Since school is back in session kids will want to write down all the things that has happened at school. This kit includes everything your child will need to write down anything their heart desires.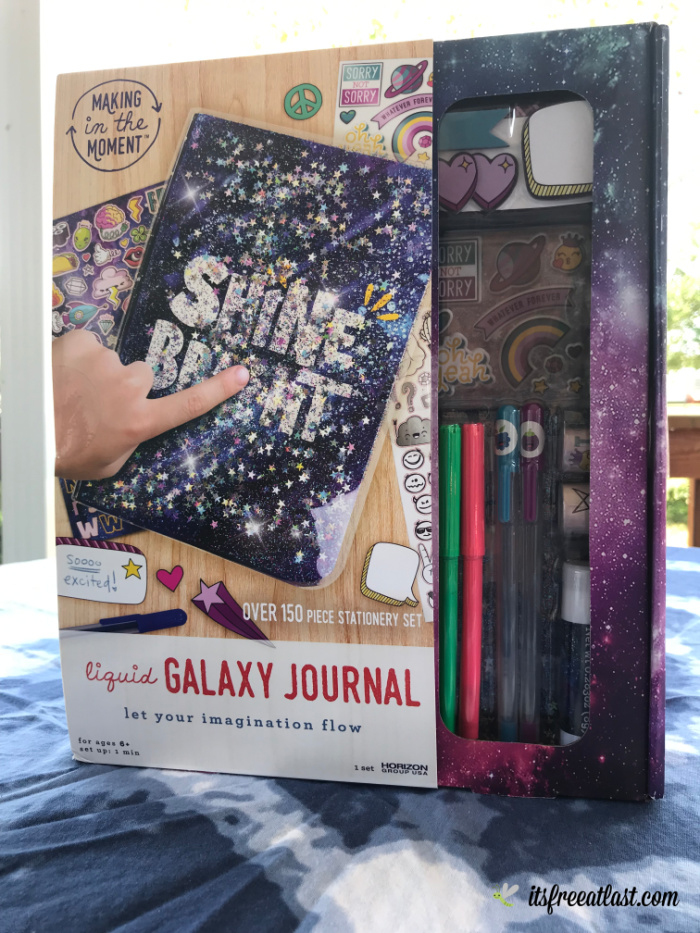 We trace our history in crafts to 1912 when, as a small company in New York City, we supplied trim and ribbon items to light manufacturers in the area. Today we are America's leading supplier of Craft Components and Activity Kits for people of all ages- but especially children. Our brands are recognized and trusted for delivering high quality and innovation at an exceptional value and artistic exploration for children. The line uses vibrant graphics to inspire a strong call – to-action, whether by showing how easy it is to build and paint your own birdhouse, or how fun it is to get your hands dirty and mold your own stepping stone.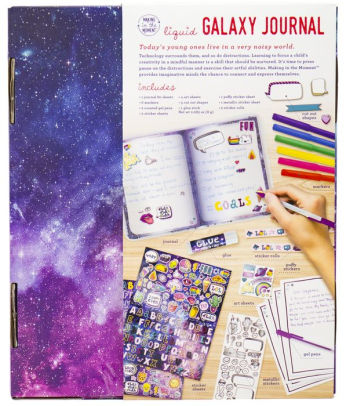 Personalize and decorate your own Making the Moment Liquid Galaxy Journal! Touch, move and watch the shimmery liquid move the sparkling stars and sparkling glitter around the cover for a cool interactive feel. Inside the journal record your personal goals, cherished memories, and exciting stories to revisit time and time again. Personalize each page with over 150 pieces including stickers, scented gel pens, and cut-out shapes. Express yourself and discover the art of creative writing. Recommended for ages 6 years & up.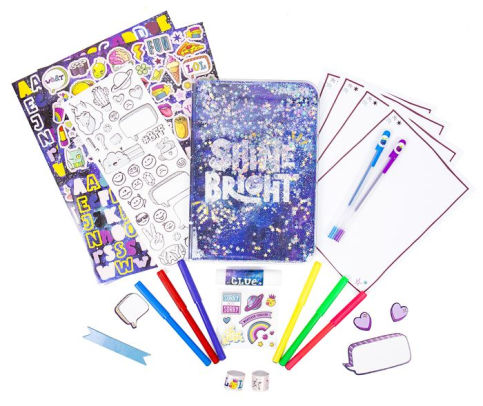 Highlights
Express your thoughts, cherished memories, exciting experiences and detailed stories all in the customizable Liquid Journal
Learn the art of creative writing and self-expression
Personalize each page with scented gel pens, and cut-out shapes
Explore crafting techniques as you cut, layer and glue fun creations to detail your pages
Over 150pc stationary set
You can purchase your own Liquid Galaxy Journal at Target and Barnes and Noble. 
Stay Connected Socially with Horizon Group USA: 
Facebook/Twitter/Instagram/YouTube