Milton's Gluten-Free Crackers are Light and Delicious
This post may contain affiliate links or I may have received the product free in exchange for my honest review. See full disclosure for more information.
As you know, I have been on a mission to change my eating habits for the better. Sometimes it is the simple things that make a difference. For instance, swapping your regular crackers for Milton's Gluten Free Crackers is not only a healthier option but is beneficial if you can't have gluten or have Celiac disease.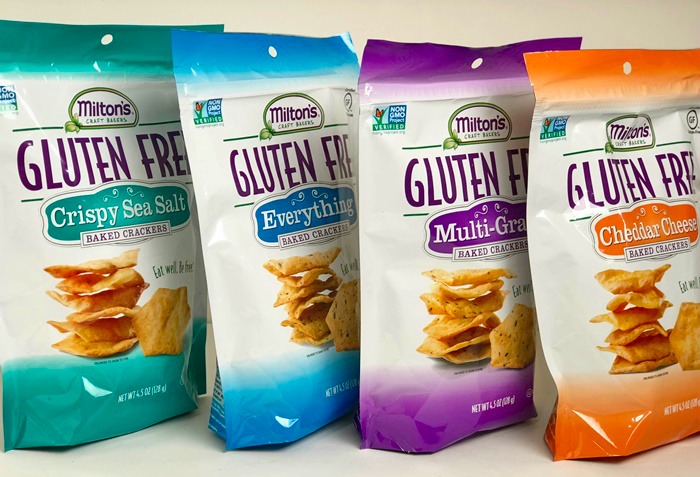 Milton's takes pride in artisan baking all-natural breads and crackers with surprising flavor and never any high fructose corn syrup or artificial preservatives.
Not only are Milton's Gluten Free Crackers delicious, they are also Non GMO Project Verified. They DO NOT CONTAIN wheat, nuts, or conventional fillers – so they're better for both you and the environment. Milton's Gluten Free Crackers are perfect for dipping, topping, or eating straight out of the bag!
I also love knowing that Milton's supports community causes like Celiac-related hospital advocacy, autism support groups and children's charities, that promote health for our families and communities!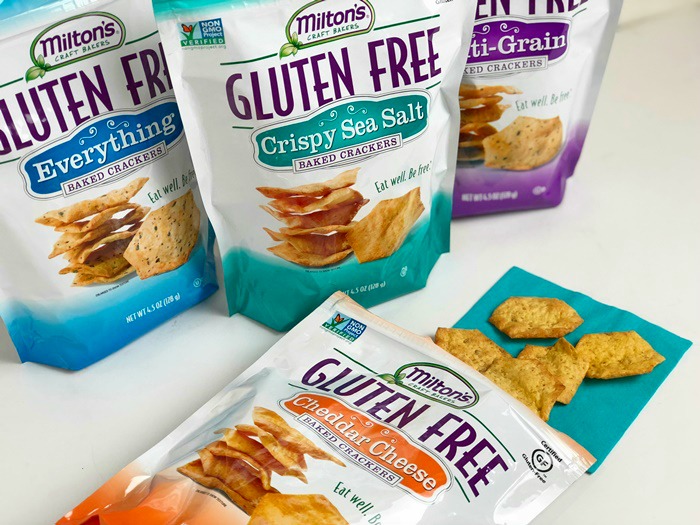 Milton's Gluten Free Crackers Come in 4 delicious varieties!
Milton's Gluten Free Cheddar Cheese Baked Crackers are a cheese lover's dream. They are made with real cheddar cheese and quality Non-GMO Project Verified ingredients. These yummy crackers deliver an incredibly delicious, cheesy crunch! You can enjoy them straight out of the bag or as add them as a flavorful complement to your favorite dips, soups, and salads.
Made with a flavorful combination of five gluten free grains, and baked to crispy perfection with just the right touch of sea salt. Milton's Gluten Free Crispy Sea Salt Baked Crackers are the perfect accompaniment to dips, salsas, nd soups. They are equally great sprinkled on top of your favorite salad! These are sure to be an instant crowd pleaser.
Crafted with seven gluten free grains, three seeds and the perfect hint of sweetness, Milton's Gluten Free Multi-Grain Baked Crackers capture the full flavor of their signature Multi-Grain recipe in a certified gluten free cracker. This is a cracker you can be sure everyone will enjoy!
Inspired by the popular flavor of the classic NYC everything bagel, Milton's Gluten Free Everything Baked Crackers are made with seven gluten free grains, four seeds and a special blend of seasonings—most notably garlic and onion. The delicious, flavorful crunch of these crackers offers a little bit of something for everyone.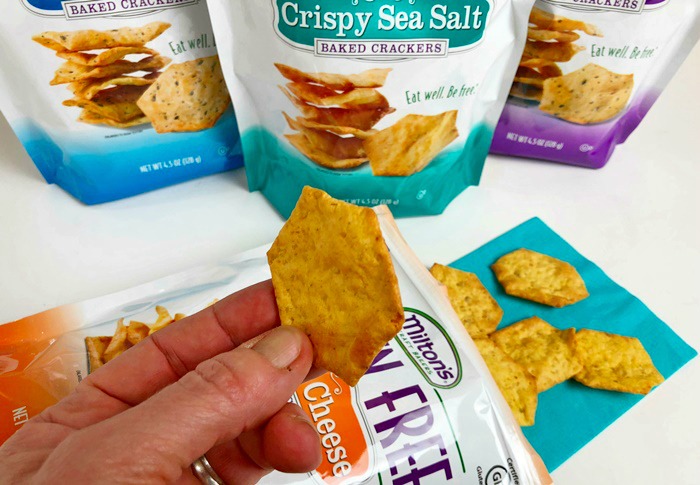 I love all the varieties! They are all crispy, crunchy and oh so yummy! Some I prefer with dips, some I love with soups, and I especially love the Cheddar Cheese for snacking out of the bag! In addition to their many other benefits, they are lower calorie than my usual salty chips making them a snack I can feel good about having!
You can find Milton's Gluten Free Crackers at Walmart and other stores or visit Milton's Craft Bakers to use their handy store locator for a location near you!
Connect socially with Milton's Craft Bakers