Candid Chat with Mr. Incredible's Craig T. Nelson and Elastigirl's Holly Hunter #Incredibles2Event
This post may contain affiliate links or I may have received the product free in exchange for my honest review. See full disclosure for more information.
After an Incredible (I predict that I am going to use this word quite a bit!) week in Los Angeles, I am excited to be back home and share all of my adventures with you. After a day FILLED with Pixar magic at Disneyland, the next several days were filled with viewing the Incredibles 2 movie, followed by interviews with the voice cast of our favorite characters, including the patriarch and matriarch of the family, Mr. Incredible (Craig T. Nelson) and Elastigirl (Holly Hunter).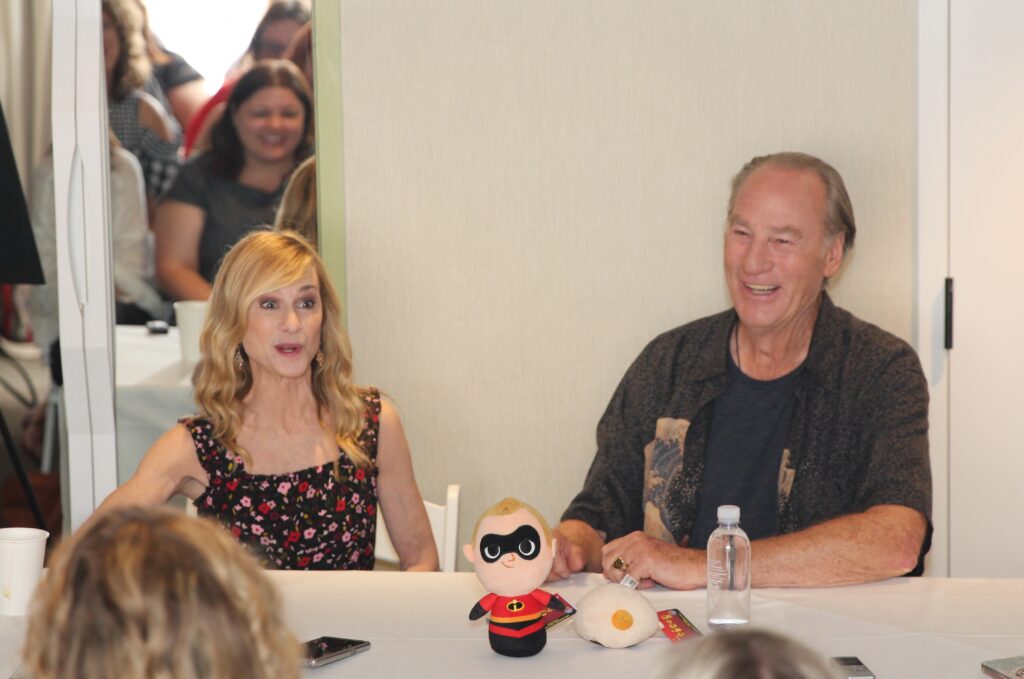 To paint the picture appropriately, THE INCREDIBLES made its box office debut on November 5, 2004. We were introduced to Bob Parr (Mr. Incredible) and Helen Parr (Elastigirl), two superheroes that became an ordinary family once superheroes were forced to go into hiding.
By the end of the movie, our hearts are warmed over by the INCREDIBLE bond that this family has. Fourteen years later, INCREDIBLES 2 virtually picks up where the first movie left off and takes the entire family into a new direction, focusing on Helen Parr/Elastigirl as she steps out into the workforce to support her family.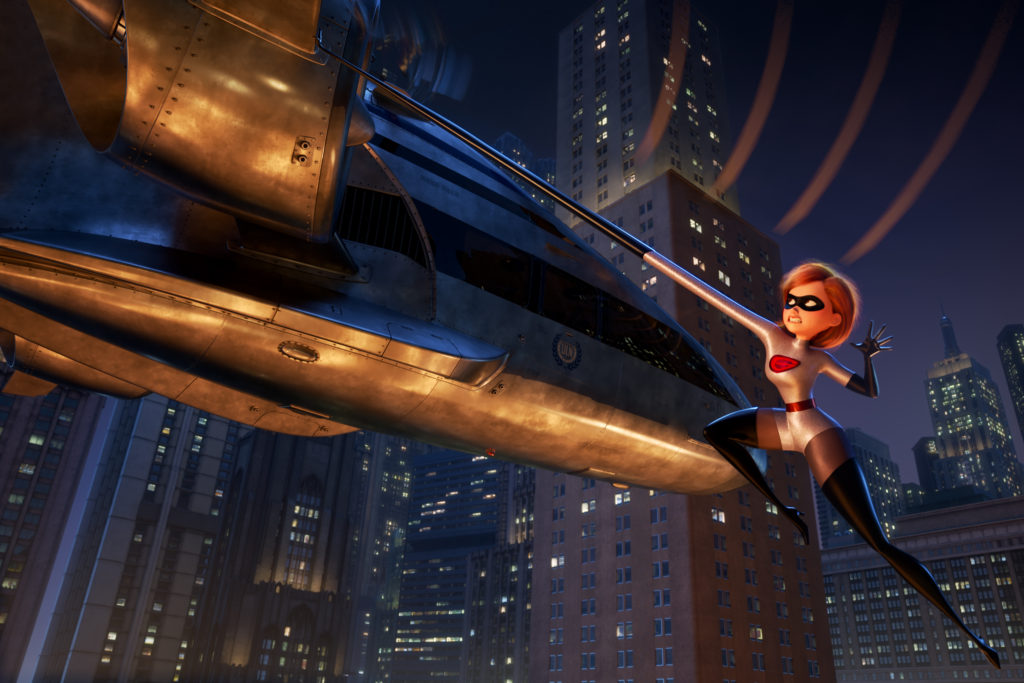 Holly and Craig enter a room filled with mommy bloggers and thunderous applause as we are all HUGE fans and love their work. I have followed these two together and separately, respectively, for years as they each have had tremendous carriers in film and television. Each has done amazing work and I was honored to be part of a select few to interview them for INCREDIBLES 2.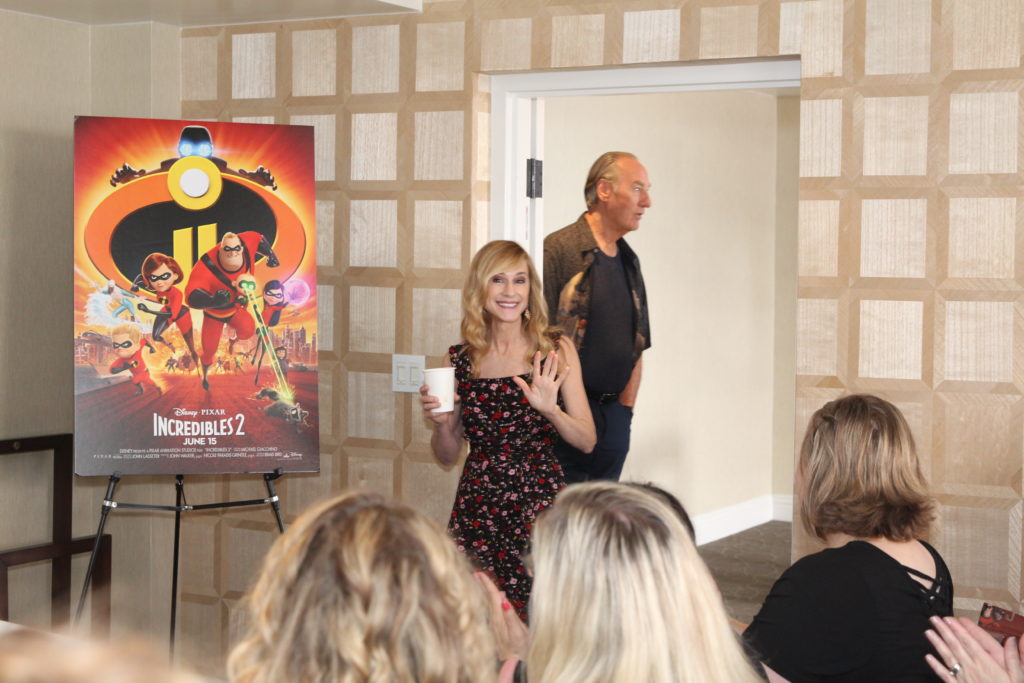 The first question was asked, "How did you feel about doing the sequel? Were you onboard right away and what were your thoughts on it when you heard that there was talk about it?"
Holly: I mean, I think we both were, you know, I can practically speak for you, I mean, we were not hesitating in wanting to do this, this sequel. 

Craig: Yeah, it was exciting. I mean, it was exciting because it was, like, fourteen years! 'What is he gonna do; what are they gonna come up with; how can it be different; where are we gonna pick it up?' I mean, we didn't know anything. Then they talked about starting it right at the very end (of the original INCREDIBLES), and the first one starting this one, and …well, I didn't age.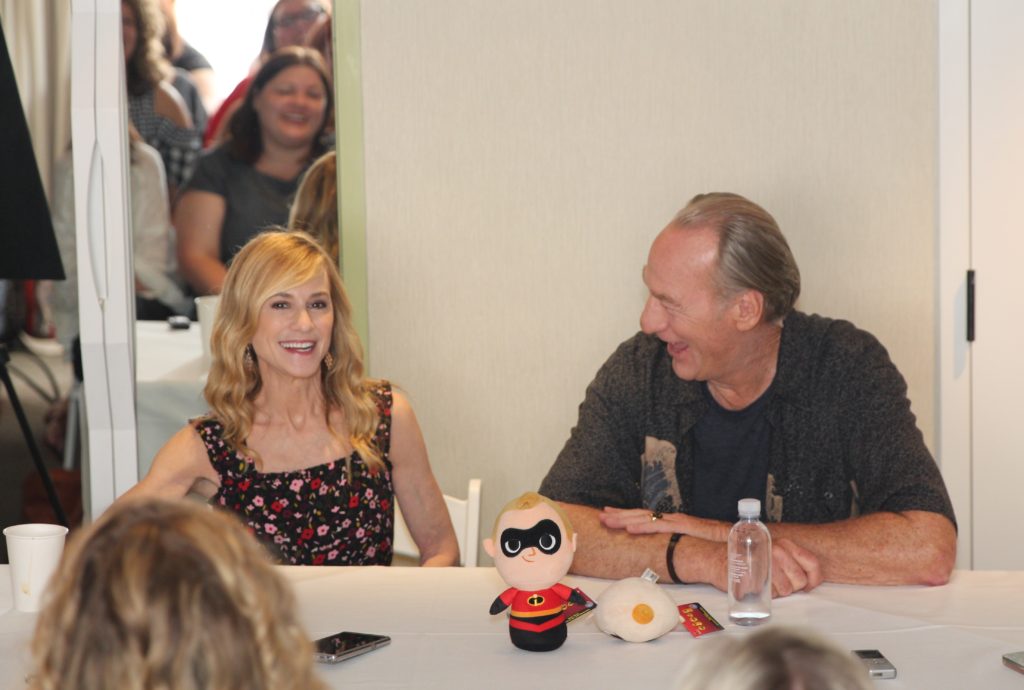 It was evident these two had great interaction and dynamic as the married super-duo. Interestingly enough, for the pair who play spouses in the first blockbuster smash, I was amazed to learned that each other met only 9 months prior, working in the studio with director Brad Bird, for the making of INCREDIBLES 2.Holly Hunter elaborates on how it can be done:
This is the gift of Brad Bird. This is what Brad can do that's so phenomenal is that the chemistry that I think the cast has together, we do have chemistry, but you know, what that is, when Brad cast the INCREDIBLES, the original one, he didn't go down a list of actors and actress who were like the hot names of that moment.

He had in mind the sound of the movie; the sound of the characters together, and in that I think, you know, Brad had a chemistry in mind that was audio, because that's the kind of guy that he is; that's the kind of artist that he is. So Craig and I never met each other until about nine months ago.

That's the first time that we met each other, so that chemistry is inherent in us, you know, in Sarah Vowell who plays Violet, and you know, and Sam Jackson who's Frozone, with Mr. Incredible, but that's Brad putting it together before, you know, he ever knew us. His imagination was at work putting the chemistry together.  
One thing that we can all relate to, even Holly and Craig, is family. We asked them their thoughts on seeing themselves in products or dolls that actually have their own voices. Craig T. Nelson, with much exuberance commented:
Landon, one of my great grandsons has his whole room is INCREDIBLES. I mean, this kid has got a car (bed)! You go in (his room), and it's like a Pixar. It's amazing!
They also love that there will be the Incredicoaster, opening at Disneyland on June 22nd, and will be a part of Pixarfest, going on through September 3, 2018!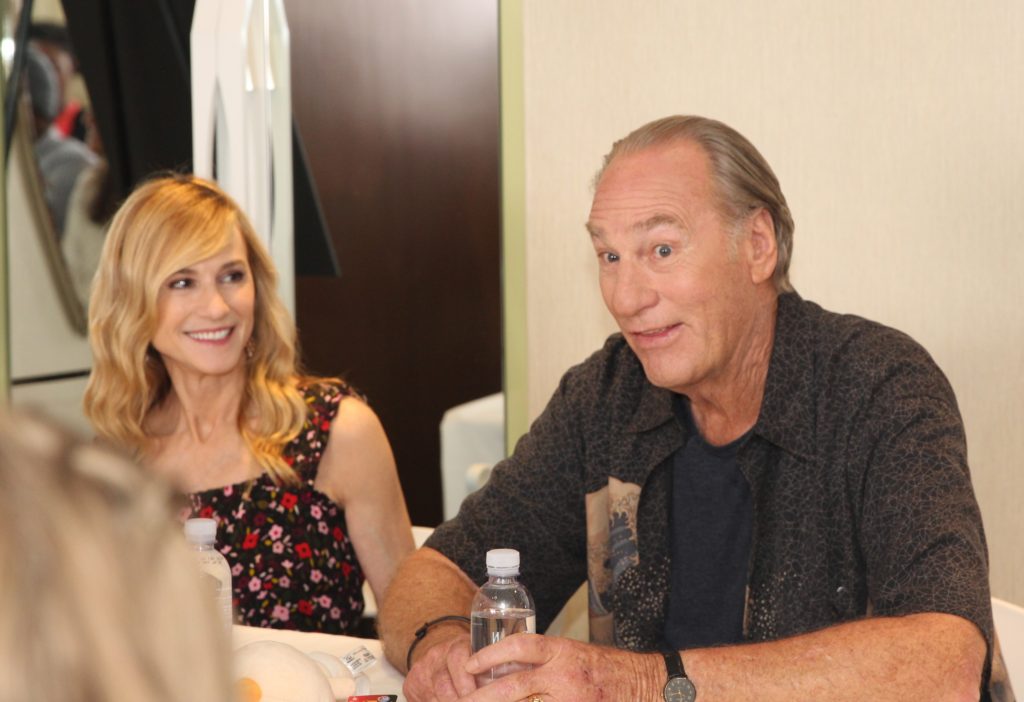 One of my favorite lines of this movie is by dad/Bob Parr/Mr. Incredible/Craig T. Nelson – "Why would they change math?! Math is Math!" If you are a parent with young kids in school today, you can totally relate to this sentiment. I asked if he actually took a look at today's math, to help him prepare for this role as the stay-at-home parent.
It isn't just new math. I'm confused about a lot of things. I really don't understand the approaches to a lot of things, you know? When did they change the rules? Who gave them permission to do that? And it's like, wait a minute, it's like even being brought up.

I have great grandkids; I've got three of them. It's what a world they're being raised in.When I was raised, the beauty of the education that I received was that you were classically trained. You had classic literature to refer, and it was given to you, and performed for you. So you learned words, you learned communication. So I think for my kids and my grandkids, when I go to visit them, it's very disturbing.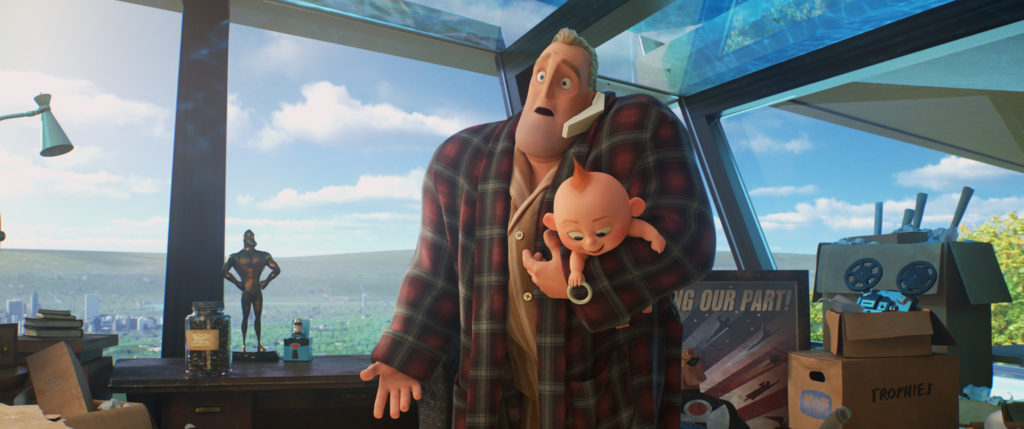 To elaborate, Holly also noted how today's youth are being taught in communication, interaction and more. "It's very insular; that they're very isolated." This is so true, and really hits on a key message with the villain in the movie, The ScreenSlaver!
Craig: We're not talking to each other. You know, can I see your eyes? Can I see your eyes for a minute, just would you mind lifting…doesn't your neck hurt? You know, but one of the beauties of the film was that nobody's doing that. None of the (INCREDIBLES) family is doing it.

They're engaged. They're engaged, and you know, Bob (Mr. Incredible) is trying to make himself work as a dad, and the kids are not going off on him, and nobody's stuck here (referencing a phone or tablet).
To add to the math question, Craig still believes in the classic – "Two plus two is four!"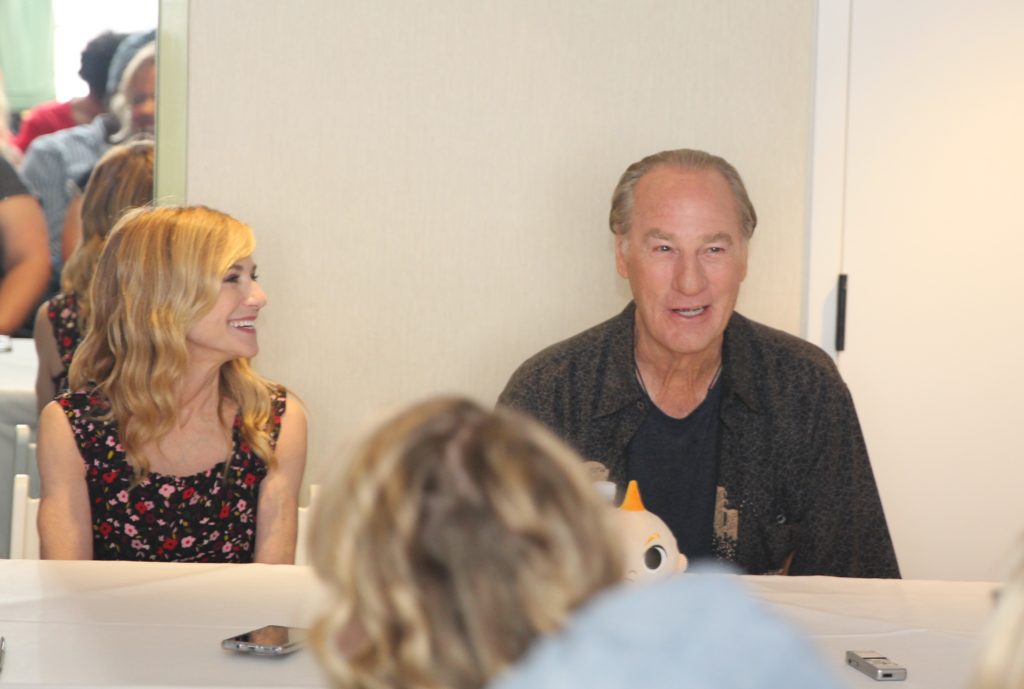 The primary focus on INCREDIBLES 2, is the powerful role that many of the women play, most particularly Elastigirl taking the roll as bread winner for her family. When asked their respective thoughts on this main storyline, Holly and Craig both had amazing things to say.
Holly: Well, I think that's a little serendipitous, you know, that the #MeToo and the #TimesUp (movements) coincide with the opening of this movie where that is an element, but I think totally by coincidence. At the same time, it is in the air. I mean, it's in the culture, you know, environment that I guess we're all breathing.

So it- which is a great thing, especially it's a great thing for kids to see this movie, not just little girls but, but boys, too. It's great for everybody to see what men and women are capable of, that men are capable of being fantastic, nurturing parents. And as, as we all know this. I mean, this is not, this is not new for us, but it's still great to see this, this exploration both for our characters.

Craig: Yeah.

Holly: It's fantastic and delightful to see Elastigirl living up to this gift that she has without any apology. She just is going for, and losing herself in it, which is a beautiful thing. I think also for mothers, it's great for a mother to be able to be fully engaged in something that has nothing to do with parenting, and I think that that's difficult for all of us to actually give ourselves license to just go that deeply.

Craig: Also it's like from the same standpoint ,it's incumbent to understand, at least, a great part about the character in the film, for me, was that I was given the opportunity to get to know my kids.

And so I hadn't discovered that, but at the same time Elastigirl and Mr. Incredible are competitive, and they have this kind of, you know, 'go ahead and do it, and when you do it, do it well. I know you can do it, but when you fail, you know, I'll be there.' But it's for a great cause. And it also gives each other the freedom to explore their potential, and that's what, to me, it speaks to, in terms of that.
What a wonderful, breathtaking interview. I am so fortunate and blessed to have shared time with each of them and delving a bit deeper into their respective roles as part of the movie. Be sure to watch as we share more talent interviews including Frozone, Dash, Violet and more.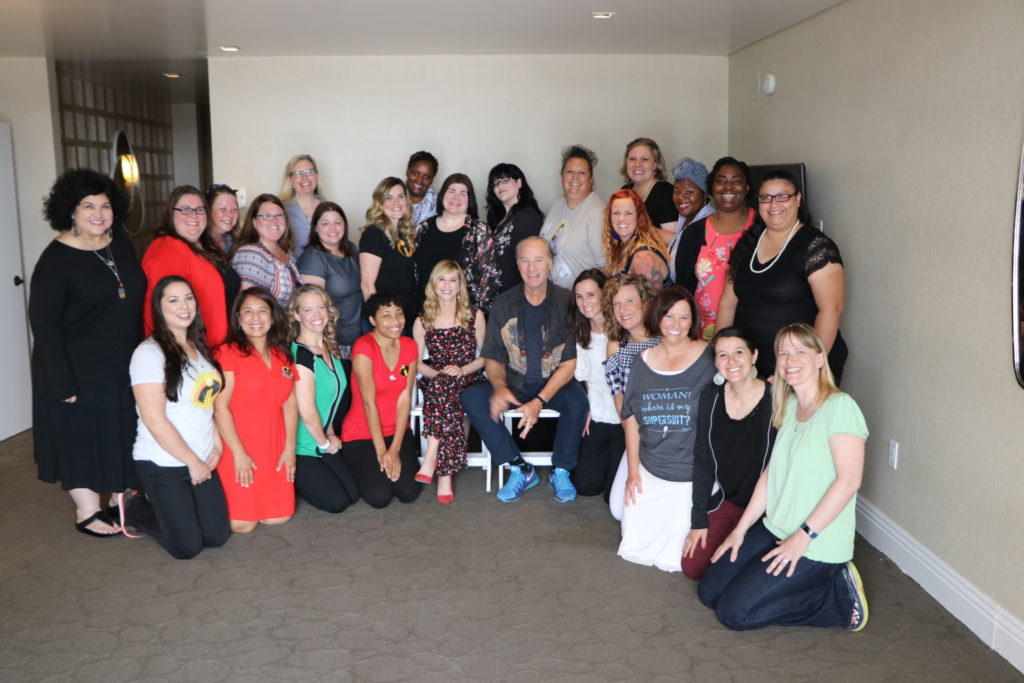 ---
Get ready for an INCREDIBLE TIME!

ABOUT THE MOVIE
Everyone's favorite family of superheroes is back in "Incredibles 2" – but this time Helen (voice of Holly Hunter) is in the spotlight, leaving Bob (voice of Craig T. Nelson) at home with Violet (voice of Sarah Vowell) and Dash (voice of Huck Milner) to navigate the day-to-day heroics of "normal" life. It's a tough transition for everyone, made tougher by the fact that the family is still unaware of baby Jack-Jack's emerging superpowers. When a new villain hatches a brilliant and dangerous plot, the family and Frozone (voice of Samuel L. Jackson) must find a way to work together again—which is easier said than done, even when they're all Incredible.
Voice Cast includes Craig T. Nelson, Holly Hunter, Sarah Vowell, Huck Milner, Samuel L. Jackson, Brad Bird, Bob Odenkirk, Catherine Keener, Jonathan Banks, Sophia Bush and Isabella Rossellini
Here is the OFFICIAL Trailer!
In theaters on June 15th, 2018, stay connected socially with Disney•Pixar's INCREDIBLES 2 for the newest film information and clips
 Facebook |  Twitter | Instagram | Website
---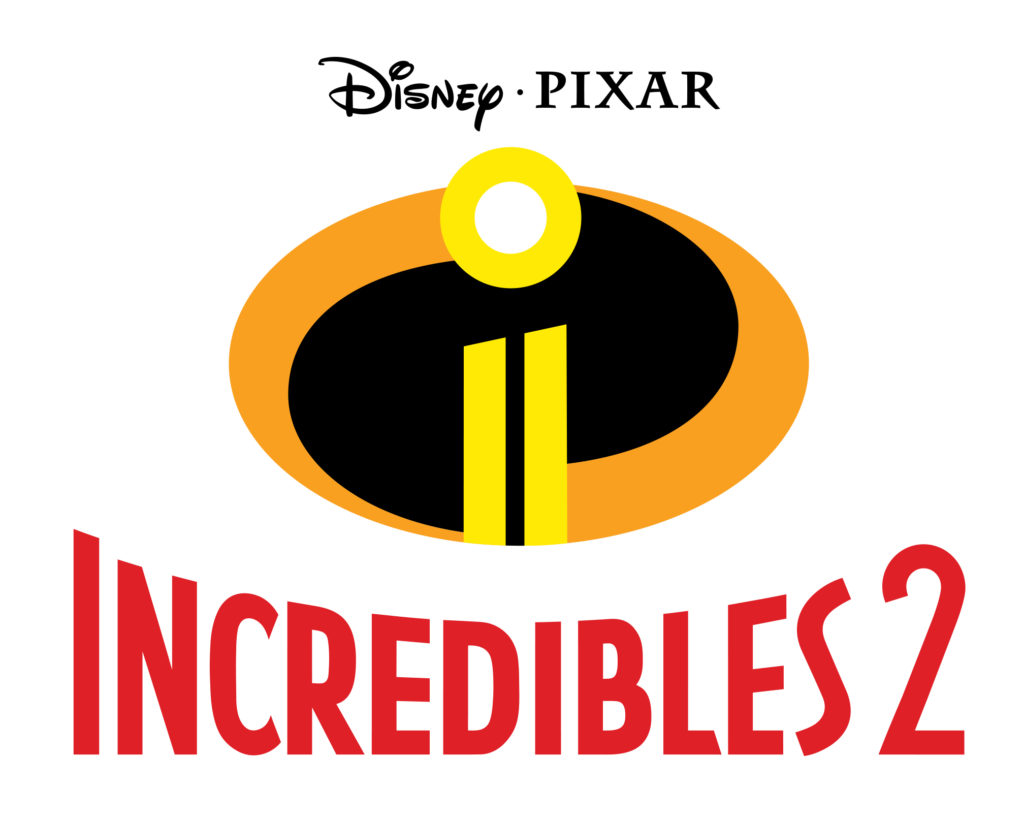 *Interview Photo Credit: Louise Manning Bishop/Momstart.com
Disclosure: I was provided with an all-expense paid trip as part of a press Junket with Disney Pixar to cover this and all Incredibles 2 media.