My day visiting the set of ABC Family & Interview the cast of Mystery Girls #MysteryGirls #ABCFamilyEvent
This post may contain affiliate links or I may have received the product free in exchange for my honest review. See full disclosure for more information.
Disclosure: I was provided with an all-expense paid trip to do this and all ABC Family Event coverage.
When I was a teenager, one of my favorite shows on TV was Beverly Hills, 90210.  Watching all of the cast, including Donna Martin (Tori Spelling) and Kelly Taylor (Jennie Garth) was my weekly ritual for 10 years.  As I grew, they grew.  As I experienced life, love and heartache, the same things were happening on TV with these same girls.  It comes as no surprise to me that I am nearly the same age as Tori Spelling and Jennie Garth in real life, and makes sense at how much I could relate to the characters they portrayed on TV.
I was really excited when I learned earlier this year that ABC Family would premiere a new episode, Mystery Girls, written by and starring none other than Tori Spelling.  To make the show even more excited, she is joined by her former "90210" co-star, Jenny Garth.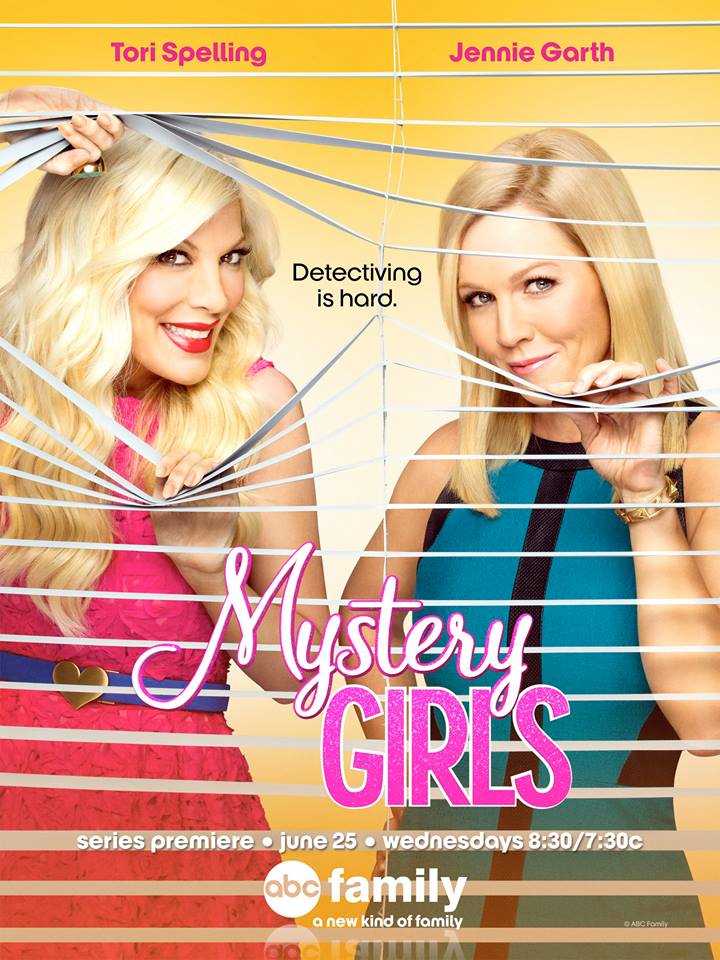 Photo courtesy of:  
ABC FAMILY
Mystery Girls follows two former TV detectives, Charlie Coutour & Holly Hamilton, as they are reunited to help solve a real-life murder mystery.  Charlie is a homemaker, while Holly yearns for her former days as a television star.  A super-crazed fan, Nick, witnesses a murder and refuses to talk to local law enforcement.  He will only recount his witness to the event to his television idols, Charlie & Holly.  As the series unfolds, they find themselves drawn to their former days of solving mysteries and embark on a journey of opening their own private detective agency, the Mystery Girls.
"Mystery Girls" stars Tori Spelling as Holly Hamilton, Jennie Garth as Charlie Contour and Miguel Pinzon as Nick.
I was recently had the opportunity to travel to the ABC Family set to watch a taping of "Mystery Girls" and take part in a Q&A session with the stars of the show.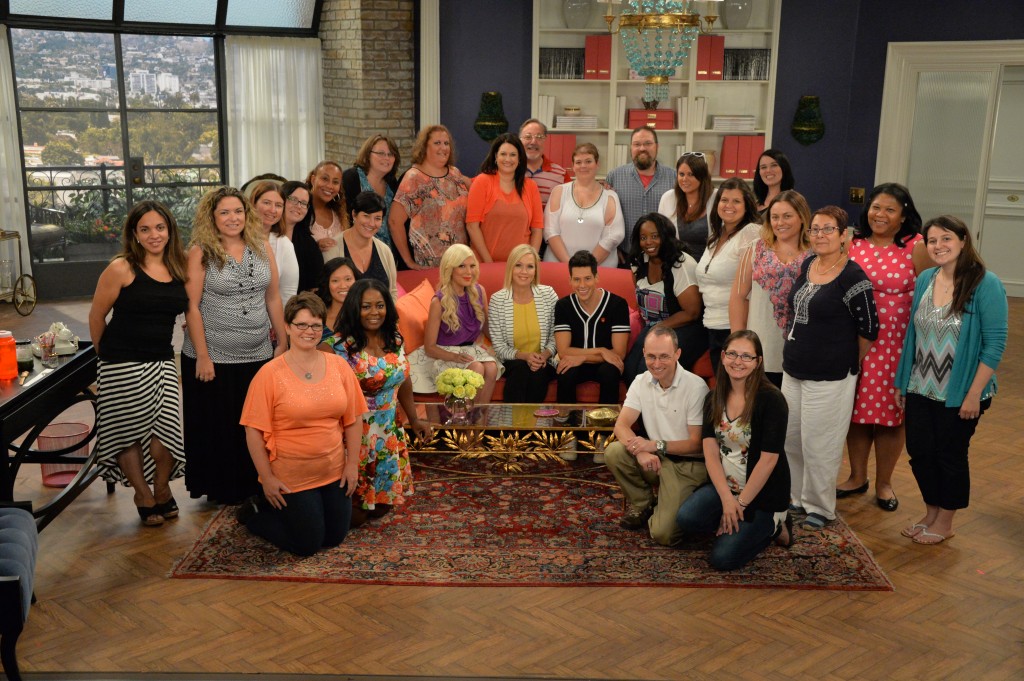 Photo courtesy of:  
ABC FAMILY/ Eric McCandless
We arrived on set as they were filming a scene for the final episode that will air later this summer.  Sitting in the audience seats, watching as Tori and Jennie do take after take to make the scene just perfect was surreal.  It was like a childhood dream coming to fruition as I watched, LIVE, the gals I had grown up watching in my younger days.
The set was busy and bustling with stage hands, camera crew, actors, directors and more.  It gave me a first-hand glimpse at just how much goes into the making of a 30-minute sitcom.  With takes, retakes, wardrobe changes, makeup and hair updates, there is so much that goes into what we actually see sitting in the comfort of our living room week after week.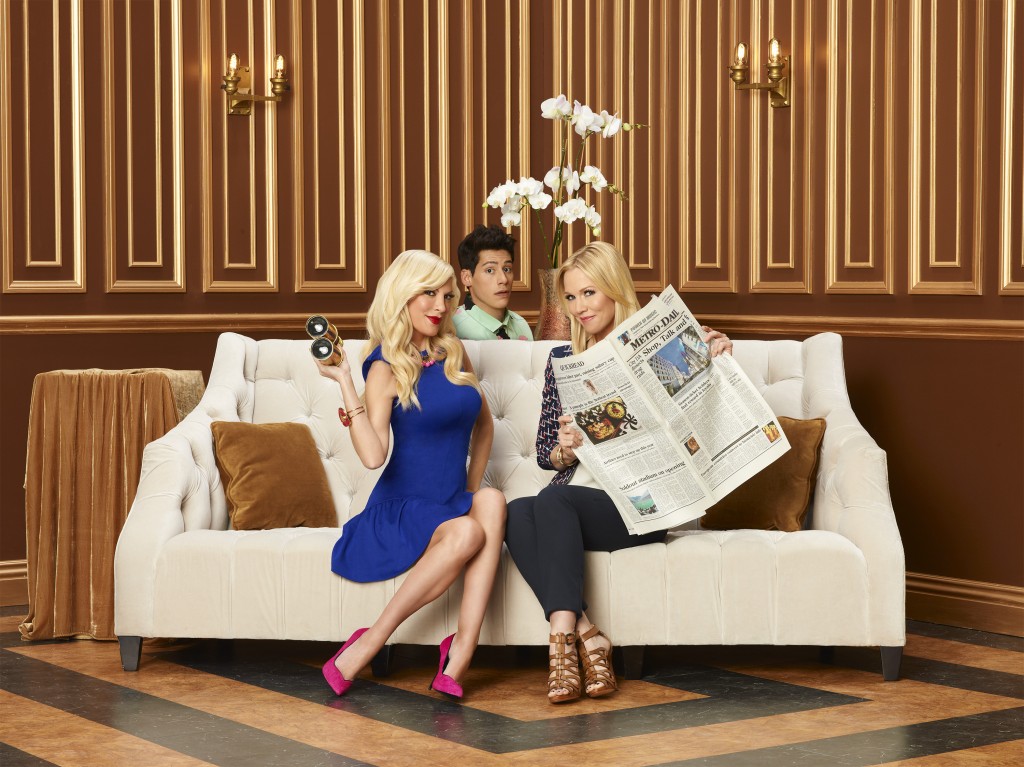 Photo courtesy of:  ABC FAMILY/ Craig Sjodin
Once the scene they were currently shooting was complete, we had the chance to sit down with Tori, Jennie and Miguel and have a personal question & answer session about them and what it was like filming on the set of "Mystery Girls".
Interview with Tori Spelling & Jennie Garth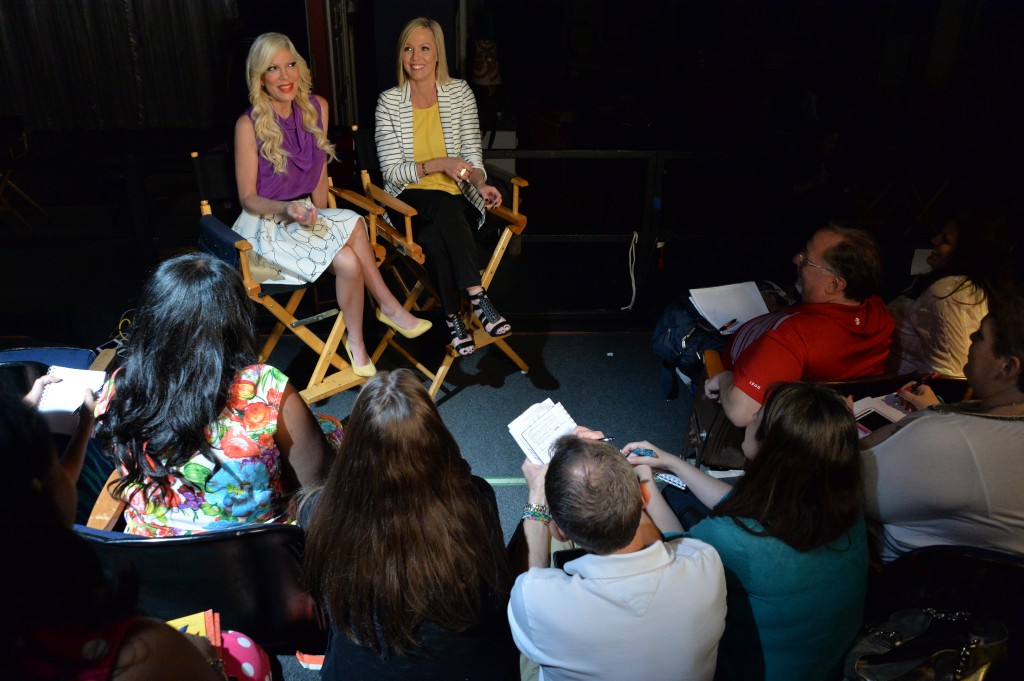 Photo courtesy of:  
ABC FAMILY/ Eric McCandless
Tori & Jennie gracefully walked into the audience setting area, took their seats and immediately the hands went up among the bloggers to ask these amazing actress various questions. Read more below some of the fun questions we asked and the answers Jennie and Tori provided.
Q: How did you come up with the idea for the Mystery Girls?
TS:    I had done a Christmas movie for ABC Family and I knew they were looking for comedies and I used to be a huge fan of mysteries in the eighties and my dad's shows and I loved Remington Steele and I just wanted to pair that with comedy.  And that's where it came from.
Q:   So was it automatic for Jennie to play the other part?
TS:    I lov-, I was hoping?  But, I was praying that she would wanna do it.  And when I thought of the idea, I was like no one else could do this.  But, I didn't know at the time what she was doing, what her plans were so I was just, I emailed her and…
JG:    You emailed me a very sweet letter.  No pressure ,but just read it.  And I read it.
TS:    You know when friends ask you to do favors like, "Hey, I have this thing for you," you always feel so like guilty asking?  So it was one of those?  But, I felt like we had a pretty good script to back it up you know.
JG:    Hm-mm.  Yep, made me laugh.
Q:    How do you manage your schedule with your children?
TS:   It's definitely a change of pace.  And it's the first time I'm acting away from them full time.  Uh, so it's been different.  But luckily they can come to set and Jennie takes them (her children) to set and they play together, so we say we have like a job and a daycare at the same time.
Q:    How do you relate to your characters in real life?
TS:    Obviously we're different than our characters, but I think there is a part of both of us in our characters.  Like the relationship we have in real life?  Especially, like I feel like I'm in real life very trusting of everyone.  And I go into everything kind of (situation) full force and I don't really take into consideration, you know, what's going on, and our friendship, Jen always kinda steps in and protects me over the years.  And I feel like that's what Charlie and Holly are like too.
JG:    Yeah.  I'm always been like more of protector, a big sister to her.  Since the very beginning.  I've always been a little tougher you know?  Uh, physically?   You know I can take care of myself.
Q:    I saw next week's episode and you have Donna and Nat from 90210 in it.
TS:    Yes.  Next week's episode is High School Mystery and it, kind of is a wink-wink at Donna Martin graduates and we go undercover back at my old high school, which is West Beverly.  And, Nat from the Peach Pit, Joey, plays the high school principal.
Q:    How do you manage the schedule of your job?
JG:    I would say get a good, uh, calendar app.
Interview with Miguel Pinzon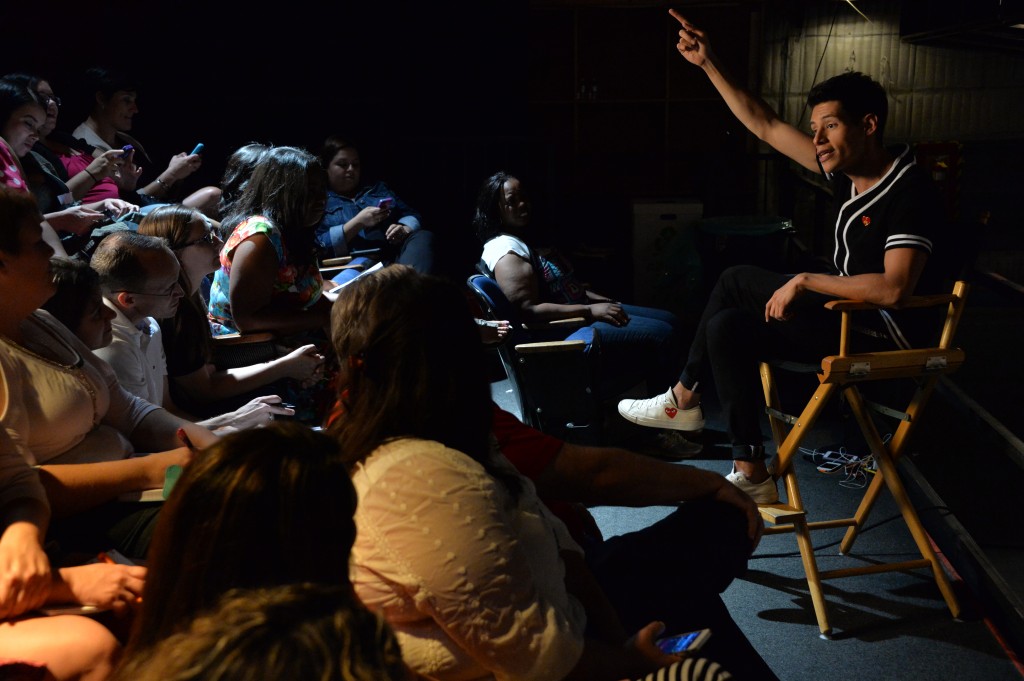 Photo courtesy of:  
ABC FAMILY/ Eric McCandless
Miguel walked over with a skip in his step, as he had just learned he was nominated for a "Teen Choice" Award.  With that news, coupled with his naturally bubbly personality, he sat right down and starting talking to use immediately and the conversation flowed so naturally and lively.
Miguel was wearing a "heart pin" on his left lapel and that started the questions flowing, it was the perfect opener.
Q:    Tell us about your pin.
MIGUEL:    My pin, it– it's a heart and it says "I love me".
Q:    What does that say about you?
MIGUEL:    It says that I working on self-esteem issues.  And if you can't love yourself how the hell can you love somebody else?  Can I get an amen?
Q:    Congratulations on your nomination.
MIGUEL:    Oh, thank you so much.
Q:    So how did you get involved in the show?
MIGUEL:    I was in San Francisco doing a job, not an acting job.  Those jobs you sort of take to like make the acting jobs work and my agent sent me the info like can you please put yourself on tape and I was like oh, man like I really can't.  Like I'm doing 10 million things at once.  I think like this is just one that I'm going to like let go.  And he's like please, please, please just do it.  And I was like okay.  And I scrambled and put it on tape and let it go as one usually does.
And then like about two weeks later got a call like the producers want to see you.  Oh my god you're kidding.  And then I kept presuming it would sort of stopped there.  Like oh, cool.  And then it just sort of happened, which was amazing.  And then I'm a big fan of like sort of like fortuitous circumstances and like that everything is a guidepost if you're looking for them.  Did you happen to see the pilot?
So, my character Nick is new to LA and the first thing he does is he gets on like the Hollywood tour bus and he stops to take a picture of Katy Perry's mailbox and like witnesses a murder and that's what like directly puts them in like the girls line.  And when I found out that I got the job I was at my partner's house and they called to tell me I had the job.  And then a Hollywood tour bus went by like literally.  And he stopped the bus and he was like come here.  Come here.  Come here.  And I was like no no no what are you doing.  I thought he was going to be just like me — do something embarrassing.
But then after I hung up he pointed out like you have no idea like how cosmic this all is.  He's like that happens in your script and he liked you know whose house that is right there?  And above his house is Katy Perry's house and I was like wait, you're kidding me?  Just one of those really fantastically parallel moments.
~~Writer side note ~~ I totally felt this was a true doppelganger moment for him!
Q:    So this is your first job?
MIGUEL:    This is my first big rodeo.  I came from New York and had been in LA for a period of time and did a little thing on Law and Order. And then did a little bit on 30 Rock.  But this is like my first series regular thing and my first time I get to do three camera comedy like just a dream.  It's so awesome.
Q:    What is your favorite thing about your character?
MIGUEL:    His authenticity, his lack of filter, his I think reaction to living in a world where no one's telling him that he's any different so he's just who he is and there's no apologies.  They're sort of reflection on like oh, I should really been.  He's a thing has come from like a place of being celebrated and like just supportive.  So I think just being able to be completely 100% authentic him is I think one of my favorite things about him.
Q:    Where do you see yourself in five years?
MIGUEL:    In a sparkle shoe.  I see myself — let's be bold.  I see myself still employed.  Working on TV.  And getting hopefully being able to make people laugh.  Yeah.  With Carol Burnett!
As Miguel left the session to prepare for his next scene, we were able to explore the actual set and dressing room and interact with some of the crew, and even the director, Michael Lembeck.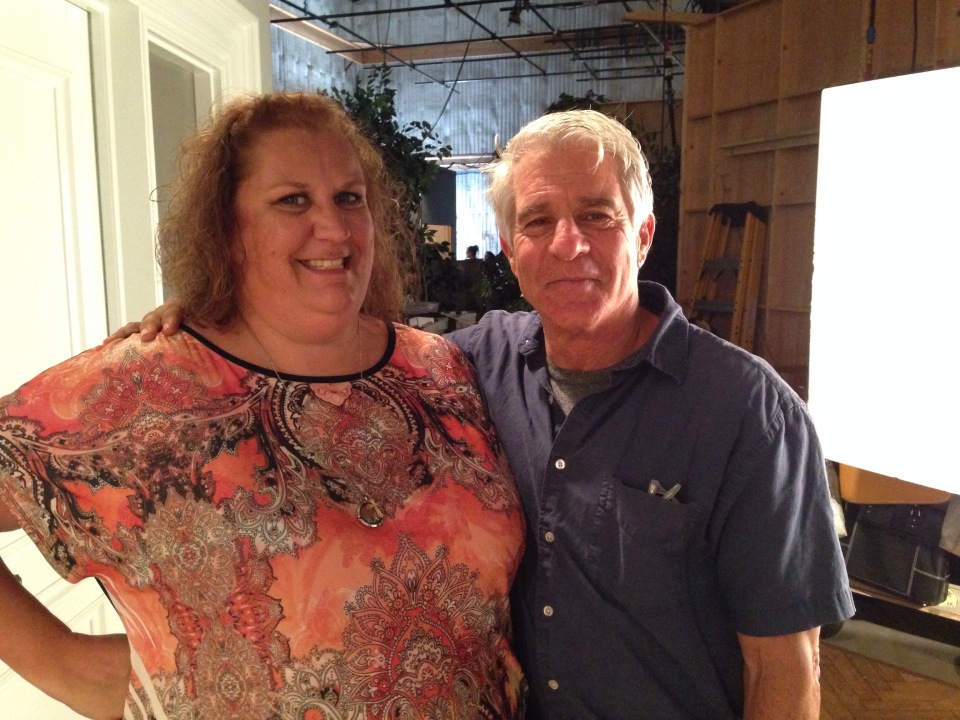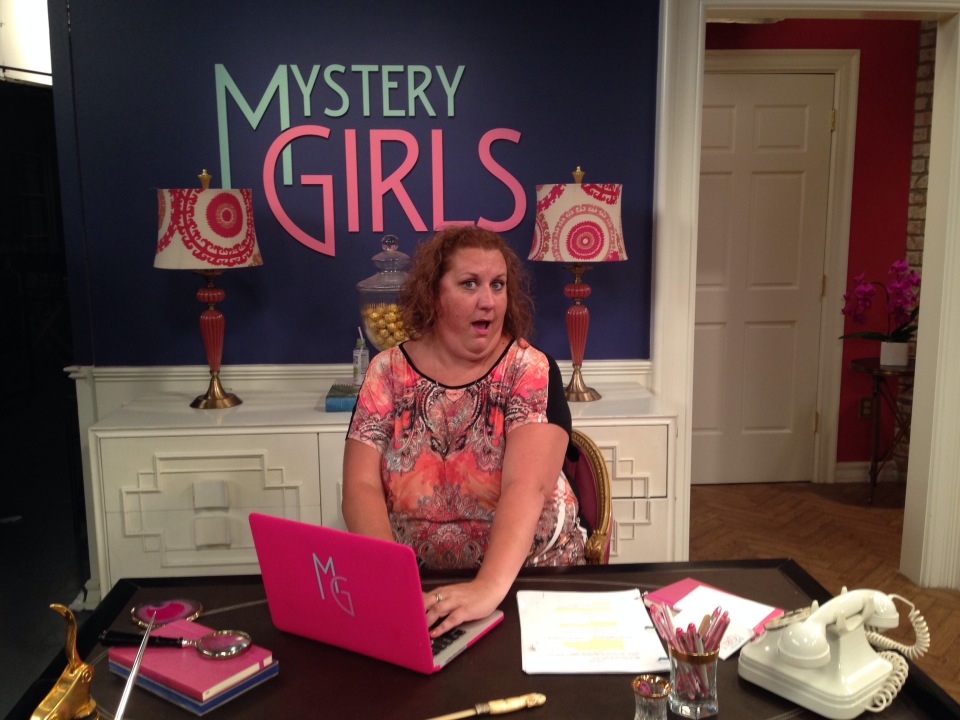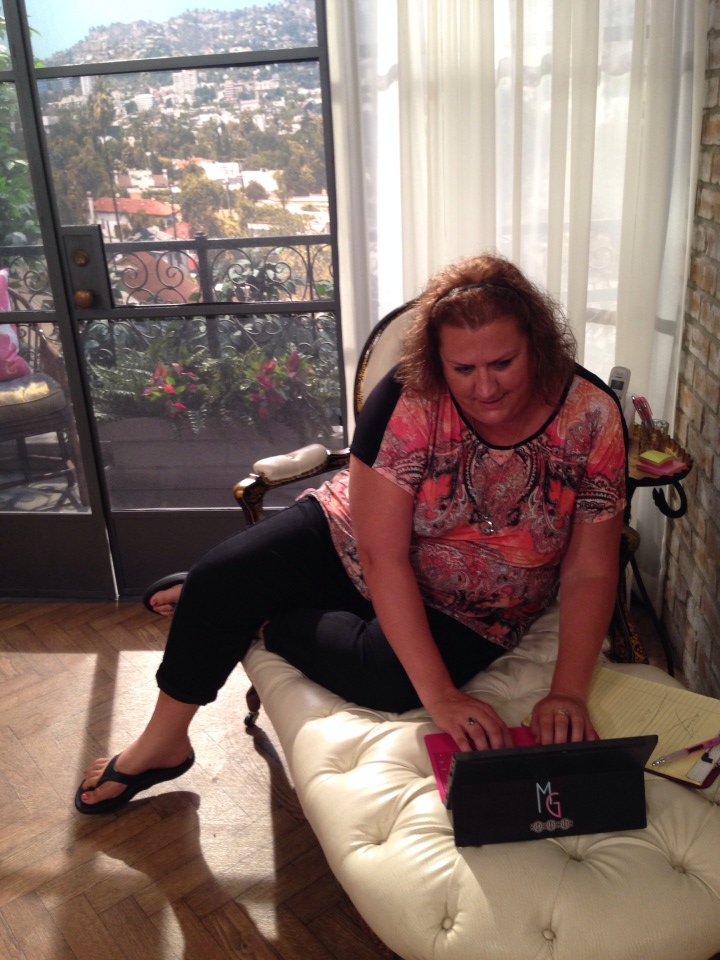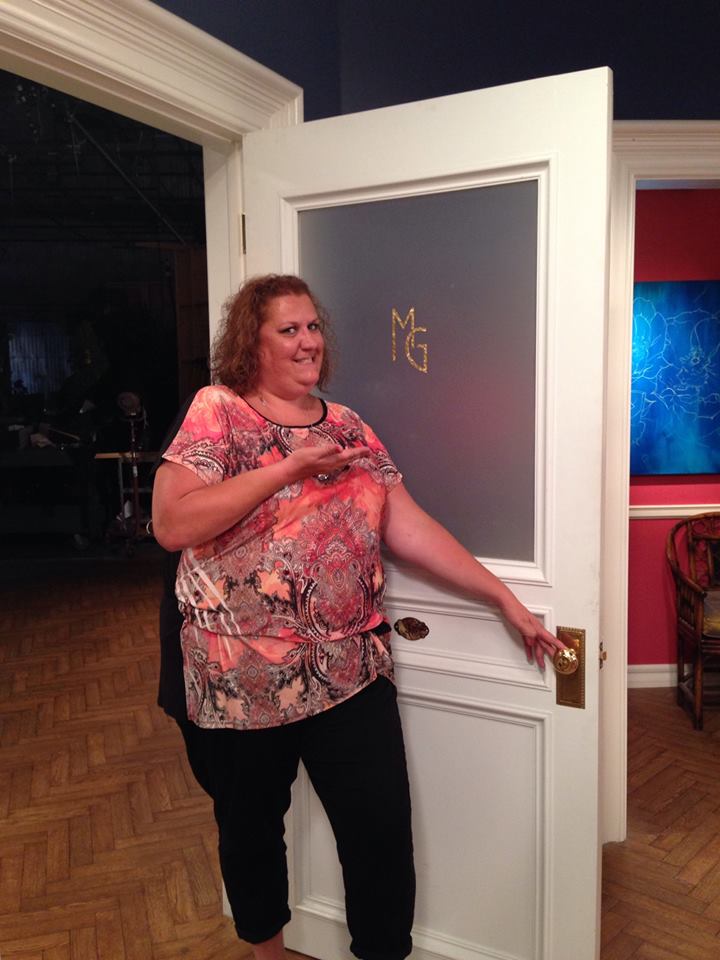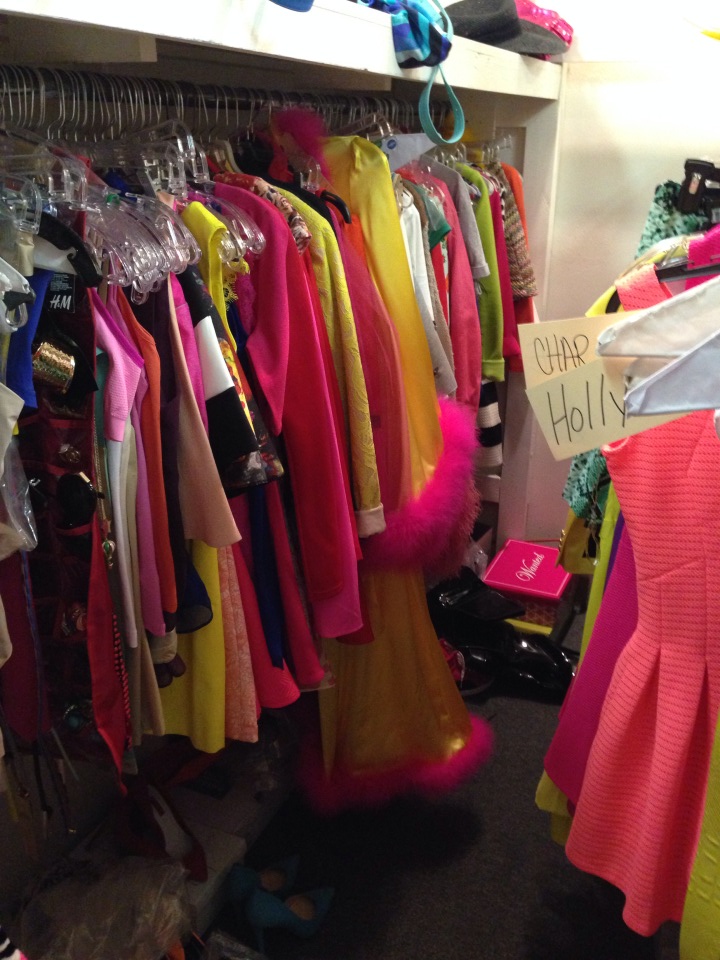 Mystery Girls airs on ABC Family on Wednesday's at 8:30pm (ET).  This weeks episode has a special "90210" star, Joe E. Tata (Nat).  This weeks episode, entitled "High School Myster" takes Tori and Jennie back to their West Beverly High School days.
Photo courtesy of:  
ABC FAMILY/ Ron Tom
In "High School Mystery," Holly's high-school principal Mr. Frost (Joe E. Tata) hires the Mystery Girls to make sure he does not become the target of the senior prank before he retires. When the detectives go undercover at West Beverly in order to stop the culprit, Holly realizes this job is her chance to have the normal high school experience she never had but always wanted. Desperate to fit in, Holly becomes obsessed with being popular and momentarily forgets about their case, while Charlie takes her role as gym teacher a little too seriously. Once the mystery is solved, Holly asks Mr. Frost for her long-awaited diploma, prompting the student body to start chanting "Holly Hamilton Graduates." 
Leaving the set was bittersweet and left me in "awe" of the days events.  I had a rare experience to meet some amazing actors, visit a real-life Hollywood TV set and get real insight into the TV stars life both in and outside of the world of television.  Be sure to watch Mystery girls every Wednesday at 8:30pm (ET) on ABC Family and watch what kind of mystery Holly & Charlie try to solve next!
Be sure to stay connected with all the latest news and episode info for Mystery Girls
Facebook | Twitter | Instagram | ABC Family Website
*I was provided with an all-expense paid trip to do this and all ABC Family Event coverage.