If there is one thing in life I cannot do without it is my coffee. Coffee is the concoction that keeps me moving through the day. When mornings come, I sleepily stagger into the kitchen for that first delicious cup of the day to help me wake up. In the afternoons, I love to take a few moments to simply relax with a Mocha or sometimes Ice Coffee. But, it's probably no surprise to you that visiting a coffee shop for a daily coffee delight can add up quickly! That is why I squealed in delight when I received my Ninja Coffee Bar!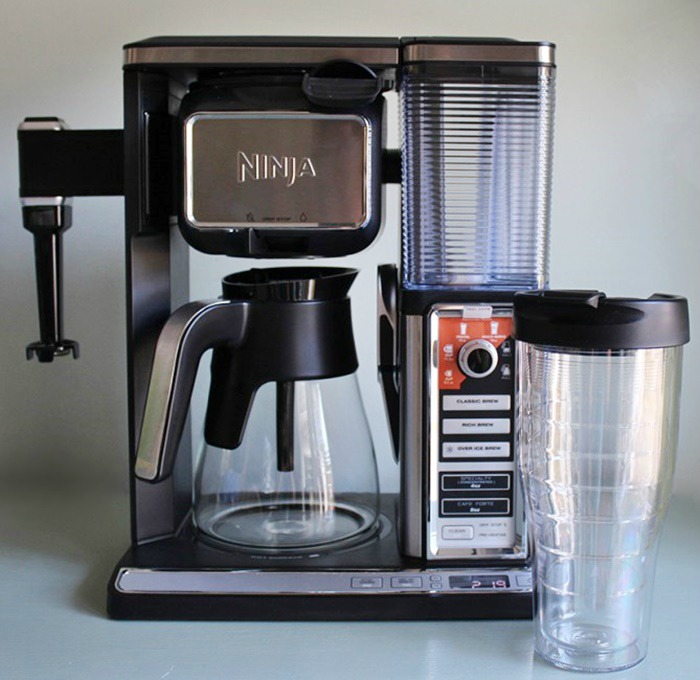 The Ninja Coffee Bar is like having your own coffee shop! With the Ninja Coffee Bar's Auto-IQ Intelligence it can make your favorite coffees with the touch of a button! Let's check out this AMAZING coffee master!
The Ninja Coffee Bar features revolutionary Thermal Flavor Extraction technology, which delivers a variety of sizes and coffee styles, from hot to iced to specialty, while achieving the perfect brew richness level every time. Ninja Coffee Bar completely reinvents the traditional drip coffee maker by unlocking coffee grounds' full flavor potential and providing smooth, rich and well-balanced coffee.
Ninja Coffee Bar Features: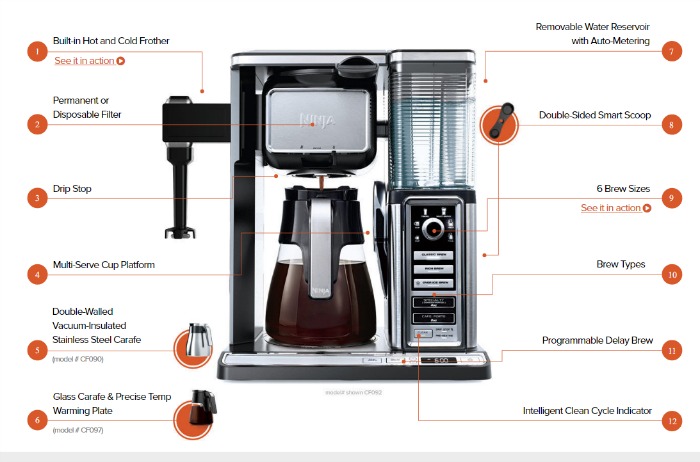 The Ninja Coffee Bar is great for making hot coffee, ice coffee, and special brews! There is no guess work at all. Simply set the dials and let the machine whip up your favorite brew! Using Thermal Flavor Extraction technology, the Ninja Coffee Bar delivers the perfect brew richness level every time!
The best part of the Ninja Coffee Bar is that you can use your own coffee. Don't ask me what miracle it performs, but my plain old Maxwell House of Folgers comes out tasting like coffee house coffee. The flavor is rich and flavorful, a far cry from drip coffee maker coffee!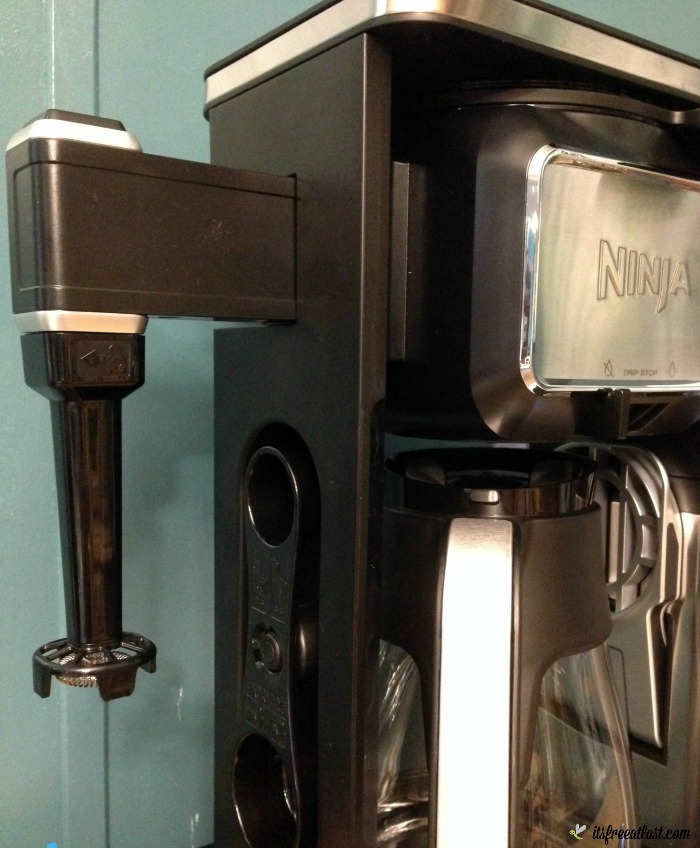 Built-In Hot or Cold Frother AND Coffee Scoop Storage
The Built-in frother is conveniently located on the side of the machine itself, along with a place to keep your double-sided coffee scoop! I love the coffee scoop storage. Everything I need for the perfect cup of coffee is in one place and ready to brew my favorite concoctions!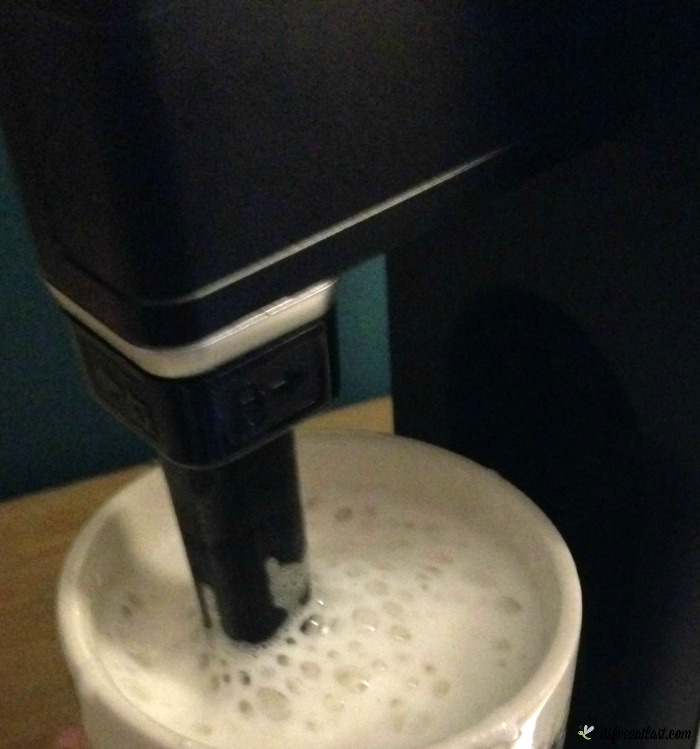 With the built-in frother, you can have hot or cold froth in a matter of seconds. It's perfect for those specialty coffees! For hot froth, simply microwave the milk until warm and use the frother. Easy-peasy!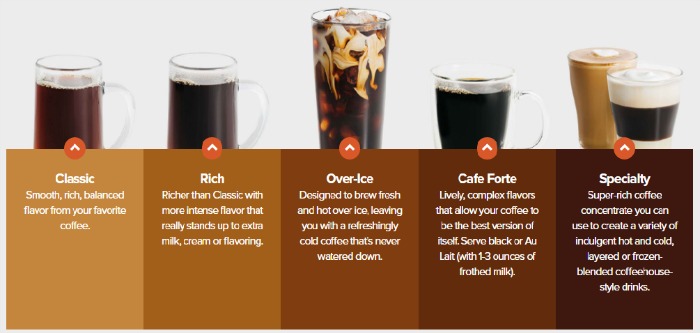 I love regular hot coffee, iced coffee, cappuccinos, and my absolute favorite – Hot Mocha Latte! Can you tell I am a bit coffee obsessed?
The Ninja Coffee Bar truly is like having a personal barista right in your home! It allows me to make many different kinds of coffee with just one machine. By being able to make all my favorite coffees at home, I can save money by skipping the high-priced coffee shop!
Ninja Coffee Bar System comes with:
10-Cup (50 oz.) Ninja® Glass or Thermal Carafe
50 oz. Removable Water Reservoir
Ninja Smart™ Scoop
Permanent Filter
4 Single Serve Brew Sizes – Cup, XL Cup, Travel, & XL Multi-Serve
Built-in Hot & Cold Frother
20-Recipe Inspiration Guide (I LOVE the easy recipes!)
Additional Features Include:
5 Brew Types
Programmable Delay Brew
Drip Stop
Intelligent Clean Cycle Indicator
If you are looking for the perfect gift for a family member or friend, give them their very own Ninja Coffee Bar! It would make a fabulous gift for all the coffee lovers on your holiday list! For more information, and to find a store near you, visit Ninja Coffee Bar online!
Connect socially with Ninja Coffee Bar