Parrano Cheese Offers New Beer Cheese Pretzel #Recipe for Fall
This post may contain affiliate links or I may have received the product free in exchange for my honest review. See full disclosure for more information.
This Fall, consider using Parrano® cheese in all your easy and fun entertaining recipes. From Tailgating to Oktoberfest, Parrano® cheese has you covered! Parrano® cheese brings you the best of both worlds: a cheese that is full of the nutty flavor and buttery aroma of a fine, aged Italian Parmesan and the smooth, creamy texture of a young Dutch Gouda, making it versatile enough to cut, shred, and melt. This fall, choose Parrano® cheese to keep your entertaining easy, fun, and hassle-free!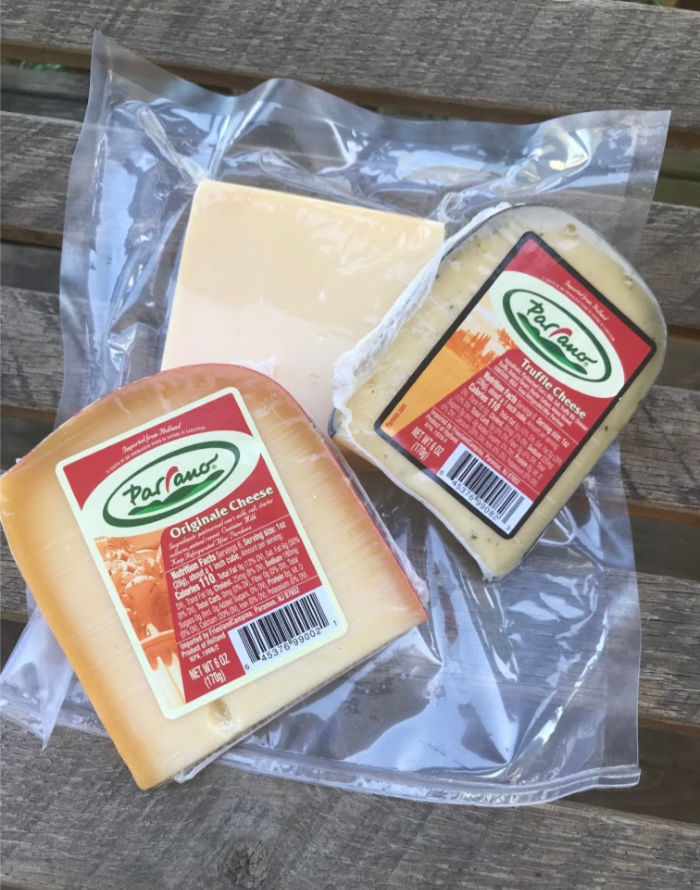 Parrano® Beer Pretzels
Ingredients
½ cup warm water
1 ½ cups beer, divided into 1 cup and ½ cup
1 Tablespoon sugar
2 teaspoons kosher salt
1 package active dry yeast
4 cups flour
2 ounces unsalted butter
Vegetable oil, for pan
10 cups water
½ cup baking soda
1 large egg yolk, beaten with 1 Tablespoon water
1 cup grated Parrano® cheese
Instructions
Pour warm water into bowl, sprinkle package of yeast over the water and let sit for 8-10 minutes.  Cover top of bowl with towel.
Combine flour, sugar, and salt.  Mix until well-combined.
Melt butter in small saucepan over low heat or microwave.
Measure out beer and bring to room temperature.
Once yeast has foamed up like the head of a beer, add the flour to the bowl, followed by the melted butter and 1 cup of beer.  Using a stand mixer or wooden spoon, mix until a dough forms, adding more flour if the dough is too wet, more water or beer if it is too dry.
Once dough comes together, knead around five times.  Then, form into a ball and place in a lightly oiled bowl. *Optional: Rub dough down with melted butter.
Allow to rise one hour, or until dough doubles in size.  Cover bowl with a towel and put it in a warm place.
Once dough has risen, combine the remaining ½ cup beer, the 10 cups of water, and the baking soda and bril to a boil.  Preheat oven to 450o F.
Divide dough into eight segments.  Take one segment and roll into a long rope on a lightly floured surface.  Start with hands in the middle of an oblong piece, and, then, roll it back and forth to form the rope.  Remember to push from the middle out, constantly lengthening the rope.
Roll pretzel dough out to around 18 inches long, then form the rope into a U, twist the two ends around each other, and stick the ends to the bottom of the U, forming a pretzel shape.
Once your pretzels are shaped, boil them for 30 seconds, one at a time in the beer/ water/ baking soda combo, then remove with a spatula and place on a lightly greased parchment paper on a baking sheet.  Brush with the yolk/ water mixture and top with grated Parrano® cheese.
Bake for 12 minutes, or until pretzels are a deep, golden brown and the cheese has melted.
Simple Entertaining with Parrano Cheese
Incredibly versatile and uniquely flavorful, Parrano® is exceptionally easy to use and ideal for entertaining. It can be served in a variety of ways, including on a cheese platter, on a kabob with fruit, and in recipes such as our Parrano Beer Pretzels. Not only can it be paired with your favorite foods, it's also great with a cold fall-time drink, like hard cider.
Click here to view Parrano's Beer Pretzels recipe to use or save in your own simple entertaining cookbook. Or, have fun and create your own recipes by combining Parrano® cheese with the ingredients you love, and make something truly unique!
Parrano® selection of cheeses include:
Parrano®, Originale. A one-of-a-kind cheese aged for five months, developing its nutty Parmesan flavors while maintaining the firm, smooth texture of a young Gouda.
Parrano® Truffle. Inspired by Italy, Parrano® Truffle follows the original recipe for Parrano®, blending the flavors of a nutty, salty Parmesan and the creamy sweetness of a Gouda, with Italian black truffle shavings for a complex flavor like no other. Parrano® Truffle is irresistibly delicious and is excellent shredded, sliced, or melted.
Parrano® cheese is available at your local supermarket.  www.parrano.com. Stay connected socially with Facebook and Instagram to see what other recipes and flavors are available.