Prom Dresses: Our Ideas to Find the Most Beautiful One
This post may contain affiliate links or I may have received the product free in exchange for my honest review. See full disclosure for more information.
The prom is approaching and you are still faced with the choice of the prom dress because this event is one of the few that allows you to wear a dress worthy of a red carpet. This is one of the things you need to keep good memories of, so avoid spoiling it by stumbling on a bad prom dress. This holiday is often a source of stress for young girls who are thinking about this fairy night that will allow them to feel like a princess for a party. Because prom is not a party like any other, its outfit must be exceptional and for it to be, it should match your morphology.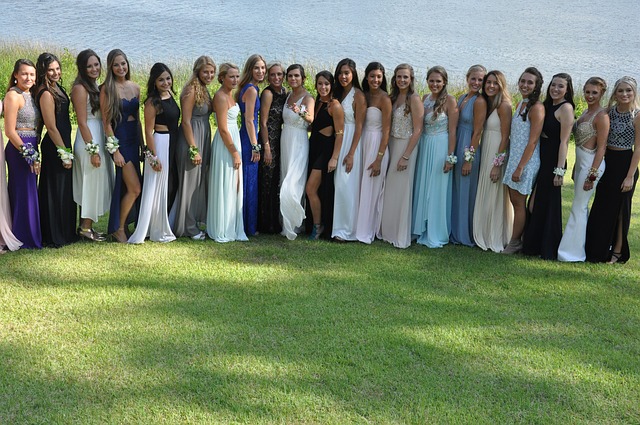 What prom dress for which silhouette?
Your morphology is the most important element that will determine the choice of your prom dress. It must highlight all the assets of your body and hide the defects. Once the parts of the body that you want to highlight are defined, the choice of the dress will become easier.
Round girls should opt for trapeze dresses instead. Light and fluid materials are recommended in the choice of the dress corresponding to this morphology.
If your morphology is X or hourglass, highlight your harmonious silhouette. This is very easy for this silhouette because you can put everything. Dresses marked at the waist are the most recommended for this silhouette with very harmonious curves.
If you have a triangle or A-shaped silhouette with wide hips and bust, prefer tight-fitting dresses on the upper body and a bit wider at the hips. The empire dress is perfect for this morphology especially when it is simple. But if you opt for a dress with sequins or patterns, make sure that these details are on the top of the dress so as not to add volume to your hips.
Your silhouette is inverted triangle or V? The top of your dress should be as simple as possible. The details should be on the bottom of the dress. Prefer pleated dresses to add volume to your hips and rebalance your figure.
If your shoulders and hips are equal and your waist is slim, your morphology is in H. To bring out the femininity of your body, take a dress that highlights your hips and chest by choosing straight dresses that will fit you. Black homecoming dresses are a good choice.
Which length to choose for the prom dress?
For the promo prom dress that is an exceptional event for which one must choose a chic outfit. For this, it is not recommended to wear dresses too short perfect for parties with friends. For this occasion, opt for a dress just above the knees or a dress mid-length. These dresses will give you a chic and elegant look while being comfortable to dance. If you are small in size, the best is to wear a dress that reaches the knees but not very short to stay in the theme. Also avoid long dresses as they may flatten your figure. But if you really want to wear a long dress, it should be well marked at the waist.
What fabric for the prom dress?
The choice of fabric is also important to highlight your silhouette. If you are flaming for a particular fabric, be sure that it matches your morphology because it is not enough that you like it. If you have a slender figure and long legs, silk and fine cotton are perfect for your body. But if you're small in size, a light and vaporous fabric is best for your figure. You can try such red homecoming dresses. These fabrics are also perfect for those with curves. If you have broad shoulders and little hips, think of dresses with lace. If your hips are well defined, tulip skirts and princess dresses are perfect for you!
Hopefully this article can be useful for you if it comes to choosing your prom dress.