The Right Grill is a Perfect Centerpiece for Your Outdoor Kitchen
This post may contain affiliate links or I may have received the product free in exchange for my honest review. See full disclosure for more information.
When a person goes to plan the perfect outdoor kitchen, the grill usually serves as their focus. Countless individuals today choose to invest in a kamado grill. Why do they choose this style over others?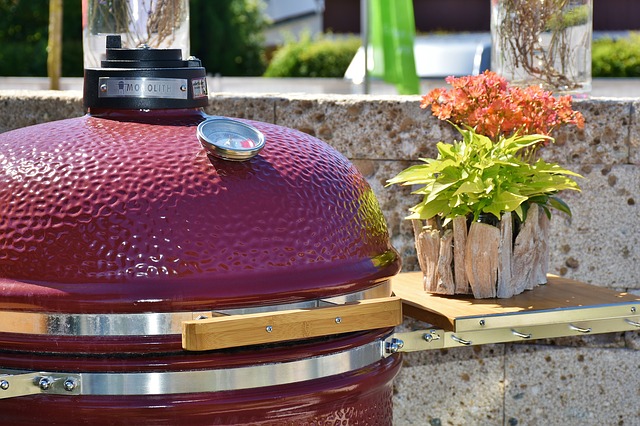 Owners know the grill will be the centerpiece of the outdoor kitchen. They want flexibility when it comes to this unit. The kamado grill offers them this flexibility. However, a person must choose the right grill for their needs, and many people are considering a Big Green Egg grill. What do they need to take into account when making this choice?
Kamado Grill Airflow
A kamado grill needs adequate airflow to regulate heat. To allow a fire to burn hotter, the grillmaster must allow more air to move over the coals. When the coals need to just remain lit, reducing the airflow will accomplish this goal. People do this when they want to cook something slow over low heat. Ensure the lid fits tightly and choose a model with solid vents or dampers.
To guarantee the tightest seal, some manufacturers now include a gasket on the lid and possibly a locking latch. In addition, certain models today come with multiple dampers. This gives the grillmaster more control over the temperature at which the foods are cooked.
Ceramic Kamado Grills
Countless individuals choose a ceramic kamado grill. Although these grills are heavier than their non-ceramic counterparts, they offer numerous benefits. Inch-thick walls distinguish these units from their siblings. Manufacturers make the units to be airtight so the user has more control over the temperature.
These models come in a deep, narrow shape. The grill master can create a deep bed of coals when they wish to sear or slow cook food. These models retain heat for up to twelve hours, and the user won't need to add additional coals. The ceramic walls allow this heat to be retained.
Individuals will find they spend more to purchase a ceramic kamado grill. In addition, they must account for the weight of the unit, which can be as high as 300 pounds. Consider them when determining who will assemble the grill, how the unit will get to the home, and whether the grill will have a permanent home or if it will need to be moved around. Furthermore, a kamado grill has a smaller cooking surface than barrel or kettle grills.
Non-Ceramic Kamado Grills
Manufacturers also offer non-ceramic kamado grills. They make these grills using metal, which keeps the weight down and makes moving the grill much easier. However, most non-ceramic models are also airtight to provide control over the interior temperature. Certain models also have locking latches.
Multiple layers of metal make up many of these grills, allowing them to retain heat much like their ceramic counterparts. The main selling point of these models is the lower price point. A person might find they can get a large non-ceramic kamado grill for $300. Assembling this type of grill is much easier than assembling a ceramic model.
However, some individuals find these models to be cheap and flimsy. In addition, while a person has control over the interior temperature of the grills, they don't have the same level of control as they would if using a ceramic model. This is due to ceramic kamado grills having more insulation than their metal siblings.
A person who likes to grill a variety of foods will find a kamado grill is an excellent choice. These models handle turkey, brisket, pizza, and more with ease. This versatility makes it the perfect choice for many grillmasters today.