Creative Fun with Wipeout Dry Erase Safety Gear for Kids #iWipeout #WipeoutArt
This post may contain affiliate links or I may have received the product free in exchange for my honest review. See full disclosure for more information.
Disclosure: This post is part of a sponsored campaign for Wipeout Dry Erase Productive Gear. I received compensation for my participation, but my review and opinions are my own.
I remember when I was a young girl, teaching myself how to ride a bicycle at the age of 6. I would steadfastly hold onto the fence in front of our house with one hand, and balance myself on the other trying to get the balance needed to soar away. While I was persistent and became somewhat of an expert cyclist (no-hands on my 10-speed bike by age 8), safety was not as much of an issue in my day. I had bruises and scrapes galore on my elbows, legs and knees from dozens of failed attempts at balancing.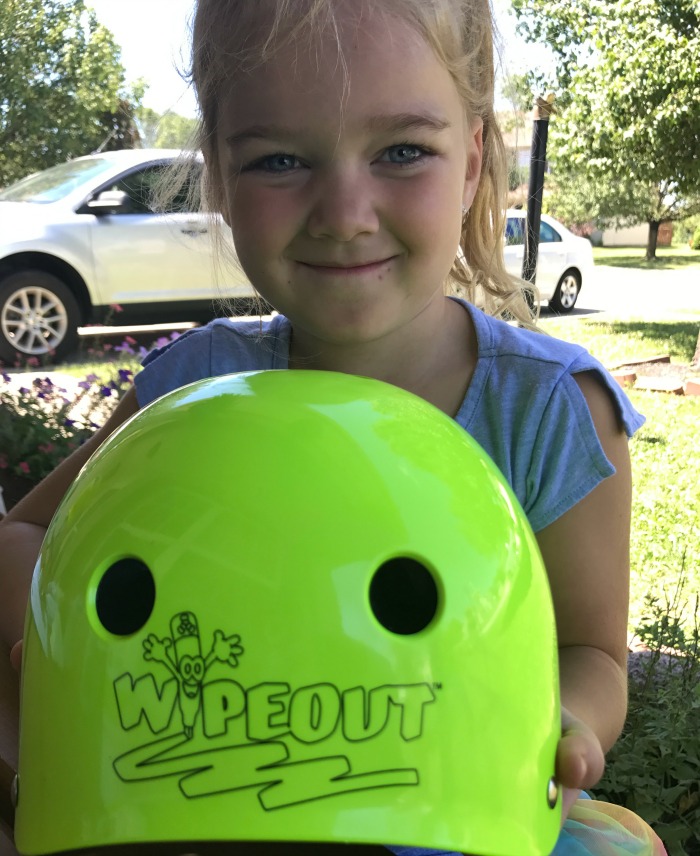 Nowadays, safety is top priority when teaching our kids to ride a bicycle. We want them to have fun, explore the joy of riding a bike, but keep their body protected, especially their head. Safety gear has come a long way and now they can showoff their creative side with customizable gear from Wipeout.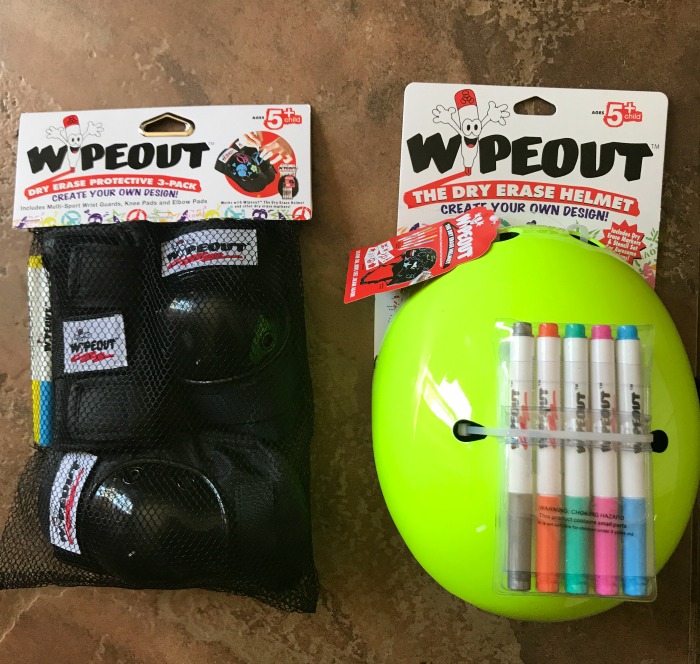 Wipeout Dry Erase helmets and pads offer cool, stylish safety gear. For ages 5+, the dry erase helmets and pads give Willow her chance to show off her spunk and style, all while staying protected while learning to ride her own bicycle.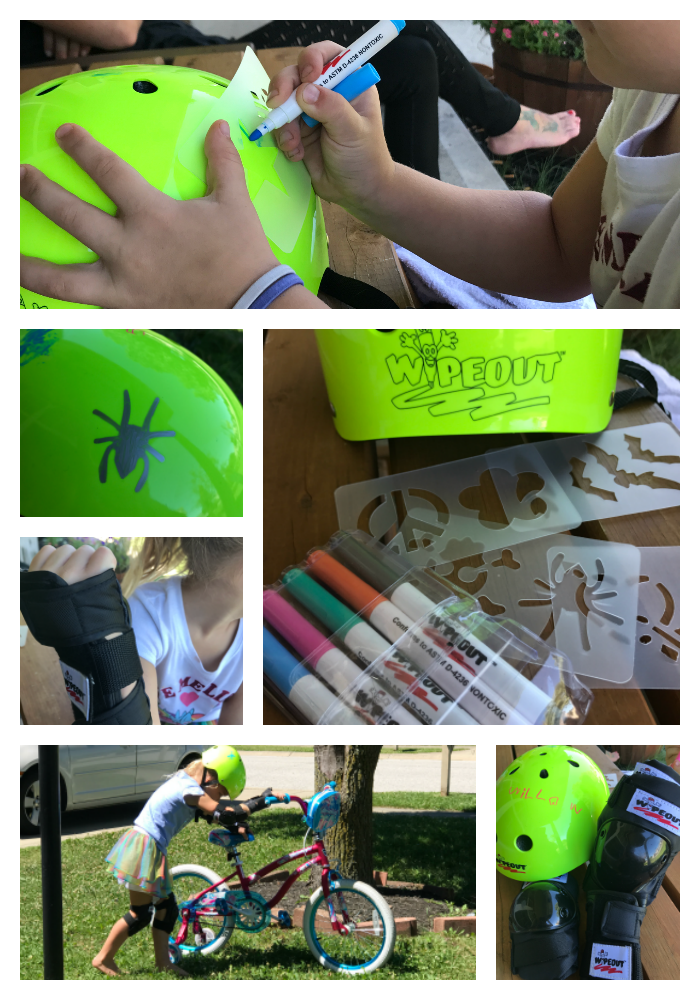 When I pulled out the helmet and pads for Willow, she came running up to me asking "are those for me? She knows whenever Aunt Kristin comes to visit, I bring her something new and exciting to play with. She was excited to get started creating and showing off her art skills with her helmet and pads. She was doubly excited to show me how well she has come with learning to maneuver around on her bike.
Each Wipeout helmet comes with everything needed to create endless designs on their dry erase helmet. Willow loved her bright, neon zest helmet and couldn't wait to color on it with the five bold neon color dry erase (non-toxic) markers. She immediately took to the cool stencils that came with it, which is no surprise, as they are really cool.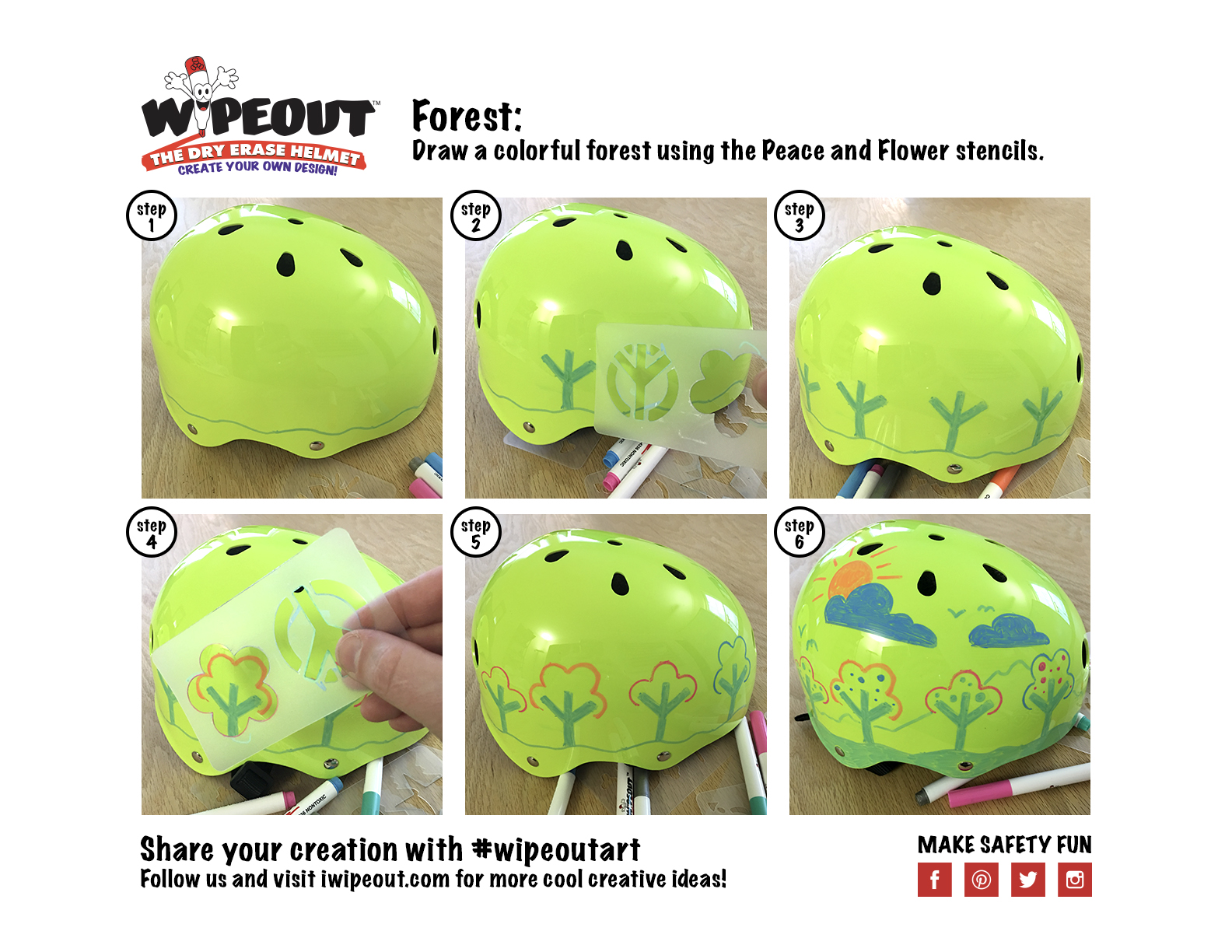 The helmet is made of ABS hard-shell construction for durability. It has dual certification for bike, as well as, skate use and ensures true active protection. It is available in 3 sizes that will fit kids ranging 3-11 years of age. It retails for $29.99.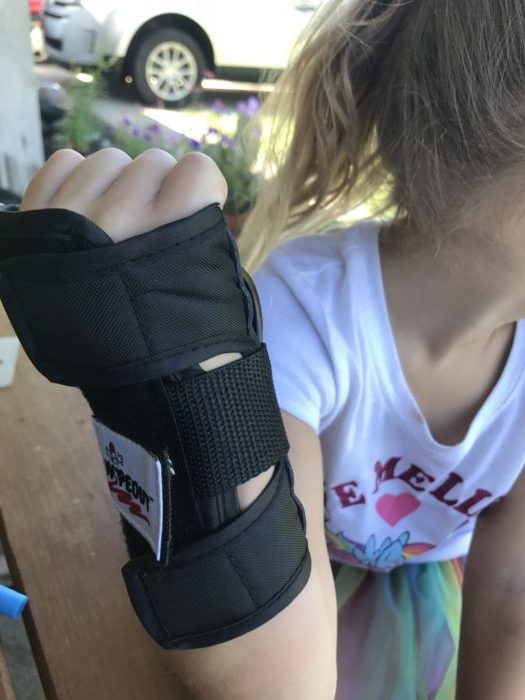 The pads also come with two dry erase markers to draw with. I love how the wrist guards are impact-resistant and has molded splints to protect the top and bottom of the wrists. The wrist guards als have shock absorbing EVA foam between each support splints for cushioning.
The knee and elbow pads have a great surface area that is light and contouring to each joint. They too have EVA foam for protection. The fun part is the areas that give Willow plenty of space to show off her own unique style. They 3-pack kit retails fr $24.99 and comes in black, teal, neon pink and zest (like Willow's helmet).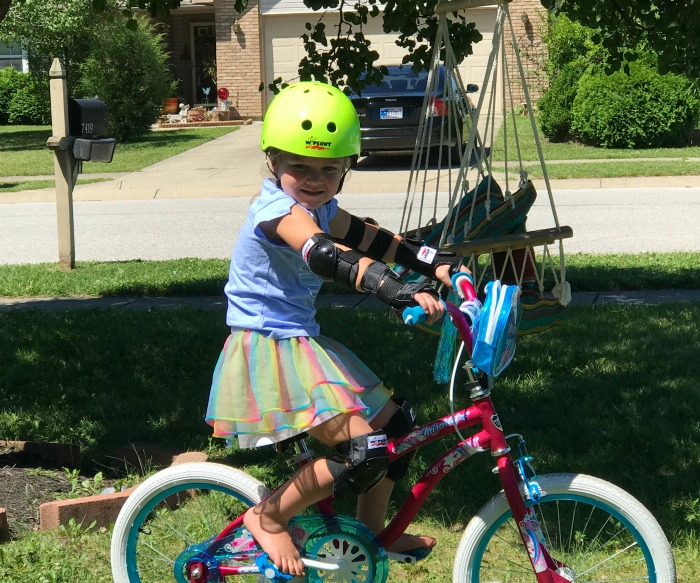 The gear is super easy to clean, giving Willow countless possibilities to put whatever she wants on her helmet and pads. With the swish of a dry paper towel, the helmet is wiped clean and ready for more drawing fun!
Safety gear has come a long way from when I was a kid and with Wipeout, safety is a blast. It makes safety fun and engaging, while giving parents relief and comfort. Kids can do away with plain helmets or be stuck with one design each day. Wipeout lets them change of their style whenever they feel like it. Not sure how to get started? Check out Wipeout's
great tutorials
for some artistic inspiration.
Wipeout Dry Erase items are available at Toys R' Us, Target, Academy , Scheel's, Amazon and other leading retailers.
Stay Social with Wipeout for the latest product information.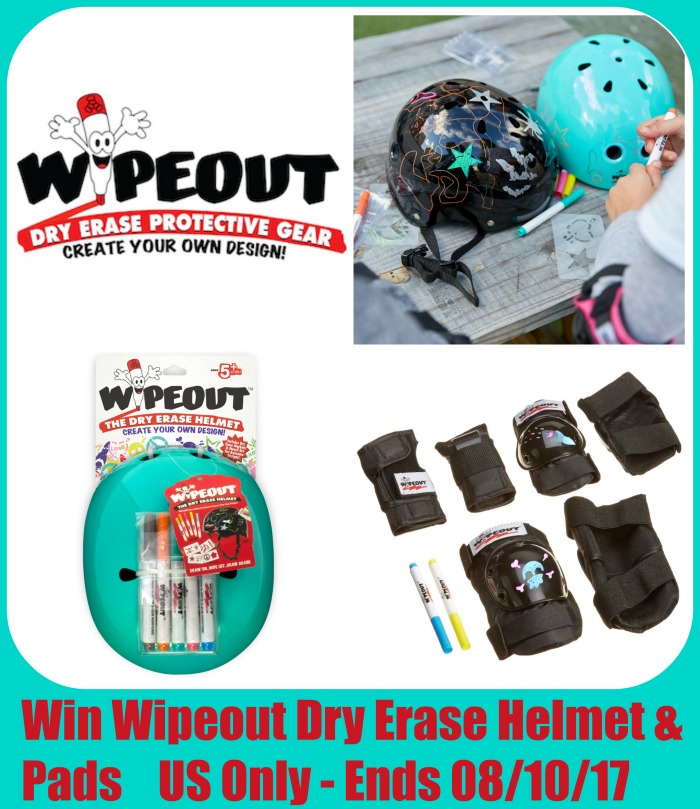 Would you like to win this adorable safety gear from Wipeout? Give your kids the joy of creative safety with Wipeout helmets and pads. Be sure to read Kristin's full review of how Willow loved her Wipeout Gear!
One lucky winner will receive a Wipeout Helmet and Pads in their choice of color. Wipeout gear is made for kids ages 3-11.
Giveaway is open to U.S. Residents, ages 18+ years of age (limited to one entrant per household).
The giveaway ends on 08/10/17.
Simply follow the Rafflecopter entry form below for your chance to win. Be sure to return tomorrow to complete the daily entries