DIY Project: Transforming Your Garage into a Man Cave
This post may contain affiliate links or I may have received the product free in exchange for my honest review. See full disclosure for more information.
Ever since the dawn of time, a man needed his cave…No, that's not right.
What happens in the cave – stays in the cave. Now that just sounds wrong.
Guys, to put it simply, every single one of us always dreamed of having a special place, a secret getaway, Somewhere you go to wind down after a hard day's work. When we were kids – it was a treehouse, today? A multiple purpose media room, that's also a gym, that's also a sports bar with a pool table, dart board… you name it! It's sanctuary people, and everyone should have access to it.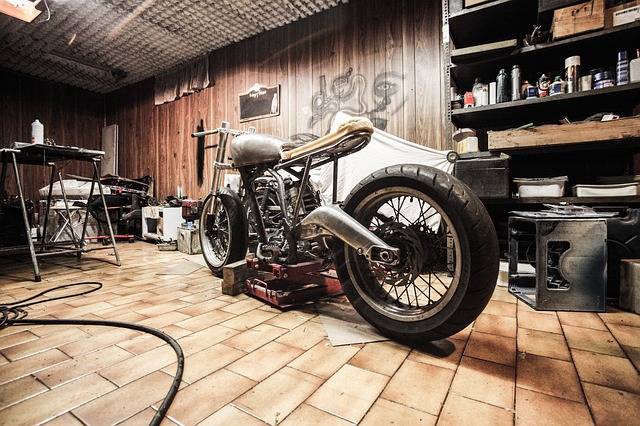 So how do you acquire such a place filled with testosterone and masculinity?
First of all, it's going to take some negotiating with your partner… If your garage is huge consider splitting it with your wife or if you have kids, section out a part of it and turn it into a playroom.
Get rid of all the junk you've been piling up in your garage and start from scratch. Now that you've said goodbye to the past, it's time to go through the steps of creating your very own man cave.
Step 1: The Layout
Grab a pen and paper and start sketching out a layout. Write a list of cool gadgets and appliances you want to put in your cave. Pick a specific theme like cars, sports, hunting or gaming and, most importantly, figure out your budget. This will help determine how extreme is the transformation of your garage going to be.
Keeping it simple will cost less, and you could get away with skipping some steps, but you could also go all out and create a haven that will be the envy of all, just be prepared to pour in some hard work and cash.
If you opted for the latter, count on investing more time into insulation, doing more work on your floors, and installing a heating system that will keep you warm during football season.
Let's start from the bottom to the top.
Step 2: Keeping Your Feet Warm
If you plan on taking a vacation from everyday life often, having a comfortable room temperature is a must.
If the garage is attached to your house and your heating and AC systems, then you have less to worry about. Nevertheless, I highly recommend insulating the floors by laying down a plywood or waferboard subfloor. From there on you can figure out what kind of walking surface you want.
If you're looking to cut costs and keep the "garage" vibe, a good option is to lay down some old large rugs. This, of course, will not be as warm as a wooden floor or a full carpet. It won't be as kind on your knees either.
Look for a cabin grade hardwood floor. It comes with visible imperfections but is significantly cheaper and will certainly do the job. Tiles are also an option, they come in all shapes and sizes and are easily replaceable.
Step 3: Framing and Insulating the Walls
If the walls of your garage are not insulated beforehand, start by framing them with wall-studs that are made out of moisture-resistant and pressure treated lumber. The insulation should be placed between them.
This is also a good time to figure out how much wiring you want to run for electrical outlets and lightning. Finish off by sealing the deal by attaching the drywall to the joists. From there on you can move to mudding and taping the drywall to get a smooth and flat surface.
After you apply the final layer and you're satisfied with the results, start painting the surface. If you've already decided on the color of your walls, start by applying a preparation coat, also called the primer. This will greatly increase the durability of your main color and additionally solidify the drywall.
Insulation is important not only to keep the room temperature comfortable but also sound-proof your man cave. Your neighbors are going to be envious enough just by knowing you have your own playpen. You don't have to rub it in their nose with loud music.
Step 4: The Ceiling (optional)
While leaving the ceiling "raw" is definitely an option, to some even a desirable look, it will somewhat limit your lighting options. To get a more home-like feel, apply the same technique that you used on the walls.
This is probably a good time to call the guys over for a beer or two. This way they can help you by at least holding the ladder while you attach the drywall.
Step 5: Furnishing Your Temple Of Masculinity
There is a couple of things to consider when shopping for new furniture. Since this is a designated room for relaxing and fun, you want to get something extremely comfortable without compromising the quality. Choose darker colors for low-maintenance cleaning or go wild with vivid colors to add a personal touch.
Besides wooden framed sofas, you can add lazy bags, tables and most definitely a beverage bar. Go with decorations that suit the theme you picked. You could even hang a hammock if that's something you always wanted. Drill a hole in the wall stub (remember their layout before covering them), and insert eye bolts.
Another way to cut costs is shopping furniture at your local thrift shop. "One man's trash is another man's treasure," so be on the lookout for cool items that will fit into your man cave.
Pro Tip: If you're buying used furniture or have some spare from your grandma's house, consider freshening them up with a new paint job. Painting on wood with a paint sprayer is probably the easiest and fastest way to make them look like they're brand new.
Step 6: The Final Touch
This final step is entirely up to you. I like to call it the "reaping the rewards" stage where you give yourself a good tap on the back for all the hard work you've done so far. All that is left to do now is to put items that you most enjoy and that will transform your cave into the ultimate man cave!
This represents something different for everyone, and it's a matter of preference, but a few popular items would be:
a dart board to enjoy with the guys,
some dumbbells for quick stress relief,
a humidor for storing Cuban cigars,
a repurposed fridge for keeping the beers cold,
a vintage ceiling fan for air circulation purposes and classy touch,
a tool organizer to keep all your manly necessities at one place, and so on.
If you're looking to go all out, a pool table or even a home theater is the way to go.
Conclusion
Now that you have a better understanding what it takes to create and decorate your personal space, start persuading your wife and planning your DIY project. There are tons of ideas on the internet so do some research, but remember it's all about you and what makes you happy. Your man cave is an extension of your persona and should be a fulfillment of your dream.