Encourage Your Preschooler's Do It Myself Attitude with Obersee #MEGAChristmas18
This post may contain affiliate links or I may have received the product free in exchange for my honest review. See full disclosure for more information.
Preschoolers and smaller children love to feel they can take care of things on their own from getting dressed to carrying their own backpack or gym bag. But it is important that they are not overloaded and are able to move around freely without getting off balance. Obersee has solved this through their preschool sized backpacks. They are designed and built with little bodies in mind. Oh, and they have the cutest designs that any little one would love to sport around.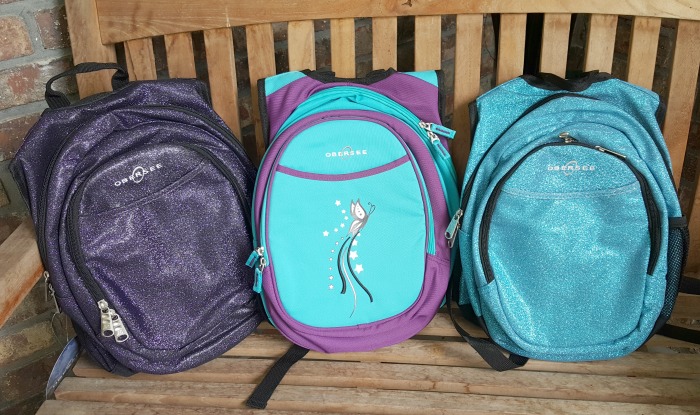 Obersee is a company founded on principles of creativity, functionality and a funky spirit. We strive to offer products that are unique, stylish, and, most importantly, cool. Through our designs we strive to please our customers by incorporating patterns and prints that embody the fun spirit of today's modern youth (and adults) so that consumers can express themselves freely without loosing the functional aspects of the product. In fact, most of our designs were created through the suggestions of the little princesses, ballerinas, divas, firemen, race car drivers and pirates of today's youngest generation. They say – why sacrifice function for fashion?

Through our innovative and useful designs, we feel that our products provide unique functions while at the same time remaining stylish and cool. Whether you are in need of on-the-go products and bags for your child, travel items, accessories for the family, or that special back to school gift, we hope that you will consider making Obersee products a part of your life and have as much fun using them as we had designing them!
Above all, Obersee is a company that creates cool gear for cool people!

This backpack is all about the sparkle! Made for your preschooler, it would also be a great gymnastics, ballet, or cheer leading bag. It also has a front zippered pocket made with a cooler insulation lining which will keep snacks or lunch chilled. One bag does it all!
Because it is a smaller, compact backpack, your little one will not be weighed down. It also has two (2) zippered compartments for papers and folders. Padded mesh shoulder straps and a chest strap keep this backpack in place so your little one can have their hands available for other things.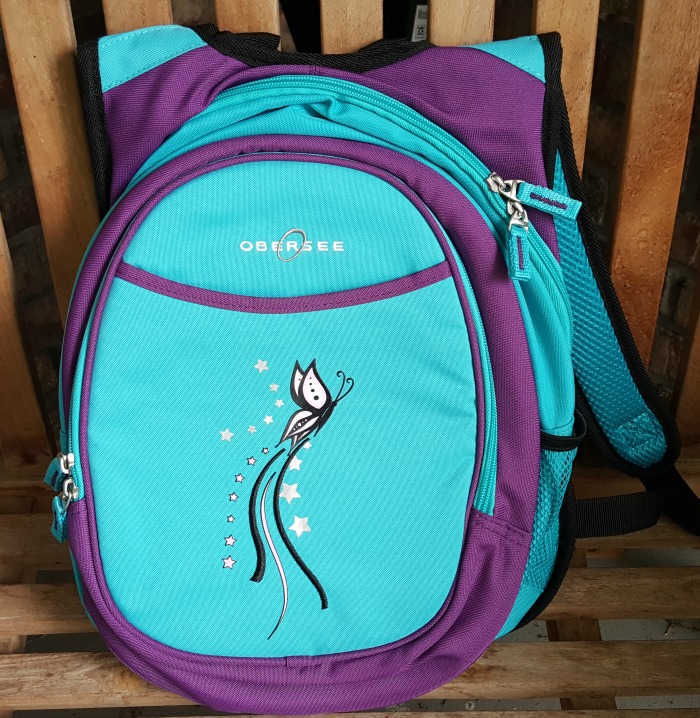 This backpack has a butterfly design and is perfect for preschool and for smaller children. The convenient chest strap keeps the backpack in place. Includes an insulated front pocket to pack a lunch or snack, and a side pocket to keep a water bottle or small thermos handy. It measures 14.5″L x 10″W x 5.5″D overall and the inside compartment will hold 8-1/2 by 11-inch folders.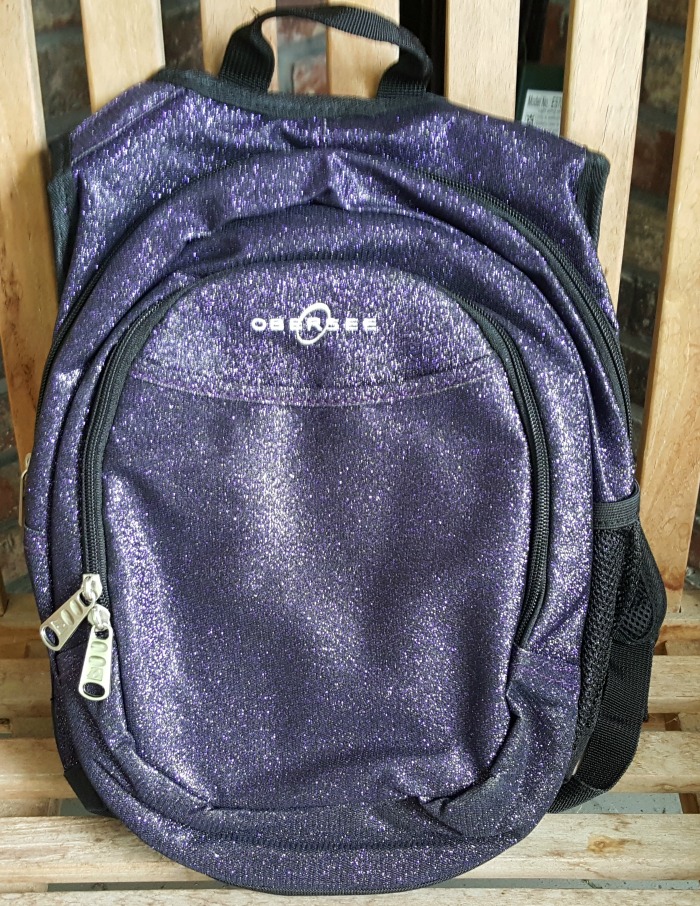 If your diva is about the sparkle, this backpack is for them. Bright purple sparkles adorn this all in one preschool backpack. It also has a front zippered pocket made with a cooler insulation lining which will keep snacks or lunch chilled. One bag does it all! Also because it is a smaller size than a standard backpack, your little one will not be overloaded and off balance. It also has two (2) zippered compartments for papers and folders. Padded mesh shoulder straps and a chest strap keep keep this backpack in place.
My Thoughts:
Finding an appropriately sized backpack for little ones can be a challenge. Not only are most standard backpacks just too large and bulky for preschoolers, if yours are anything like mine…by the time they add all the things they can't live without; they can barely stand up without being off balance.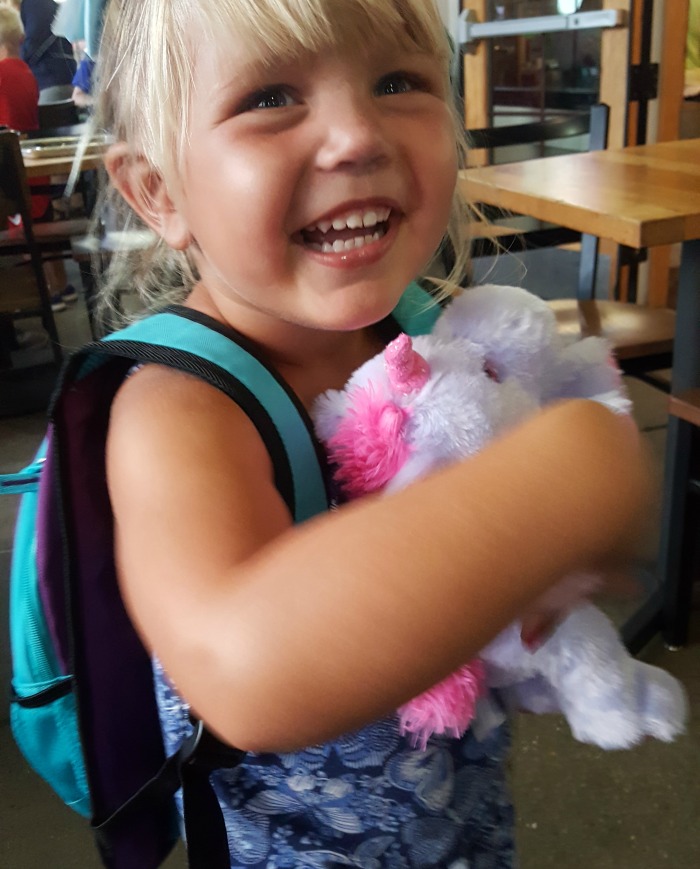 These backpacks by Obersee address this issue and with flair! We have two styles of backpacks. One has a built in cooler that is perfect for lunches and your little one can easily access on their own when needed.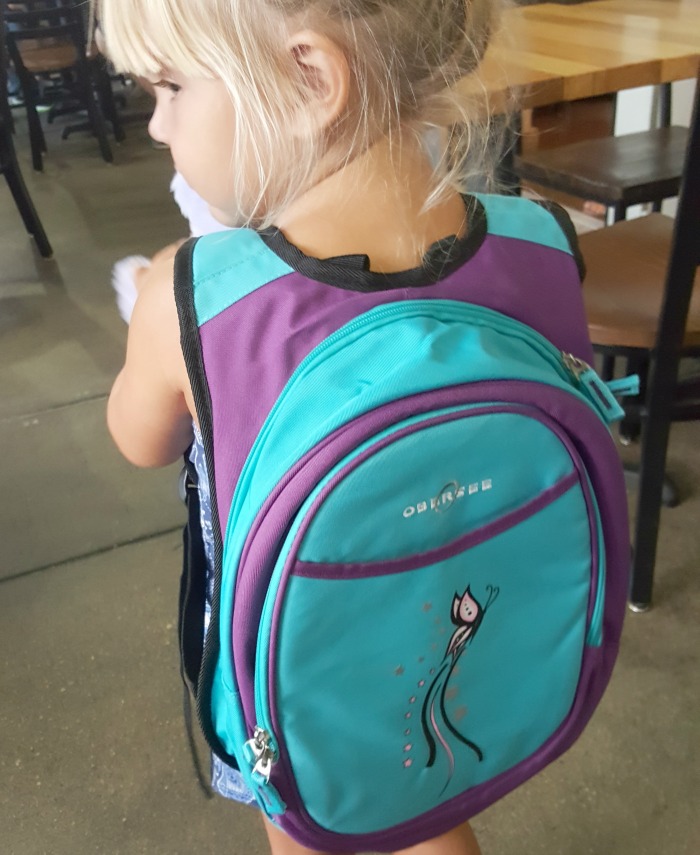 Our little Allie loves her "bappap with a butterfly" as she calls it. She packs it with her change of clothing for preschool and I pack her lunch and snacks.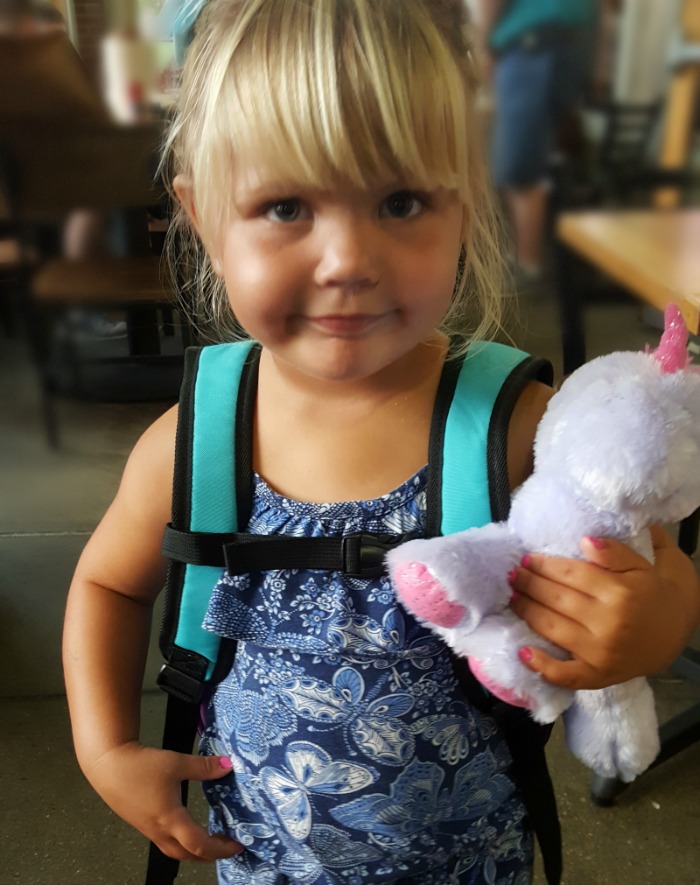 Our other style is all about the sparkle. We are using a purple one as a diaper bag and the turquoise one for gym class. They are the perfect size for smaller bodies.
I really like that the straps are padded on the shoulders and the chest strap is easy for little ones to handle for themselves. You know how quickly this age of "do it myself" can result in instant meltdowns! Both sparkle backpacks have a lightly insulated zippered snack pocket. It's not as insulated or as large as the backpacks with the built in cooler but it is large enough for a small bottle of water or juice and a few snack packs.
In addition to backpacks, Obersee offers a variety of products including Headwear, Backpacks, Kids Luggage, Accessories and Apparel, Diaper Bags and Baby Items.
If you have a little one that needs a preschool sized backpack, make sure to visit Obersee and check out the dozens of styles and colors.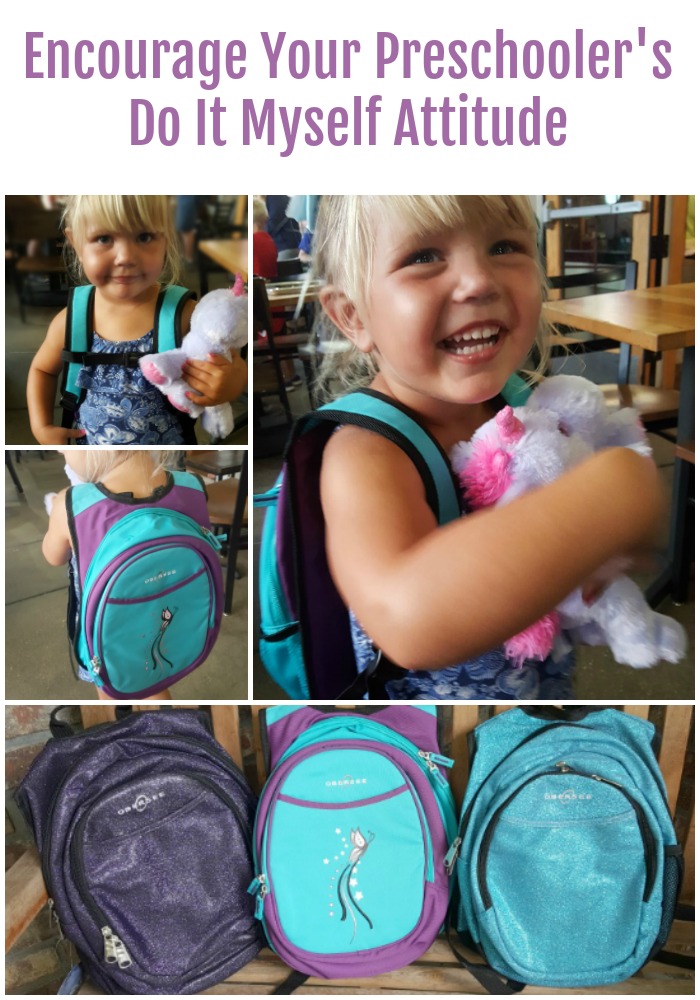 Make sure to follow Obersee on social media:
Facebook | Twitter | Instagram
We've added Obersee to our 2018 MEGA Merry Christmas Gift Guide! Check it out here!