5 GIANT Reasons to See Disney's The BFG – In Theaters Now #TheBFGEvent
This post may contain affiliate links or I may have received the product free in exchange for my honest review. See full disclosure for more information.
Last week This week I had the amazing opportunity to head out to Los Angeles, CA for a few days and attend the red carpet premiere of Disney's The BFG starring Mark Rylance (The BFG)  and Ruby Barnhill (Sophie) and directed by Steven Spielberg (Bridge of Spies).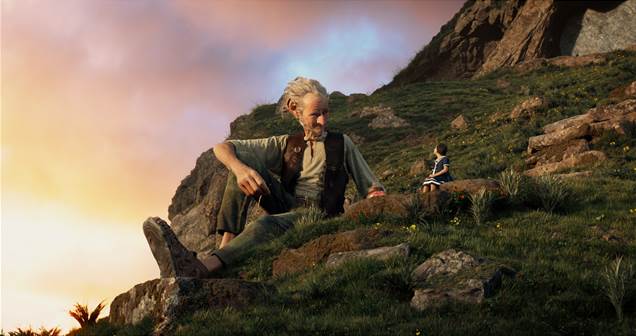 Lined along the streets of Hollywood Boulevard, in front of the historical El Capitan Theatre, fans and press from everywhere came to see Steven Spielberg's first film with Disney, The BFG, starring Academy Award winner Mark Rylance, Ruby Barnhill, Penelope Wilton, Jemaine Clement, Rebecca Hall, Bill Hader and other celebrity guests. Disney's The BFG, which premiered to one of the longest standing ovations at the recent Cannes Film Festival, is based on the beloved Roald Dahl book, it tells the imaginative story of a young girl, Sophie and the giant who introduces her to the wonders and perils of Giant Country.
Well, today the movie debuts in theaters nationwide. Here are my top 5 reasons why you should head to the theaters this weekend to see The BFG.
Camaraderie

You will find that the two most unlikeliest of characters have more in common than they every thought possible. The movies tales of how Sophie and The BFG develop an understanding and love for each other that neither had experienced before, and most likely will never find that same type of love in others, as they do for each other. It delves into the topic of heartfelt friendship and allowing you to understand that no matter what the exterior may appear to be, that may not factually represent what is on the inside of someone.
Have you ever spoke Giant? Well let me tell you, after watching The BFG, you entire family will be referring to certain, everyday things like Whizzpoppers, Whiffling, Splitzwiggled and much more. To truly appreciate The BFG language, you must see it in action!
Steven Spielberg's Vision
One of the best aspects of this movie is that Spielberg really stayed quite true to the novel, written by Roald Dahl, but really enhanced on areas that brought the movie and screen to life. My personal favorite was the water scene in which Sophie and The BFG go to collect dreams. While I won't tell you the illustrious details, as you really must see it for yourself to truly appreciate it, I will tell you that Steven Spielberg's adaptation is magical, colorful and really brings the story to life in a way that everyone is touched emotionally.
Acceptance at a Royal Level

I love how The Queen and her "Majester's" (see Giant Language above) court, really embraced young Sophie and The BFG from the moment they met. There was no judgement, no questioning, none of that type of stuff that some experience everyday. From the moment she laid eyes on Sophie and The BFG, The Queen was welcoming, accepting and extremely hospitable to them. She opened her home, her heart and her help to both of them unconditionally. This is a message that we, as a society, could really learn from today. This is one of the reasons The BFG is such a lovely, positive message for everyone.
The Giants 
Their presence alone is intimidating, but coupling that with their names, it is down right horrific. What I mean is, with names like Fleshlumpeater, Bloodbottler, Maidmasher, Manhugger (I personally kind of like this one), Butcher Boy, Bonecruncher, Childchewer, Gizzardgulper and Meatdripper, you really grow a curiosity into finding out more about these whacky giants. They will have you laughing as you experience their quirks and awkwardness. The fact that the are petrified of water is comical in itself, let alone with it comes into play throughout the movie; however, you must see for yourself to really appreciate the comic relief these giants provide.
I can tell you there are dozens more reasons to see Disney's The BFG today, but the most magical aspect is for you and your family to share this moment together. Head to the theaters this holiday weekend for a great time with Sophie and The BFG.
To give you a sneak peek, here are some extra-special footage clips you can view to see how colorful, magical and joyous The BFG is:
"Disney Legacy" Featurette
"Brave Sophie" Featurette
"The BFG Visits Buckingham Palace" Film Clip
"Trying To Catch A Phizzwizard" Film Clip
Directed by three-time Academy Award® winner Steven Spielberg ("Bridge of Spies," "Schindler's List," "Saving Private Ryan") from a screenplay by Melissa Mathison ("E.T.: The Extra-Terrestrial," "The Black Stallion") based on the best-selling novel by Roald Dahl, "The BFG" stars three-time Tony Award® and two-time Olivier Award winner Mark Rylance ("Bridge of Spies," "Wolf Hall"), newcomer Ruby Barnhill, Penelope Wilton ("The Best Exotic Marigold Hotel," "Downton Abbey"), Jemaine Clement ("Rio 2," "The Flight of the Conchords"), Rebecca Hall ("The Gift," "Iron Man 3"), Rafe Spall ("The Big Short," "Prometheus") and Bill Hader ("Inside Out," "Trainwreck").
The film is produced by Spielberg, Frank Marshall ("Jurassic World," "The Bourne Ultimatum") and Sam Mercer ("Snow White and the Huntsman," "The Sixth Sense") with Kathleen Kennedy ("Star Wars: The Force Awakens," "Lincoln"), John Madden ("The Best Exotic Marigold Hotel," "Shakespeare in Love"), Kristie Macosko Krieger ("Bridge of Spies," "Lincoln"), Michael Siegel ("Charlie and the Chocolate Factory," "Rise of the Guardians"), Frank Smith and Naia Cucukov serving as executive producers.
Roald Dahl's "The BFG" (Big Friendly Giant) was first published in 1982 and has been enchanting readers of all ages ever since. Dahl's books, which also include "Charlie and the Chocolate Factory," "James and the Giant Peach" and "Matilda," are currently available in 58 languages and have sold over 200 million copies worldwide. Originally created as a bedtime story, "The BFG" was Dahl's own favorite of all his stories. "It was very important for us to be loyal to the language," says Spielberg, "and the great writer Melissa Mathison, who also wrote 'E.T.: The Extra-Terrestrial,' wrote 'The BFG.'"
Be sure to stay connected to The BFG right here and via
for the most up-to-date previews and release information. You will find it all here as we learn more about this exciting summer blockbuster. "The BFG" opens in U.S. theaters TODAY, the year that marks the 100th anniversary of Dahl's birth.
Also, be sure to read more about my exclusive interviews with Steven Spielberg, Sohpie Barnhill, Jemaine Clement, Mark Rylance, Dame Penelope Wilton and Rebecca Hall and learn their thoughts on the movie. You can also read more about my red carpet experience with some of the stars of the movie.
Disclosure: I was provided with an all-expense paid trip as part of a press Junket with Disney to cover this and all The BFG media.