I have been on a quest for a cleaner, healthier lifestyle including doing my best to get enough sleep, exercise, and eat better. It is coming along fairly well and I am very pleased with myself, if I have to say so myself! As an added benefit, I am feeling so much better these days. The hardest part has been my snacking habits! However, I have found the perfect answer with Karen's Naturals Dried Fruit and Veggies!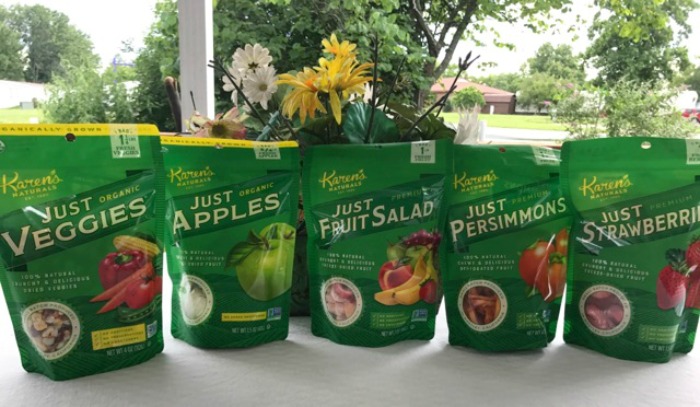 Karen's Naturals offer pure, natural, and DELICIOUS dried fruit and veggies! Not only do they satisfy my urge for chewy and crunchy snacks, they are a boost to my health! Instead of fatty, greasy, high calorie snacks, I can enjoy a tantalizing burst of flavors and satisfy my snacking urge at the same time. I can even use the fruits and veggies in my cooking for a pure, natural burst of flavor! What a yummy way to get the wholesome nutrition of fruit and veggies in my diet!
Have you heard of Karen's Naturals Dried Fruit and Veggies? If not, let me quickly introduce you and then I will tell you about some of their mouth-watering fruits and veggies!
At Karen's Naturals, good taste just comes naturally. For more than 30 years, they've been committed to bringing you premium farm-fresh produce with their delicious dehydrated and freeze-dried fruits and vegetables. Bursting with nutrition and flavor, their products are sure to bring a smile to your face. With every bite, they believe they can make the world a healthier, happier place.

Karen's Naturals uses a Pure and Natural Process
I love that there is nothing artificial about Karen's Naturals! They produce all their fruit and veggies in small batches, the old fashioned way. There is nothing added, just pure natural goodness! There is no salt, no sulfur, no fat, no artificial flavorings, no sweeteners, no preservatives. NO ANYTHING ADDED! It's like having your own fruit trees and garden!
All of their fruit and veggies are grown on farms, ranches and orchards where they are allowed to ripen naturally before being picked at the peak of flavor. Once picked, it is handled with great care, washed gently, cut into bite-size pieces.
To prepare, the freeze-dried products are quickly flash frozen and all water is extracted by vacuum. Their freeze-dried foods are considered raw food because the temperature never exceeds 90ºF. Their dehydrated products are dried at 125ºF. Whether freeze-dried or dehydrated, Karen's Naturals fruits and veggies keep their color, nutrients and intense flavors, ensuring that every bite is healthy and delicious.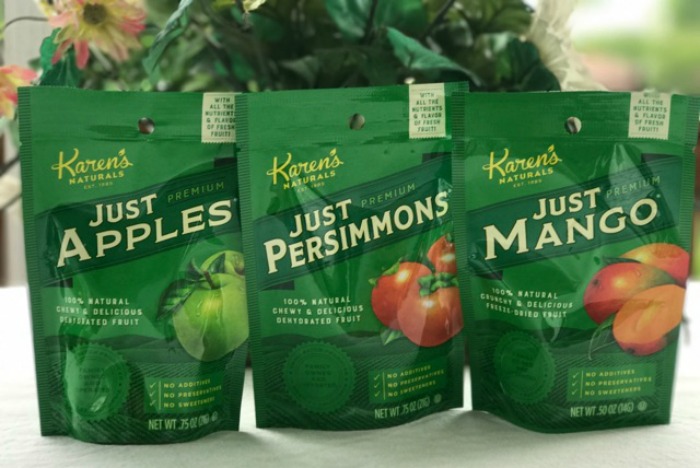 All Karen's Naturals dried fruit and veggies are picked fresh and dried at low temperatures to preserve flavor and essential nutrients. Let's take a look at a few of the delicious varieties of Karen's Naturals Dried Fruit and Veggies!
There is nothing tastier than a sweet, ripe apple plucked right from the tree! Just Apples are sweet, tart and delightfully chewy. They are perfect as a snack or you can add them to hot cereal, muffins, breads, cookies or apple pie. You can also make intensely flavored applesauce without adding sugar for a delicious treat!
A sweet persimmon plucked straight from the tree is a delight unto itself! Eat them straight from the bag as a yummy chewy snack, or you can add them to pies, cookies, muffins and fruit salads for a burst of autumnal flavor.
Mangoes are a favorite of mine and the Just Mango from Karen's Naturals are nothing short of delicious! Just Mango makes a delightfully crunchy treat. Blend into smoothies, scones, and cereal for a tropical burst of flavor. Delicious added to tea, juice and water.
Nothing's more delicious than late summer corn, bursting with sweetness. Just Corn makes a delightfully crunchy snack. Add to soups, sauces, and pastas for a burst of pure corn flavor. You can also serve as a delicious side dish by reconstituting in hot broth or water.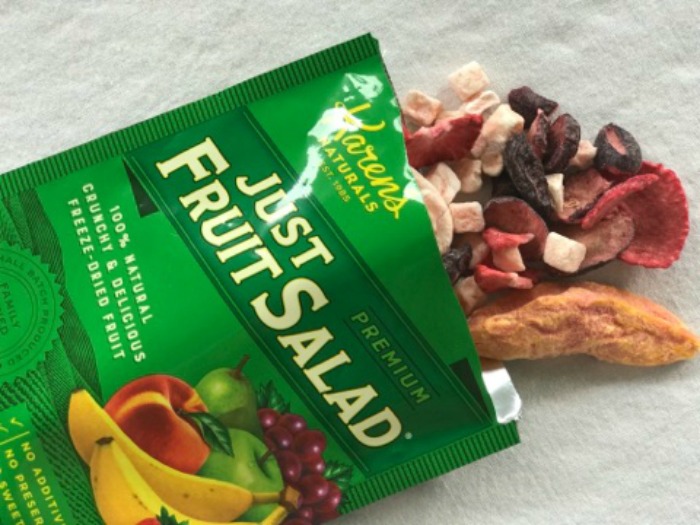 Who loves fruit salad? Just Fruit Salad is a delightfully crunchy treat that brings all those wonderful flavors to life! You can add to muffins, pies, scones, cobblers, and fresh fruit or ambrosia salads for an intense burst of flavor.
There is no denying the deliciousness of fresh juicy ripe strawberries and bananas! Just Strawberries & Bananas make a delightfully crunchy treat straight from the bag or add them to cereal, oatmeal, smoothies, or pies for an intense burst of flavor.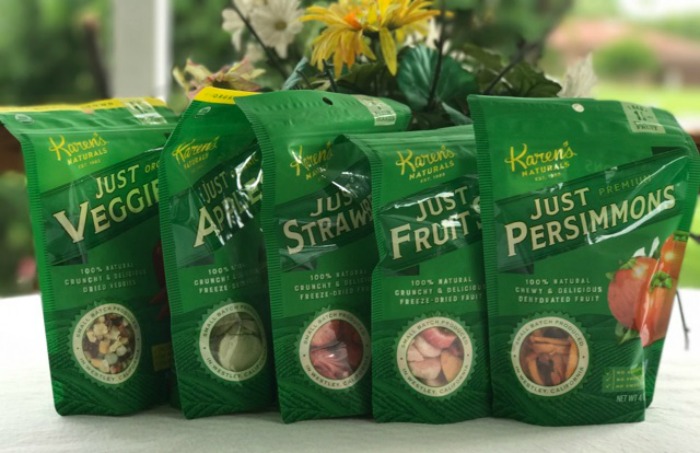 Where can you find Karen's Naturals Dried Fruit and Veggies?
Karen's Natural's are available in snack bags of freeze-dried and dehydrated for under $2 each! You can also choose other options such as bulk packages and variety packs. Find them now online at Karen's Naturals, through Amazon.com and other online retailers, and at health food stores such as Whole Foods. To find a location near you, visit their handy store locator tool!
Which fruits or veggies from Karen's Naturals would you like to try?
Connect socially with Karen's Naturals