My daughter has started back to school and she is at campus all day. She takes her MacBook with her so that she can fully function for each class and work on things in between. To help her stay charged with her computer, phone and anything else she needs, I got her the Nucleum 7-in-1 USB Hub.

More About Kingston
In 1987, Kingston® entered the market with a single product. Founders John Tu and David Sun fulfilled a severe shortage of surface mount memory chips with a memory module that would serve to redefine industry standards for years to come.

Kingston has grown to be the world's largest independent manufacturer of memory products. With global headquarters in Fountain Valley, California, Kingston employs more than 3,000 people worldwide. Regarded as one of the "Best Companies to Work for in America" by Fortune magazine, Kingston's tenets of respect, loyalty, flexibility and integrity create an exemplary corporate culture. Kingston believes that investing in employees is essential and that each individual employee is a vital part of the company's success.

The Nucleum 7-in-1 USB Hub has taken given her the ability to easily multi-task and stay fully charged like any college student needs to be. She can connect her MacBook, charge her phone, upload items from her flash drive and even allow fellow students to plug in and work with her. This is a great way to collaborate on projects for her classes. I love that you can put a wireless mouse, cellphone to charge, SD card for upload photos and more in the 7-in-1 USB Hub!
More about Nucleum Specs:
Live the moment™. Use the mouse, monitor, and accessories you've grown to love with your new notebook. With a single USB-C hub you can connect up to 7 devices at once and keep your creativity flowing. The Nucleum has you covered whether you want to connect to a larger monitor or need to offload footage from the latest photo shoot. With the Nucleum you can power up your Apple® MacBook1 while also connecting to a USB Flash drive and charging an iPhone1. The compact size and built-in cable also make the Nucleum a perfect travel companion to take with you on location.
7 ports of potential from one USB-C connection

Add more pixels using the 4K HDMI output

Power pass through to charge your connected devices

Small and light, makes it easy to take with you

Designed for content creators with the included SD and microSD slots

Ports Include: USB-C (power input), USB-C (data), HDMI, (x2) USB-A, SD, microSD
Free support, 2-year warranty
Free 2-day shipping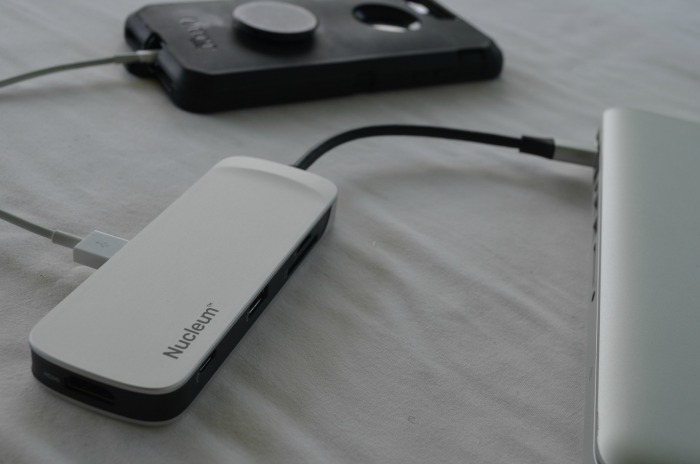 So many students at Hannah's campus have awed over her Nucleum and have purchased them for themselves. Don't wait another minute! Connectivity is key and to get the multi-tasker in you fully connected you need the Nucleum by Kingston!
Click here to get your Kingston products now!
Nucleum is on sale for $49.99 (regular retail price: $79.99)
---
Connect with Kingston on social media