Talking with the Talented Donnie Yen as Chirrut Imwe #RogueOneEvent #RogueOne
This post may contain affiliate links or I may have received the product free in exchange for my honest review. See full disclosure for more information.
Did you know that ROGUE ONE: A STAR WARS STORY opens in theaters nationwide in this Friday?!?! I had the fortunate opportunity to travel to San Francisco for the press junket on Rogue One, which included talking with the stars of the movie.
I previously shared with you our interview with Felicity Jones (Jyn Erso) and Diego Luna (Cassian Andor). This week, I am bring you exclusive talks with Alan Tudyk (K-2SO), Mads Mikkelsen (Galen Erso), Ben Mendelsohn (Orson Krenniz), Donnie Yen (Chirrut Imwe), Riz Ahmed (Bodhi Rook) and ROGUE ONE: A STAR WARS STORY director Gareth Edwards.
Continuing on, we sat down with the talented Donnie Yen (Chirrut Imwe). A little bit about Donnie Yen before we get started. He is an actor from Hong Kong who comes with an extensive amount of martial arts history in his family. His mother is a Tai Chi grandmaster, while his father is a newspaper editor – talk about a unique dynamic. He has appeared in films since 1984 and has made quite a name for himself internationally.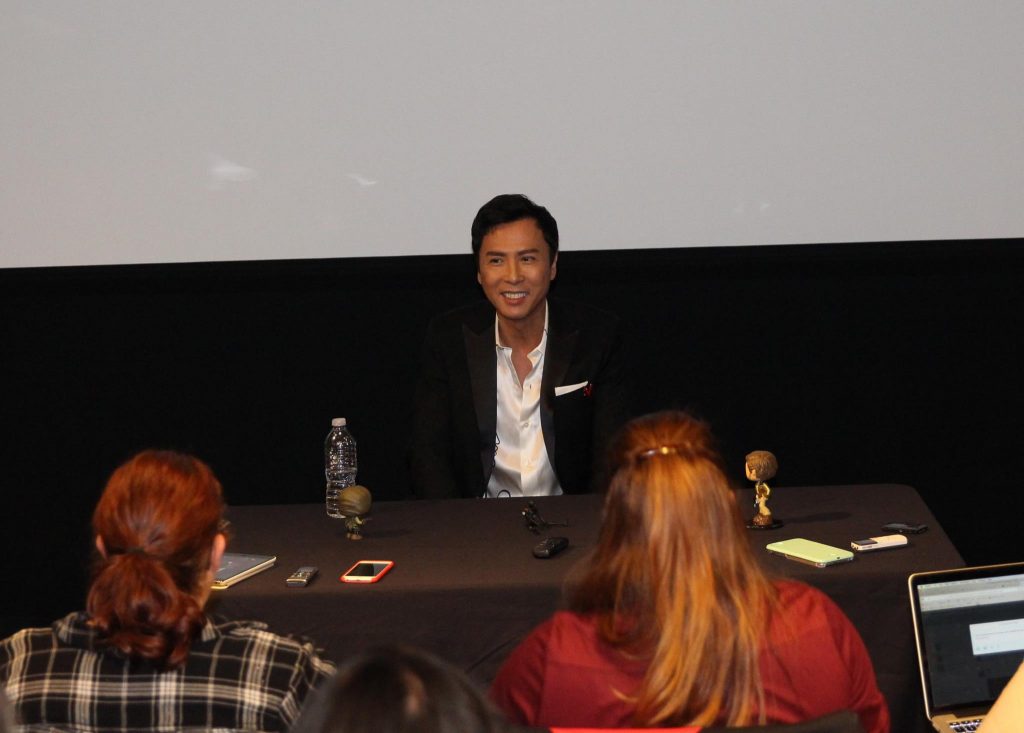 We asked him a bit about his character in ROGUE ONE: A STAR WARS STORY, Chirrut Imwe.
Chirrut (is) blind, but, he's spiritual.  He's the spiritual center of the team.  He's the Force believer.  He preaches this and he(s) got a little bit of a sense of humor.  He beats up all the Storm Troopers.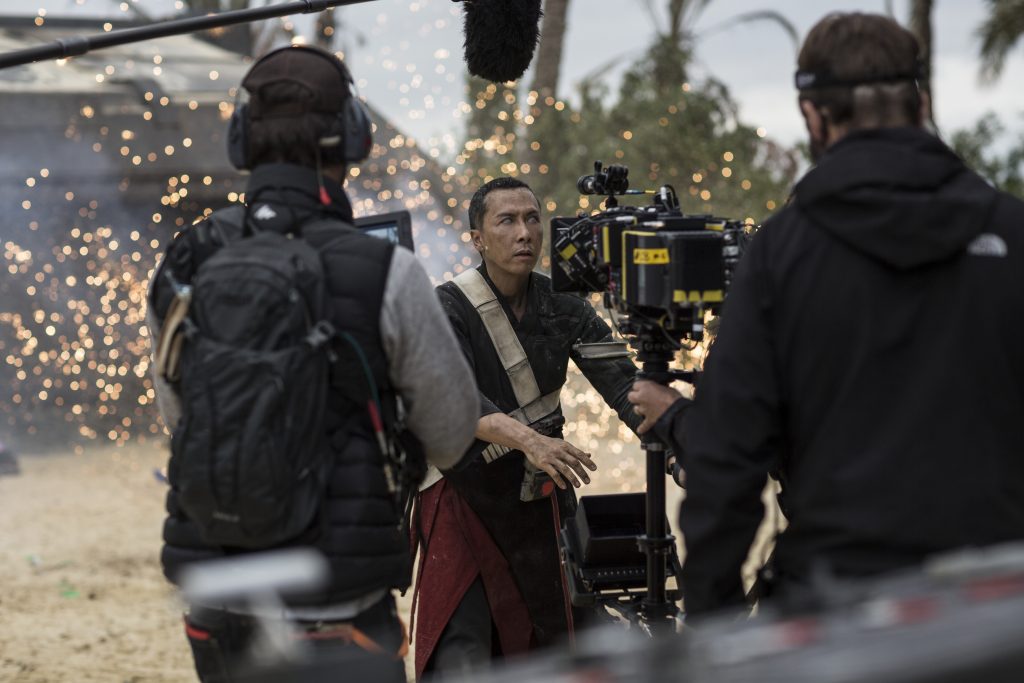 There is a scene in the movie in which Yen really performs and has fantastic moves. We got to see this during the footage screening. We asked him more about it. He noted that Chirrut was not originally supposed to be blind.
I don't want to take any credit if it's gonna perceive it as something that is like a contribution.  I think it's the collaboration of both.  That's the nature of being an artist.  You express your takes on your character.  So in the beginning when I was discussing about my character with Gareth (Edwards), I just felt it would be so much cooler to make him less of a cliché character, like, warrior monk, you know. 

How serious is that, right?  How about give him a little bit of vulnerability…How about being blind?  And a little bit (of a) sense of humor?  That (has) always been my persistence of keeping him grounded. Having that sense of humor so the audience can relate to him a lot more.  So I suggested it and he's cool with it and Disney loved it and here we are.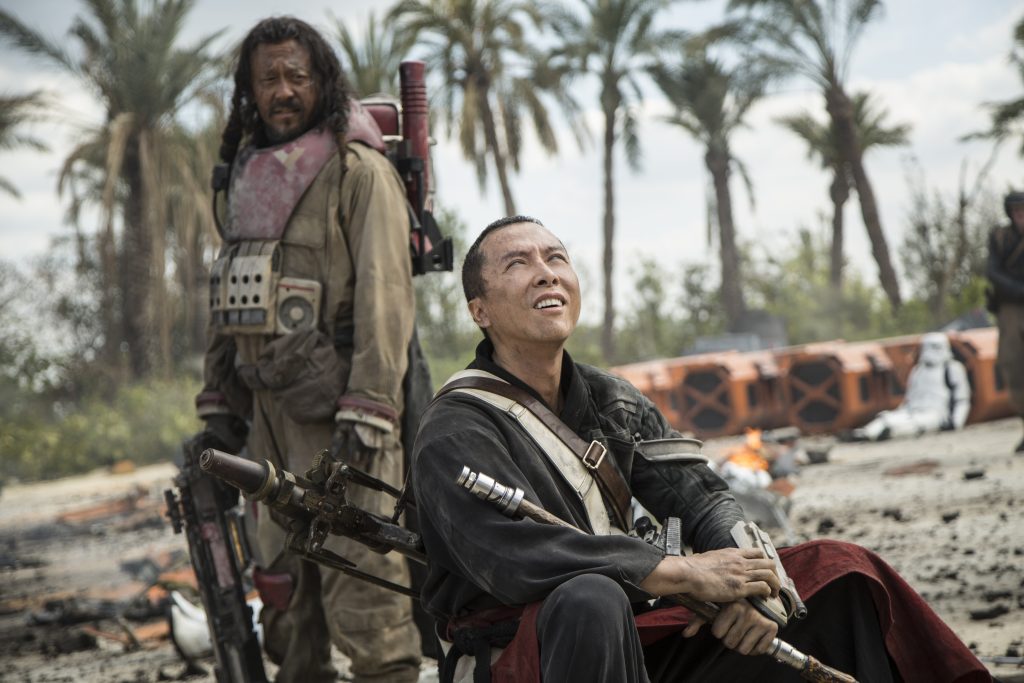 As I told you earlier, Donnie Yen has had much success internationally. We asked him about his expertise in martial arts and acting.
Q: You have an amazing fan base of, of fans that love seeing how you stretch yourself to the limits with your martial arts.  Do you set yourself, do you set a ceiling as to what you're gonna do in movies or do you just go with it?

Donnie: That's (a) funny question, right?  Because I've been in  business for quite a while, uh, 70 movies, right?  And a lot of audience, my fans in particularly, I have different set of fans.  (I have) straight action fans and Donnie Yen fans.  

Without realizing the changes of every film in the past decade of my films, it wasn't so much of what I'm gonna do with my body each time, but different character that I try to take on.  Besides action movies, I've done comedies, romantic, all kinds.  I played a monkey king where I insist on not recognizing my face.  I just wanted to take challenges as an actor.

I don't look at myself as 'oh, this is (a) guy who does really good, you know, he specialize in the action field.  Right?'  I wanted tobe perceived as a good actor and striving to be a better actor each time.  I never played a blind person before.  That was another reason why I wanted to do something completely different, challenging.

When asked on his weapon of choice, light saber or bowcaster:
It's funny, when my fans found out that I was gonna be in this movie, everybody thought I (was) gonna be a Jedi and have a lightsaber and go against Darth Vader.  But it eats me up.  I couldn't really say anything so I couldn't tel anyone that there would be no Jedi in the movie. 
Donnie was such a joy to interview. He stated that when he asked his young children if they wanted him to be in a Star Wars movie, the response was priceless.
 'You gotta be in Star War!  You gotta be in Star War!'  I realized that I'm making history here, you know?  So I'm so glad.
Be sure to come back tomorrow and read my next interview!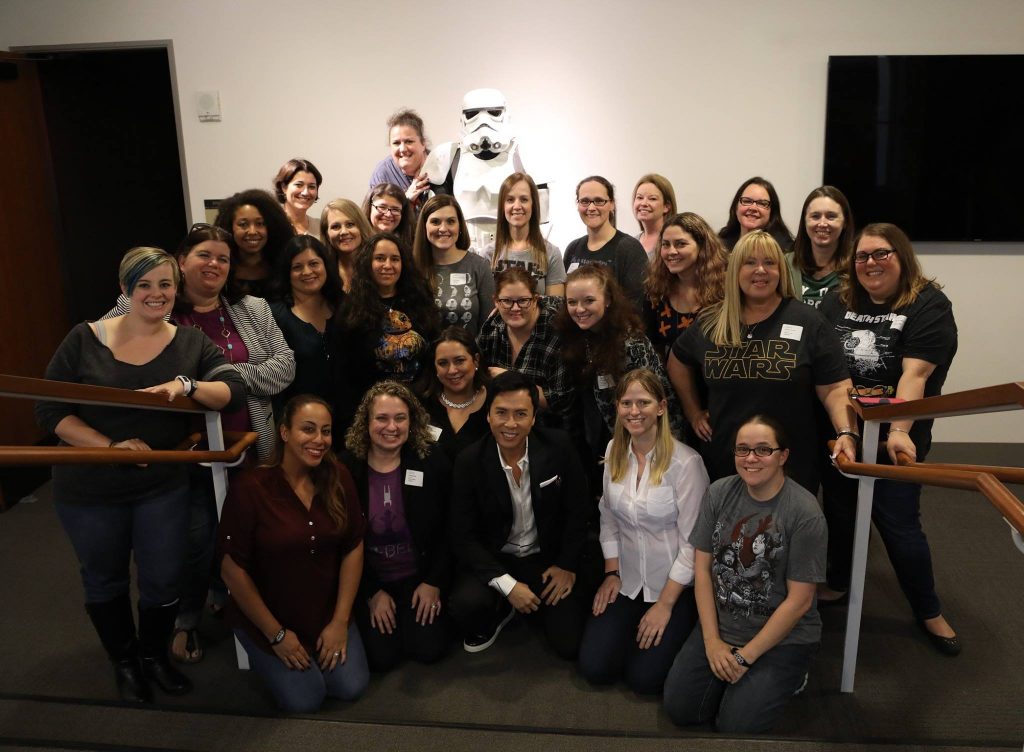 ROGUE ONE: A STAR WARS STORY takes us to a time before the Death Star was built! Lucasfilm's ROGUE ONE: A STAR WARS STORY, takes place before the events of Star Wars: A New Hope, and tells the story of unlikely heroes who have united to steal plans to the dreaded Death Star.
ROGUE ONE: A STAR WARS STORY arrives in theaters everywhere on December 16th In RealD 3D and IMAX 3D!
Stay connected socially so you don't miss a moment of movie information.
Facebook | Twitter | Instagram | YouTube | Official Website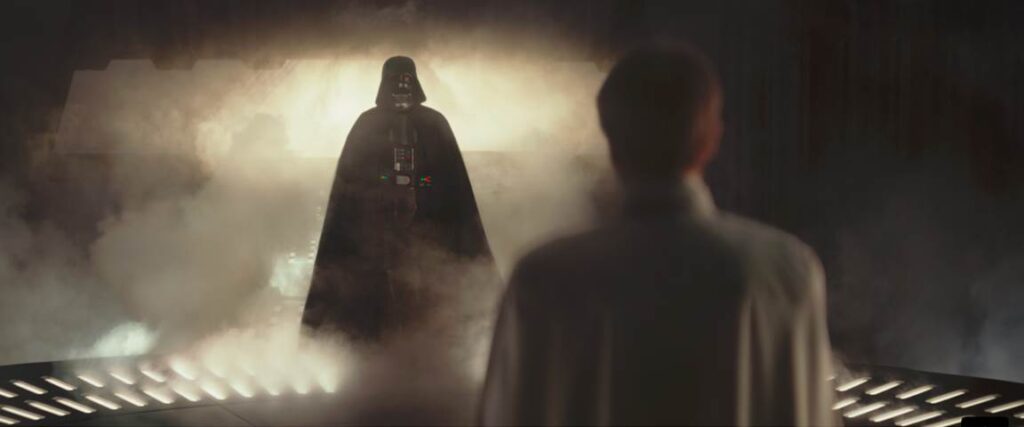 Interview Photo Credit: Louise Bishop
Disclosure: I was provided with an all-expense paid trip as part of a press Junket with Disney to cover this and all Rogue One: A Star War Story media.