Teleworking? Your Home Insurance Policy Might Not be Enough
This post may contain affiliate links or I may have received the product free in exchange for my honest review. See full disclosure for more information.
Working from home is idyllic for many people. No commute time, minimal effort to get ready, and being able to stay in the comfort of your house all day are all great benefits to teleworking. While you enjoy all these pros, you may not be thinking of the added risks created when you begin working from home.
While you may have already looked into savings like home and car insurance discounts you can take advantage of because of your newfound workspace, you likely haven't thought much about increasing your insurance coverage. The risk has lowered, so why would you need more coverage instead of less?
The truth is, some risks have increased while you are working at home. You might not immediately think of the new risks you had incurred when you began teleworking, but they exist, and they won't go unnoticed by your insurance company.
So what kind of insurance coverage do you need if you're working from home? Let's find out.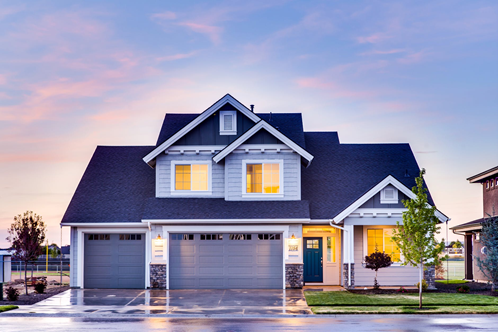 What does home insurance cover?
If you weren't working from home when you initially purchased your homeowner's insurance policy, you likely didn't have a business on your mind when choosing your coverage. Your basic homeowner's insurance will cover various things, but all concerning your home itself and the items inside.
Your policy will cover belongings in your home in case of an event such as a fire, theft, or windstorms. Your typical homeowner's insurance coverage will also protect you if a visitor happens to get injured while on your property.
All these sound great, and they may lead you to believe that the same coverage will apply while you're working from home in your nice, cozy office. However, this typically isn't the case when it comes to coverage while teleworking.
Your policy will cover the items in your home in case of emergency; this is true. And you likely see things such as your computer or equipment needed to work as items in your home. Your insurance company might not have this same mindset.
Although some items might be covered up to a certain amount by a basic home insurance policy, such as laptops, most expensive work-related items will not be covered by regular home insurance.
If anything were to happen to these items, your lack of insurance might leave you dipping into the family finance fund to pay for a replacement.
You might need to look into business-related coverage for all the equipment you are using for work, products you may be creating for your business, or if you have clients coming to see you in your home. Whether you will need this coverage depends on what type of employee you are.
Working Remotely for a Company
If you are an employee of a company, you probably won't need to look too deeply into insurance coverage. Your employer will likely have a policy for the protection of employees and their work devices.
Though there are always variations to this coverage, it's essential to speak to your employer about precisely what kind of insurance they offer and what is covered under it. Some instances where your employer may not cover you include part-time employees and cases in which you use personal devices.
If you are working full-time on company equipment, your employer's insurance policy will cover any damages or losses. They may also extend coverage for worker's compensation and auto coverage if you need to use your vehicle for work.
Working Remotely for Yourself
Things get a little more complicated when you are self-employed and working from home. There is no company coverage to fall back on. You need to be sure you are covering yourself and your belongings in the case of an accident.
A regular home insurance policy won't provide you the coverage you'll need if you're running a business out of your home. Even if you think the job you do isn't a high risk, it's still wise to invest in coverage and protect yourself just in case.
Instances like a robbery and the loss of your work devices will more than likely not be covered under a basic homeowner's policy. Insurance will typically limit what can be covered based on price or frequency of use.
Though it's always wise to talk to your agent ahead of time to see what will be covered in your specific instance, there is a high likelihood that you will need a separate business insurance policy.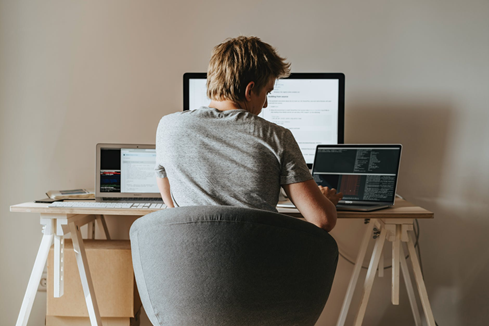 What does business insurance cover?
The type of business you have will determine the kind of insurance you will need. Smaller businesses such as freelancers working from home won't need a ton of coverage given the minimal equipment required and the low likelihood of risks such as product loss or client injury.
A small amount of coverage such as professional liability covers instances like legal action taken by clients who are unhappy with your work, among other minor problems that may arise.
If you work a more extensive job from your home, such as meeting with clients regularly, using a large amount of valuable equipment, or creating projects, a small coverage option like professional will not be enough.
Instead, coverage such as general liability will better suit your business needs. You will get coverage for instances like client injuries, personal injuries, property damages, and reputation damages.
There are many business options beyond just liability. It's vital to choose an option that works best for you and your business. Researching and speaking to various agents about coverage options will help you find a policy that perfectly suits your business's needs.
Working From Home With Insurance Coverage
Getting caught up in the appeal of working from home can lead you to forget about the importance of things such as insurance coverage. Although it may not be the first thing that comes to mind, it is essential to your work-from-home business.
Without the right coverage, you could find yourself at a loss for equipment, products, or even fighting a lawsuit against you. The savings you keep while working without insurance likely won't outweigh the peace of mind knowing you have coverage in the event anything should happen.
Losing your equipment, having a personal or customer injury, or even potentially getting sued by a client are easy ways to put your business under if you don't have the proper protection against them.
If you are caught in any of these instances without insurance coverage, you will find yourself paying for the expenses out of pocket, which can leave you with little money left over to keep your business afloat.

Alexandra Arcand writes and researches for the insurance comparison site, USInsuranceAgents.com, and enjoys her work-from-home lifestyle. She also enjoys helping people learn about coverage options they need if they are joining the teleworking community.