Keeping Your Dog Happy and Healthy This Winter
This post may contain affiliate links or I may have received the product free in exchange for my honest review. See full disclosure for more information.
The winter months can be tough on your pets. Not only do our furry friends need to be kept warm during the colder season, but we also need to make sure they stay healthy and free from injuries caused by hazardous weather.
Just like us humans, dogs need a healthy diet, hydration, plenty of outdoor exercise and ample rest to thrive. The cold weather can be hard on our domestic animals, however, which leaves them vulnerable to illness and infection.
So, in the interest of protecting our canine friends, here are five ways to keep your dog healthy and happy this winter.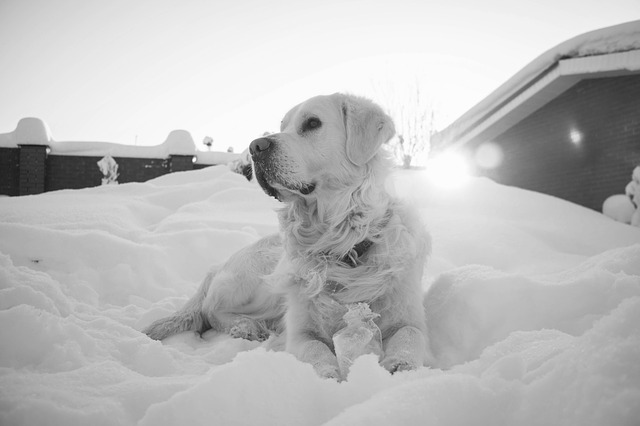 Keep Your Dog Warm and Dry
Depending on your dog's breed, you may want to invest in a winter dog coat to keep him warm. If your dog has a naturally thick coat, consider letting it grow out, as this will provide natural protection against the cold. A high-visibility jacket is safest for winter, as it tends to get darker outside earlier in the day.
If your dog gets wet when you're out on a walk, make sure you dry him off properly using a towel or hairdryer when you get home. Your dog could catch a cold in lower temperatures, not to mention he'll be uncomfortable if his fur is damp.
Protect Your Dog In Extreme Weather
If you're likely to experience adverse weather this winter, prepare your dog by buying a retractable leash so you can keep him close. Stormy weather can be dangerous for domestic animals, and snow can cause a dog to lose his sense of smell, meaning he will get lost easier. If in doubt, keep your dog on a leash at all times when the weather is severe.
Watch Out for Fleas
While it's true that fleas prefer a warmer climate, temperatures in some states remain high right up until late November, and others don't get cold at all. Besides, insects that have already nestled into your carpets can stay put there for months, much like animals in hibernation.
Fleas can make your dog miserable, and they are a nightmare to get rid of once an infestation starts. Keep your dog (and yourself) itch-free by investing in a flea treatment before the winter sets in, and eliminate any chance of pests in your home. Check out the Frontline Plus for dogs reviews, as this is considered one of the best treatments for pets.
Exercise Caution
When it comes to looking after your precious pet in colder weather, it's better to be safe than sorry. Never allow your dog to walk on frozen water; it's best to let him out in the back garden rather than exposing him to extreme weather conditions. If your dog isn't micro-chipped, it's a good idea to do it now before the weather turns. Winter weather can be disorientating to dogs, and they can easily get lost.
Inside the home, be sure never to leave anti-freeze products lying around, as these are highly toxic. Keep your pet well fed, hydrated and warm, and make sure to clean his feet when he comes home, as the grit used on roads can injure his paws.