Meet the Deavors – Bob Odenkirk and Catherine Keener Talk Incredibles 2 Experience #Incredibles2Event
This post may contain affiliate links or I may have received the product free in exchange for my honest review. See full disclosure for more information.
Let's get a quick recap of where we have been along this INCREDIBLE journey, the past couple of weeks as we have covered the release and inside details of INCREDIBLES 2!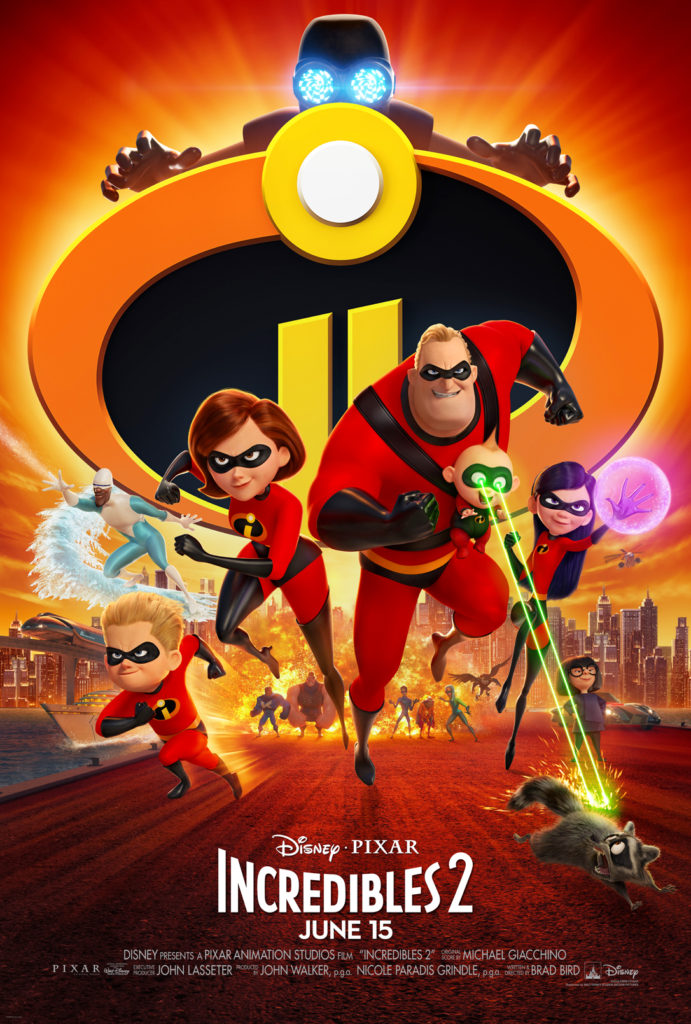 We have given you some inside chat with Craig T. Nelson (Mr. Incredible), Holly Hunter (Elastigirl), Sarah Vowell (Violet), Huck Milner (Dash) and Samuel L. Jackson (Frozone). We even shared our TOP 6 reasons to see INCREDIBLES 2.
Well today, I am going to introduce you to the dynamic sibling duo, the Deavor's. Winston Deavor (Bob Odenkirk) and Evelyn Deavor (Catherine Keener) are a pair of siblings coming from an affluent family who are in support of super heroes and making them legal again everywhere.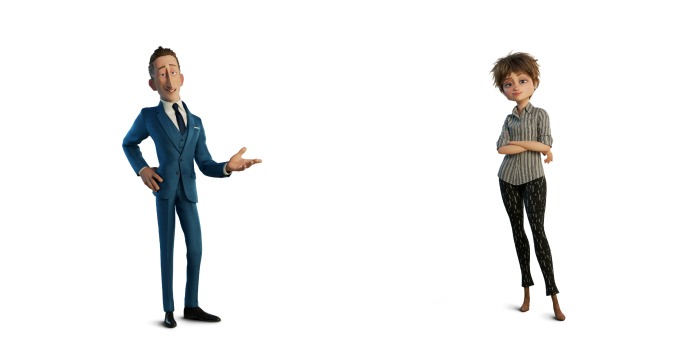 Each has unique and admirable characteristics that you will love. Winston Deavor is naive and endearing. Evelyn Deavor is witty, charismatic and intelligent.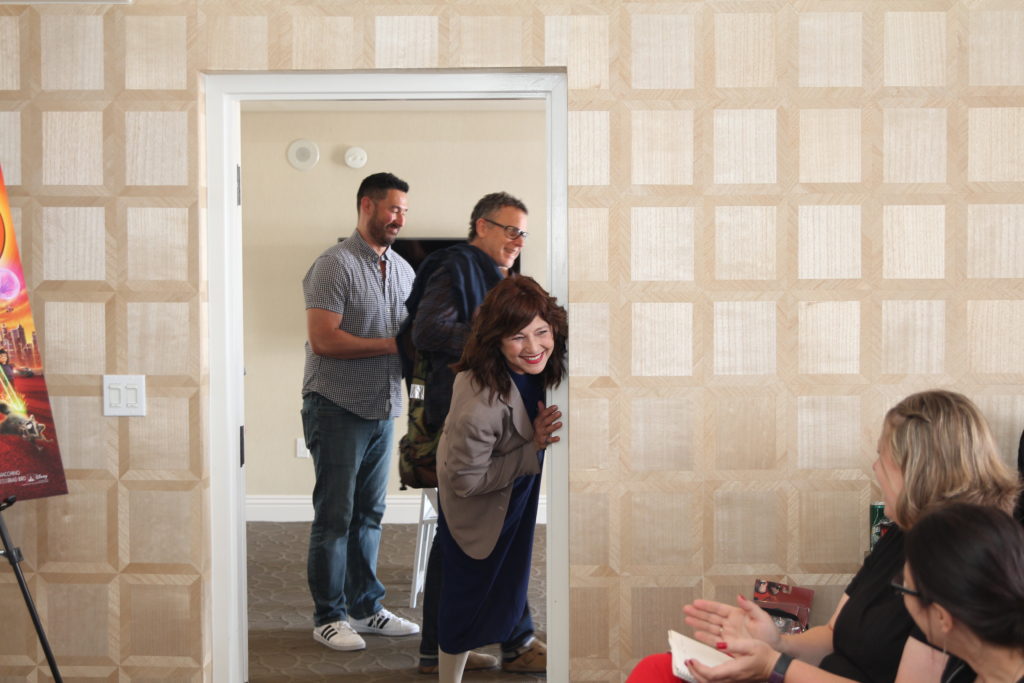 Right from the onset, Catherine walked into the room with a bright, beaming smile and was excited to be in a room FILLED with women bloggers!
She sat down a few moments ahead of Bob and was ready to delve into a detailed Q&A with us. We started right off with her voice work and how amazing she is. We wanted to know how she got the role of Evelyn Deavor and that moment when she got the call.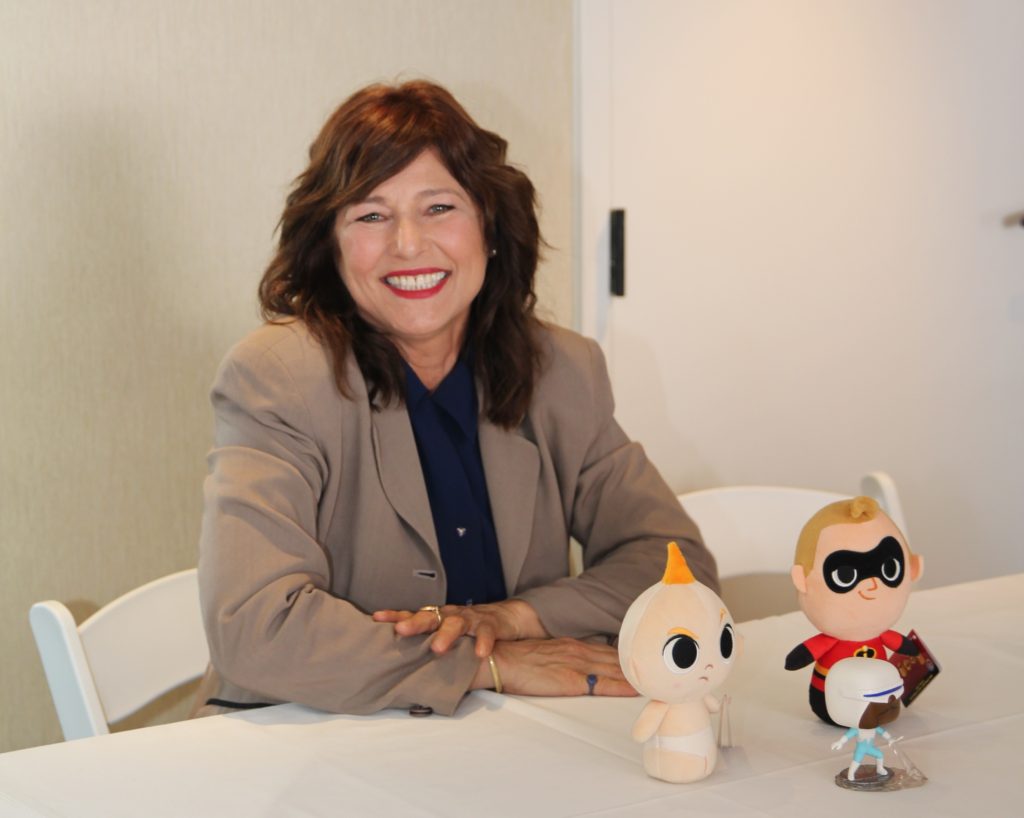 It wasn't Pixar, by the way. It was Brad Bird. Yeah. I was so excited. My wonderful agent I've had for 25 years. So, I got a call from my agent and she said that Brad Bird wants to call me. 

Everyone's like, rrr, you're –Pixar and all that kinda 'Pixar movie. Can you believe it?' No, but I'm in a 'Brad Bird movie. That's what's blowing my mind.'

So, anyway, we had a appointment to talk. I didn't know that the movie was being expedited  for a year? So, I had no idea. I didn't know anything, but I was what. And I had heard that he, you know, wanted maybe — it wasn't for sure but maybe for me to do this part in it. And I thought okay.

So, and then when he said 'I'm doing this', I got on the phone and I started pouring praise and all this on it. I said, 'Well, I'm in!' And he goes, 'Okay, great.' [CHUCKLES] It was like that. It was like go back to your work. So, it was about a minute phone call. [LAUGHS] For real.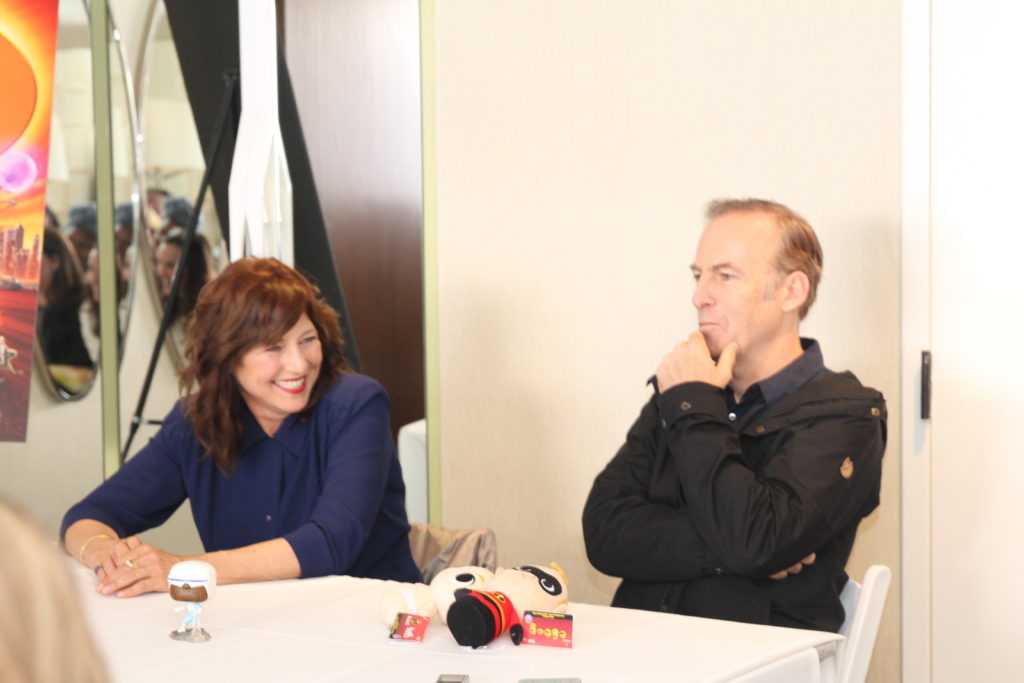 At this point, Bob had joined the conversation. We asked them both, "What makes Brad Bird different to work with than other directors in Hollywood?" They each responded with their input into Brad Bird moves.
Bob: Well, he's not different from all of the directors. He's a lot like the best directors. My experience — I mean you could speak (pointing to Catherine Keener) — 'cause you've worked with amazing directors and Spielberg and Alexander Payne and Vince Gilligan. These guys know what they want, and they dial it in just so — and that could sound like oppressive to an actor. It's not though!

Somehow it's like a challenge that you wanna meet, and it's like a neat thing to do it. You feel accomplishment when you do it, but also they're all willing to hear, especially in the early stages of a scene, what you wanna try. Try something or even maybe after they got exactly what they want, you can say, 'Yeah, but I don't know. I had a different thought about how to say that line'.

And they'll go let me hear it. And then they go down that road together, but they all are dialing it in just so and it's great. You feel like you're in really good hands. And somehow it doesn't steal your own — inspiration and creative input.

Catherine: Creative. I feel that I — going off when you were describing it (pointing to Bob Odenkirk), I do.

It feels like a — what's the word? Is it an aperture that kinda closes like that? Like, it's like that. And once you go through it, it's like crazy, open space, you know, for you. But they'll show you that thing.

And then you actually feel — it's so exciting, because you go into somebody else's world and then create your own. It's really exciting when that happens, which is what all actors…wanna work with great filmmakers. That's really where it goes. When they start out and before they're compromised by the business and stuff, everybody does it because of the creative reasons. And a lotta actors just need a good part, you know.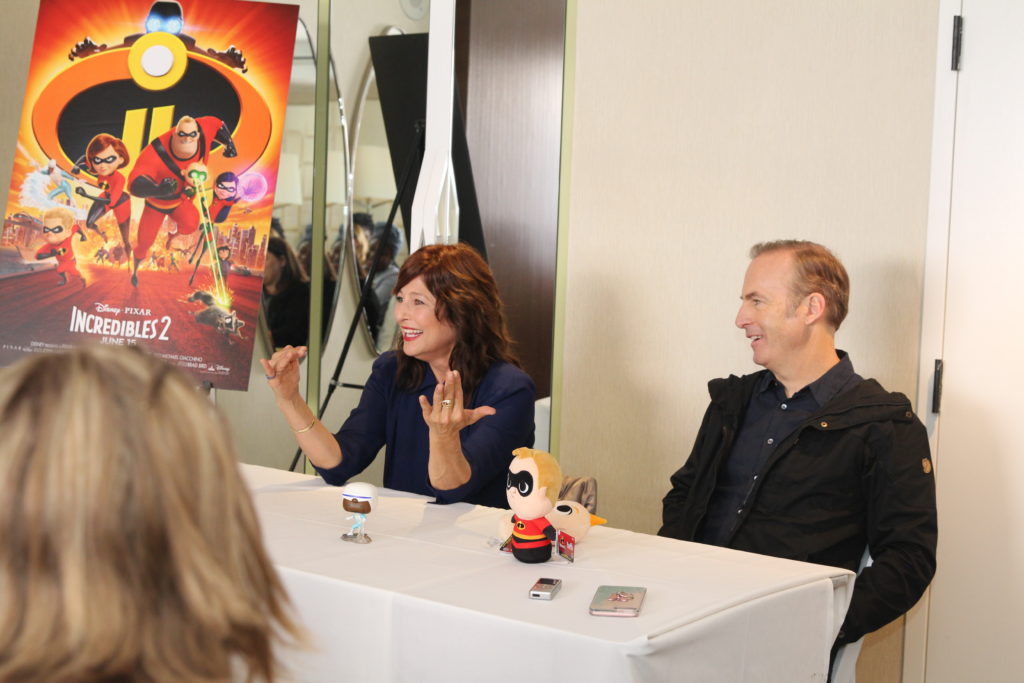 This next question is a great one. I am sure at some point in time in most people's lives, they have wanted to know what it would be like to be or see yourself animated. We posted that same question to Bob and Catherine, "What's it like seeing yourself animated?"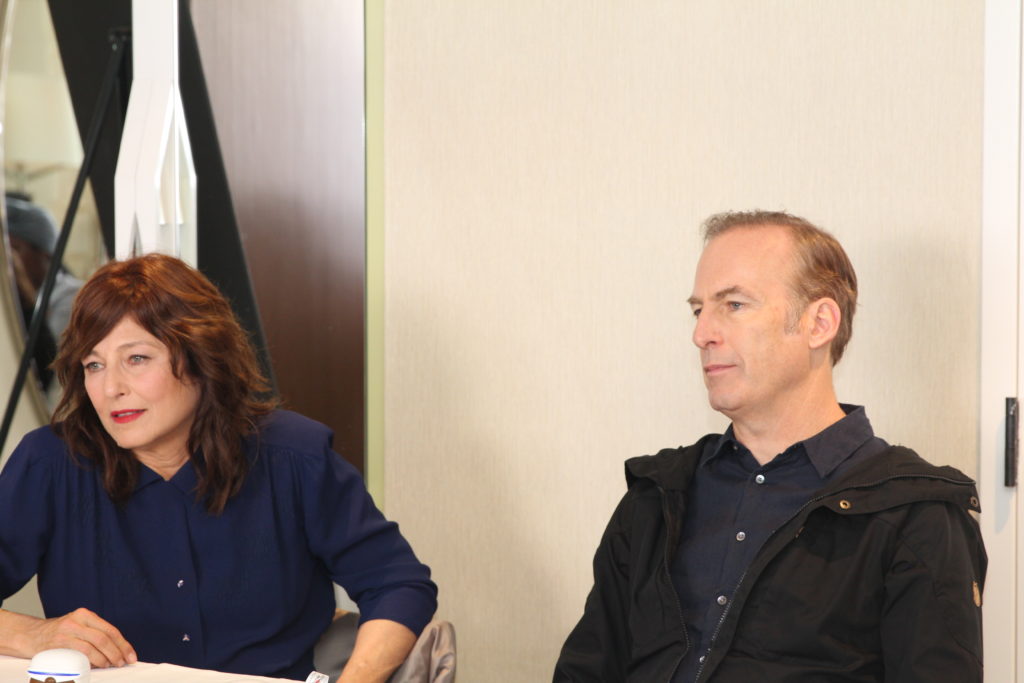 Bob: People have said my character looks a lot like me. There are ways I'm like, 'Wow, I'm (do) not remotely (look) like that.' Obviously I don't dress as well as the character. That's for sure.

And you're alluring in your character. (Referring to Catherine Keener as Evelyn Deavor). She draws you in.

I'm not sure. I kinda like him. I have to get more familiar with him. My family's proud of it, and they're like, 'Yeah, Dad, it's a great character.'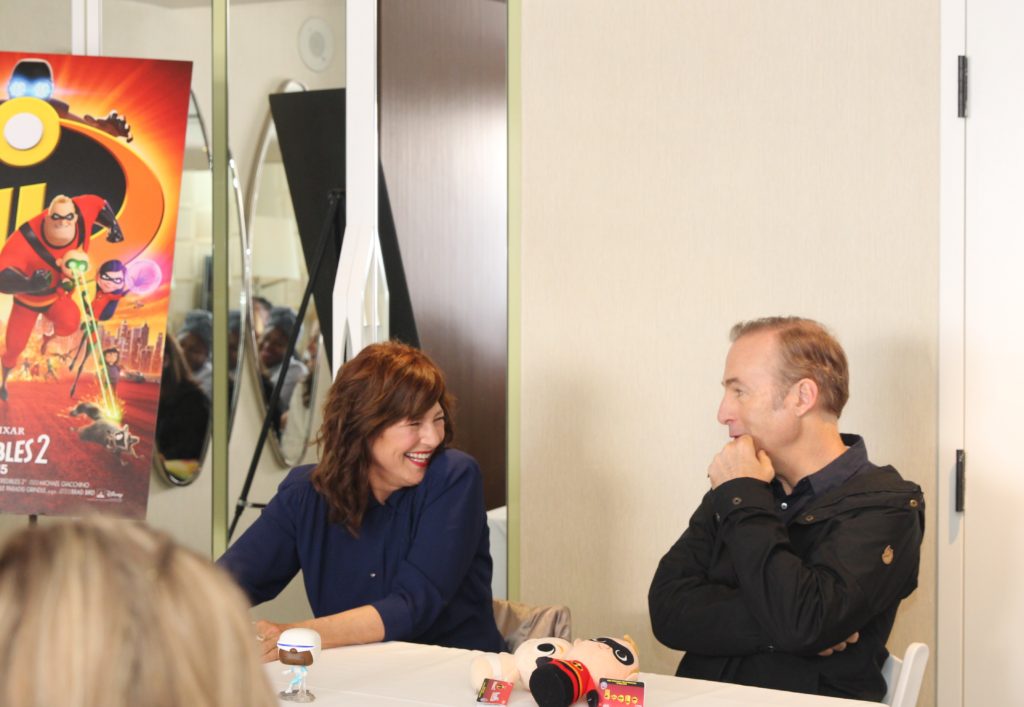 Catherine: But that's always what it is. You want your family to be happy. It really narrows down to that. It's like, 'did you like that?'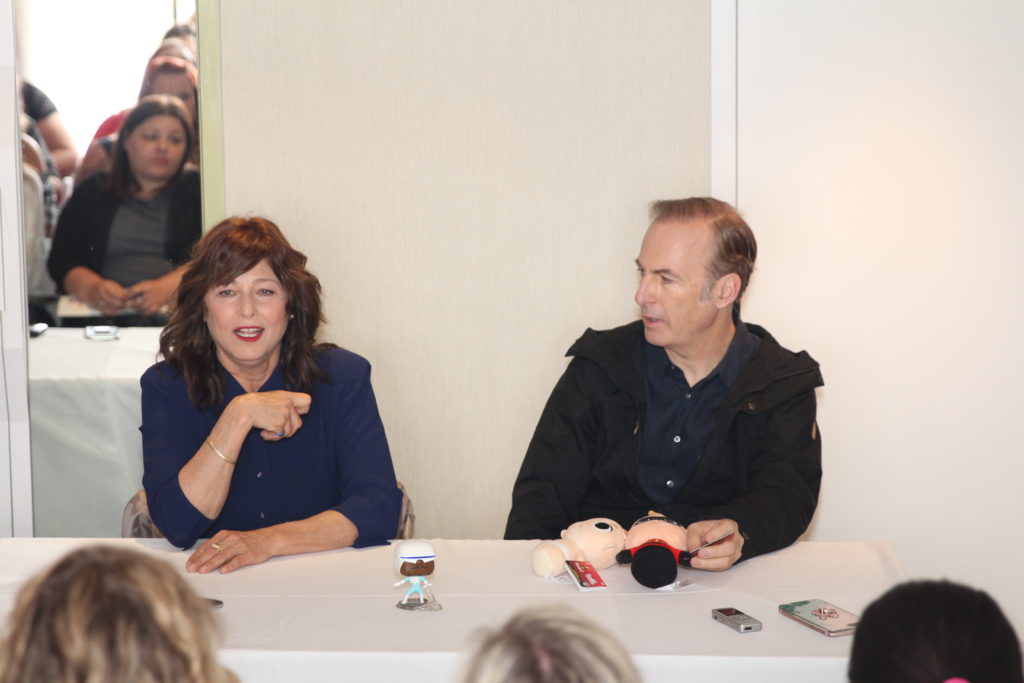 That infamous question we asked all of the cast, "If you could have one super power in real life, which one would it be and why?"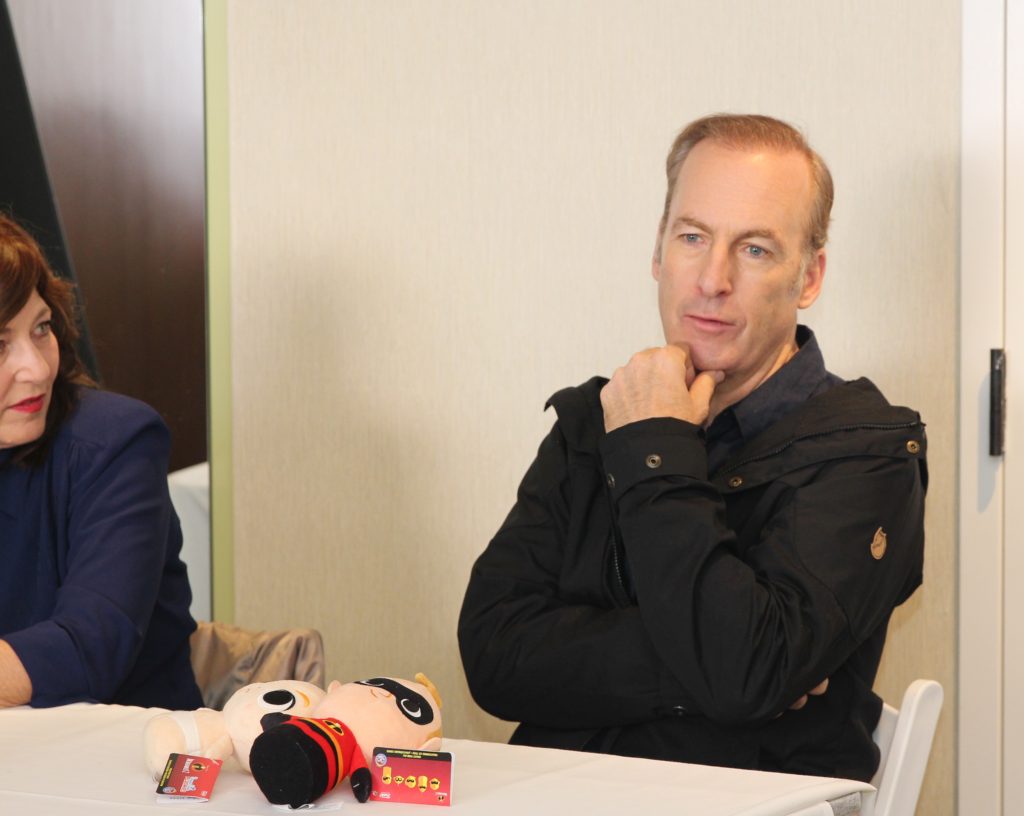 Bob:Very good question. She's got a best answer. (Pointing to Catherine Keener). We've been asked it. I like her answer.

I'll say mine, 'cause it's dopey. I would like to be able to eat whatever I want and not gain weight. I mean really it's an obsession. It's a part of my life too much, and that's what I wish I could have. But I like hers. It's a better idea, and it's really — it would be wonderful.

Catherine: Well, I would just like to be able to go home at any — that's all I wanna do, to teleport. Teleportation…and I'm home. I'm in my pajamas. My bed's made. Clothes are off the floor. I'm ready to go to bed, you know. Like, I'm gonna watch some– it's all — it's like I'm set.
Asking Catherine on her role as Evelyn Deavor/ScreenSlaver and people approaching her on being the villain in the movie.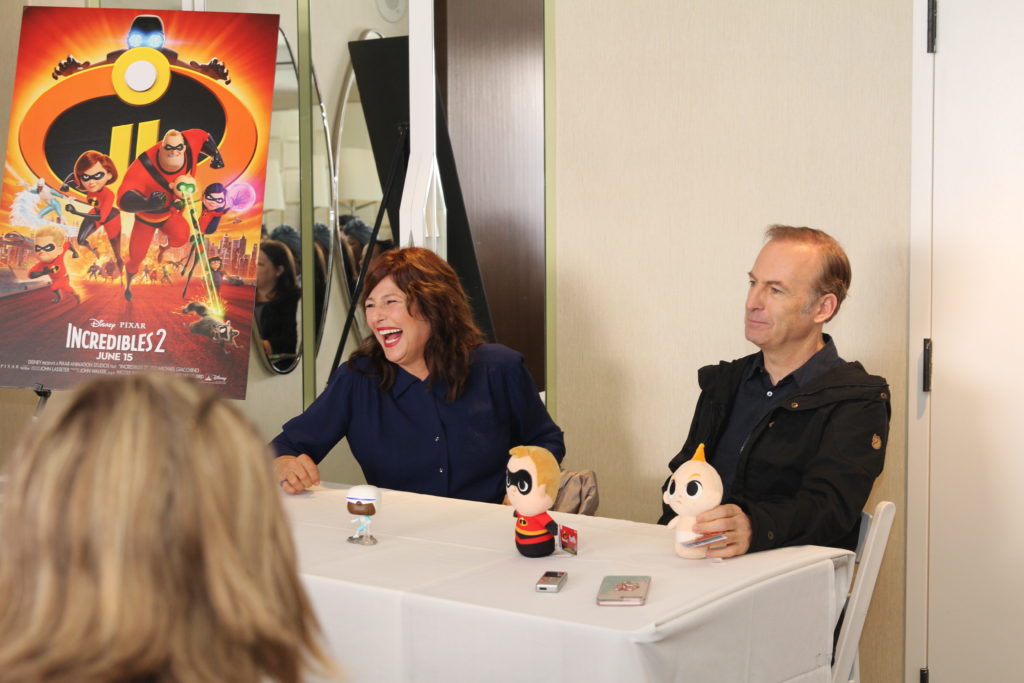 Catherine: Yeah, they do. People think you're like your character, and I'm so not like my characters it's crazy. One journalist said, 'If you saw Saul in a room, would you wanna hang out with him?' I'm like, 'No, I wouldn't go near that guy.' (Referring to Bob Odenkirk as Saul Goodman in Breaking Bad).

No, I just wanted to say that Brad told me last night – my character was originally a man.Which clearly [LAUGHS] I mean, then you thought, 'What woman could play this man?' [LAUGHS]

Bob: And I wanna say — 'cause I said it the other day and I haven't fully analyzed it, but you guys are all great brains. And everybody talks about how Holly Hunter and the Elastigirl's story and being a female superhero is so great for women, and it is. And I'm glad my daughter saw that. And I'm especially glad she saw the scene where the dad's knocking on the daughter's door (Violet) 'Leave me alone.' And then I got — she got to experience what it's like on the other side of her door.

I really loved sitting next to her for that scene, and just — I got — I felt like she sees like how much I wanna help her, but I can't.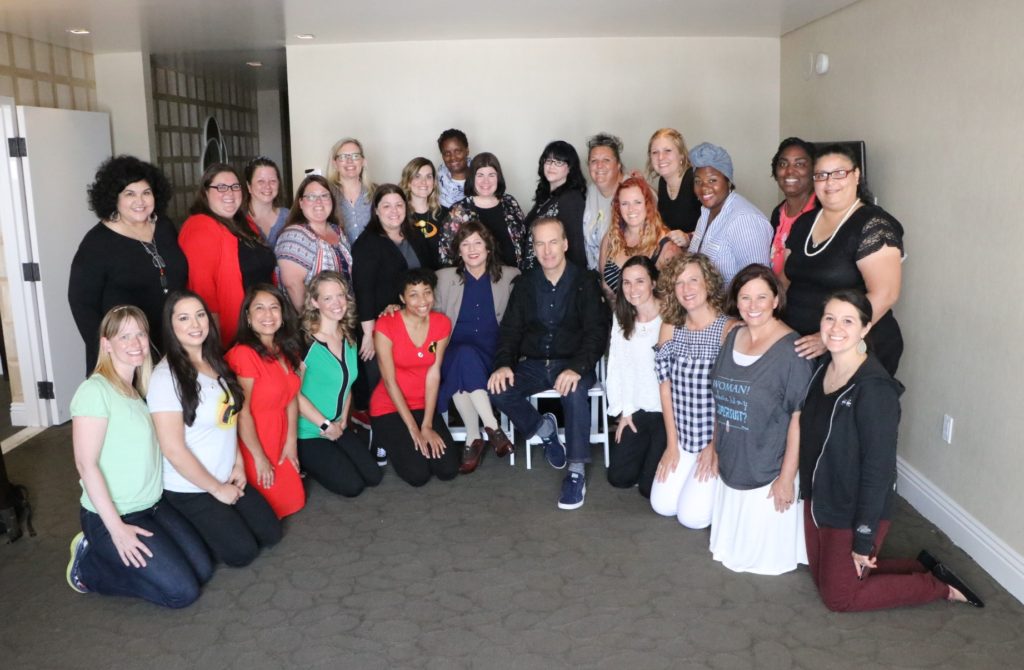 Another awe-inspiring moment in the books for me personally. I really enjoyed meeting Bob and Catherine and was delighted by their mutual love, candor and respect for each other and for Brad Bird.
---
Get ready for an INCREDIBLE TIME!

ABOUT THE MOVIE
Everyone's favorite family of superheroes is back in "Incredibles 2" – but this time Helen (voice of Holly Hunter) is in the spotlight, leaving Bob (voice of Craig T. Nelson) at home with Violet (voice of Sarah Vowell) and Dash (voice of Huck Milner) to navigate the day-to-day heroics of "normal" life. It's a tough transition for everyone, made tougher by the fact that the family is still unaware of baby Jack-Jack's emerging superpowers. When a new villain hatches a brilliant and dangerous plot, the family and Frozone (voice of Samuel L. Jackson) must find a way to work together again—which is easier said than done, even when they're all Incredible.
Voice Cast includes Craig T. Nelson, Holly Hunter, Sarah Vowell, Huck Milner, Samuel L. Jackson, Brad Bird, Bob Odenkirk, Catherine Keener, Jonathan Banks, Sophia Bush and Isabella Rossellini
Here is the OFFICIAL Trailer!
In theaters on June 15th, 2018, stay connected socially with Disney•Pixar's INCREDIBLES 2 for the newest film information and clips
 Facebook |  Twitter | Instagram | Website
---